What is a signature block?
A signature block is a personalized block of text that is automatically appended at the bottom of an article, email message, document, or contract.
The main purpose of a signature block is to allow a recipient to learn about the author. Signature blocks are also used to verify the overall legality of contracts.
What is the value of a signature block?
The text surrounding a signature is used to give that signature context and provide additional information about the author (phone number, name, address, social media accounts, etc.).
It gives readers easy access to contact information without the need to look through a long list of names and titles.
Modern e-signatures streamline the signing process.
Digital signatures offer a tamper-proof record of signature events, provide proof of integrity for signed documents, reduce turnaround times and allow for faster business transactions.
What is the composition of a signature block?
The signature block composition differs depending on its main purpose and for what business sector it is being used. Below is an example you'd find in a typical contract:
The name of the signer;
Company name;
The company's business entity type;
The position held by the person signing;
The function of the person signing the contract;
The date on which the contract was signed
Other information that the party wants to share (address, contacts)
A final line with the actual signature of the person.
Other contract information that may be added to the signature block:
Phone number;
Logo;
Social media links (Linkedin, Instagram, Twitter, etc.)
Website address;
Email address.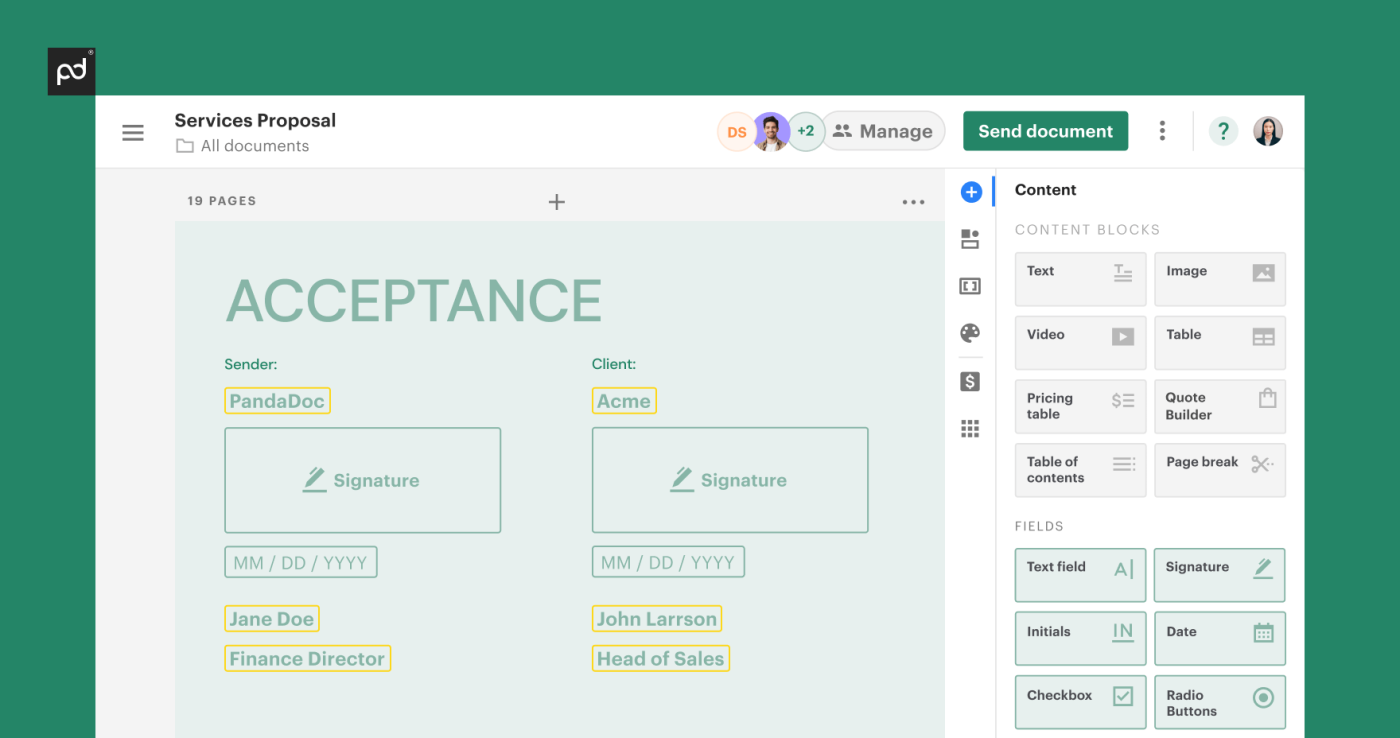 What are the benefits of the signature block?
1. Authenticate contract enforceability and validity
When not handled properly, parties may inadvertently affect the enforceability of their contracts.
Signature blocks are used to identify the legitimacy of a contract.
2. Resolve communication issues
The content of a signature block can include valuable contact information and customer care details the recipient can use to get in touch with you, and vice-versa.
This streamlines communication and increases personalisation for both parties.
3. Improve branding
Signature blocks make all the documents, contracts and email campaigns look more professional and improve client experience, essentially working as digital business cards.
4. Eliminates most safety concerns
Signing documents can be a tricky process for many companies.
Signature blocks and signing through secure platforms like Pandadoc eliminates most safety concerns associated with the growth of digital fraud, thereby increasing reliability.
How do I create a signature block in PandaDoc?
You can create a signature block in PandaDoc through the content library and naming the item as "signature block."
Once the block is created, you will be able to reuse it across different documents. You can build a signature block as a content item following these steps:
Step 1. Choose a content library icon on the left toolbar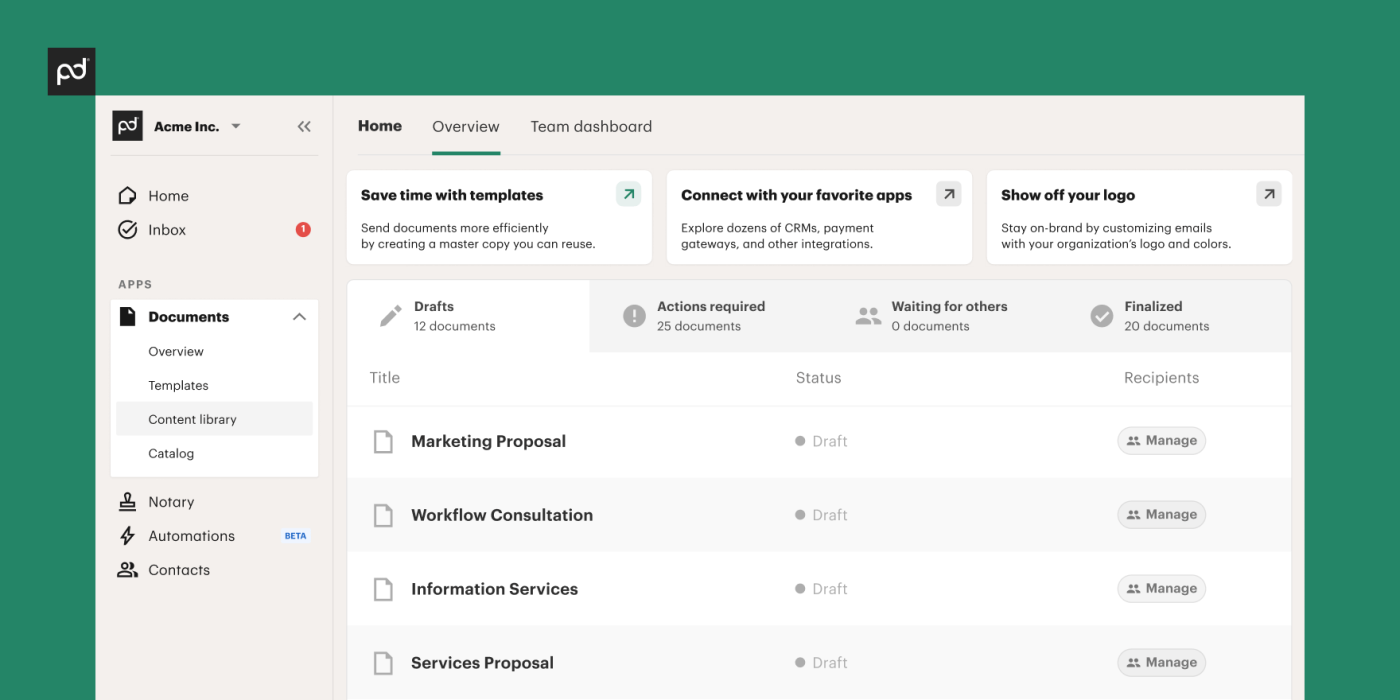 Step 2. Choose "Create" and select "Content Item."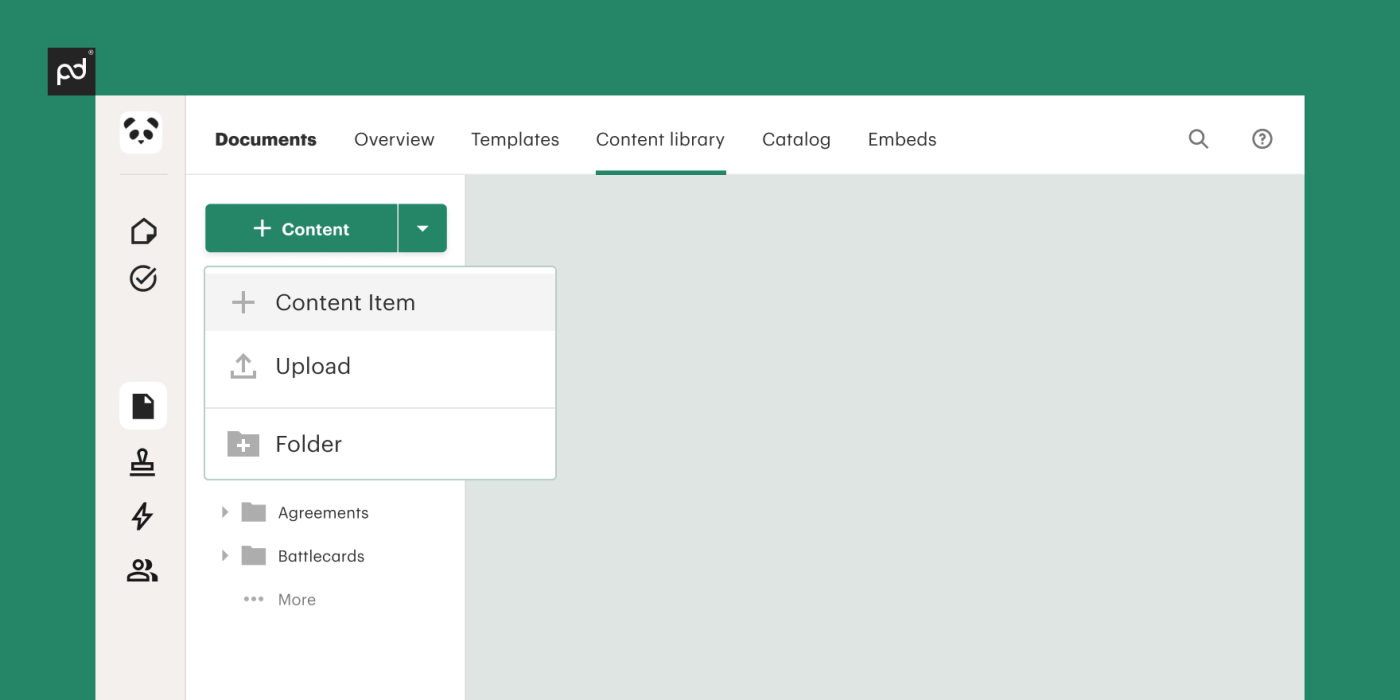 Step 3. Give it a name and add needed blocks
Here you can add all the needed information to your signature block. It could be email, your name, phone number, address, position, date, social media accounts, etc.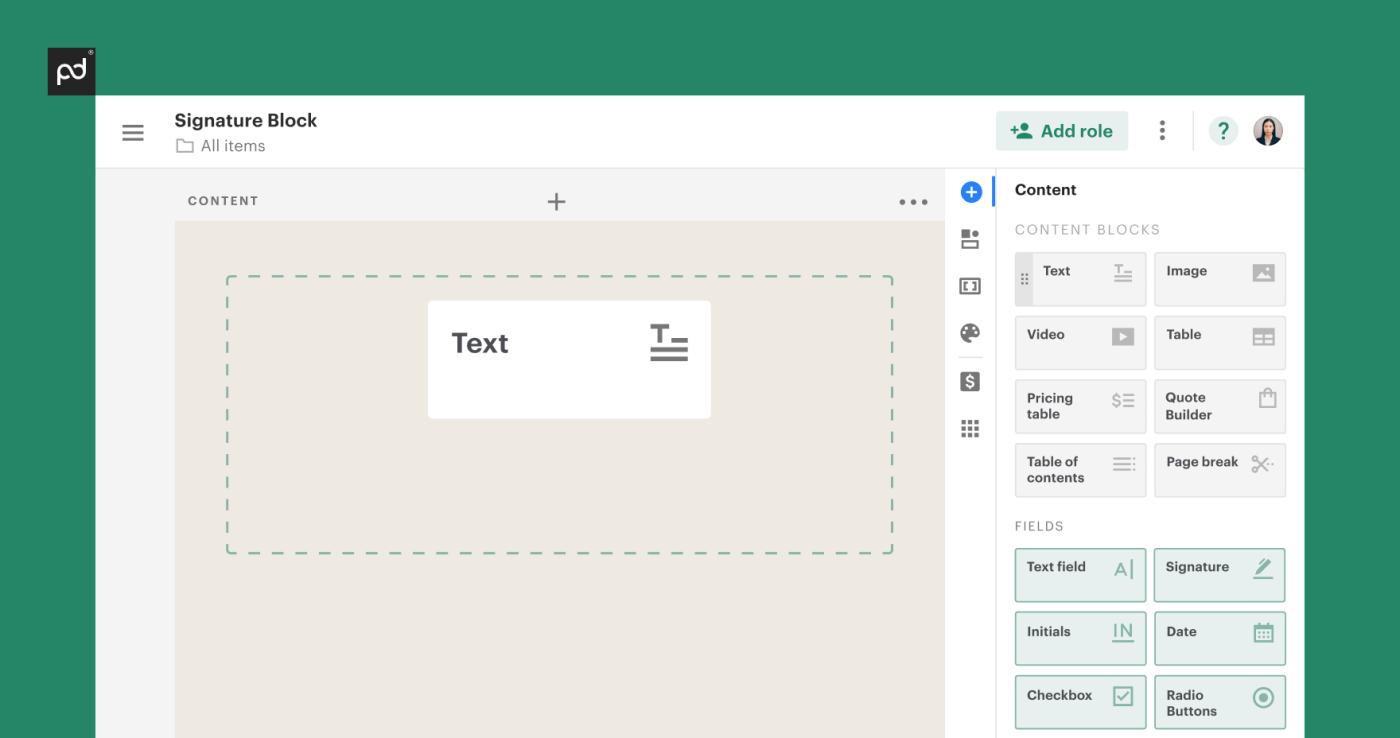 Step 4. Go to the template or document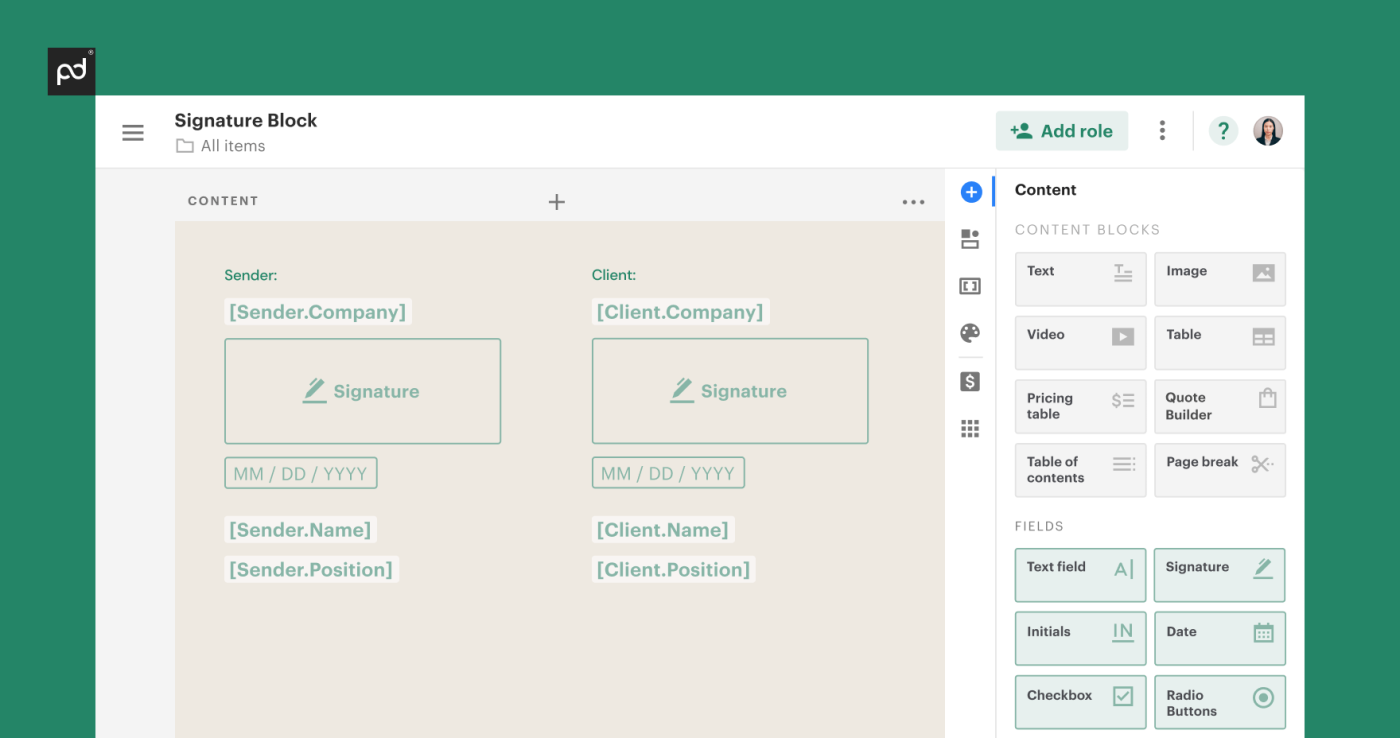 Step 5: Click on the block you wish to save (the one you just created)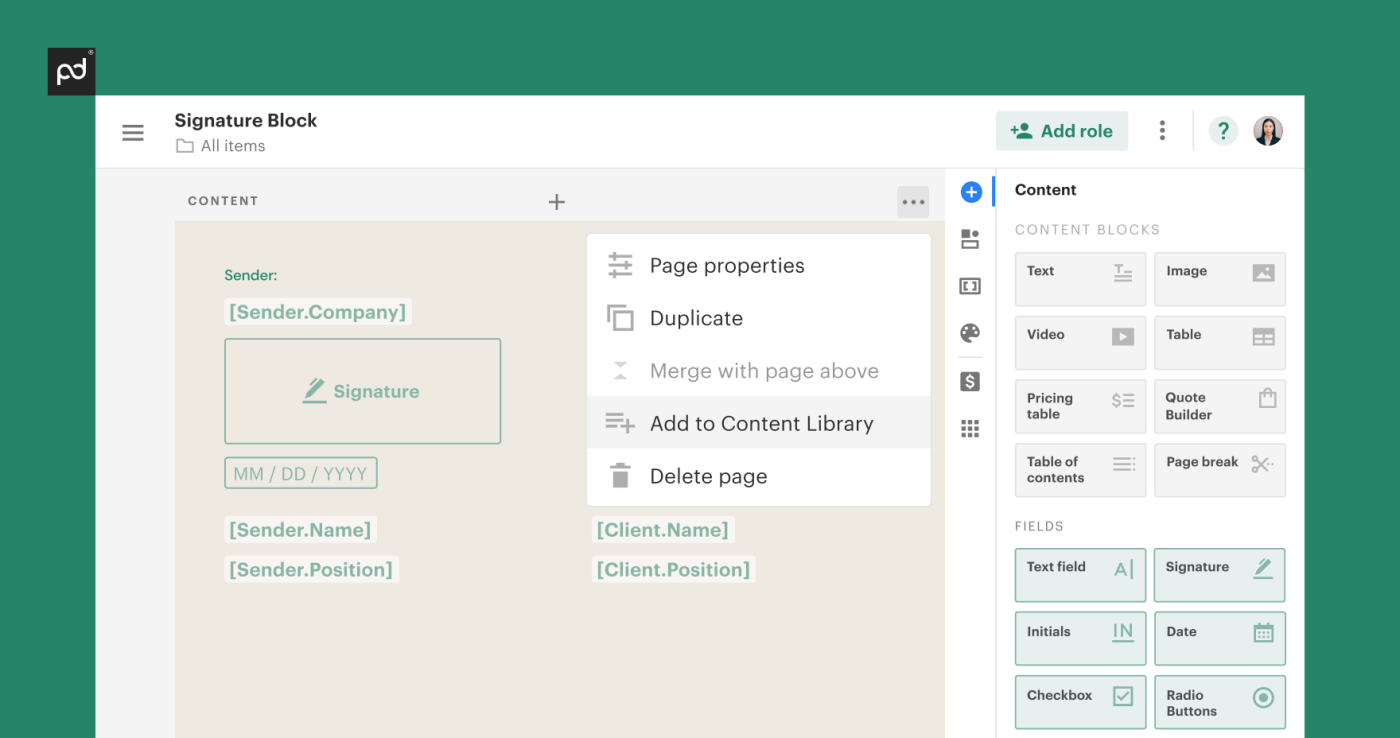 Step 6. Click on the "Add to Library" icon on a floating menu bar
Step 7: Create "New Library Item" and name its as "Signature Block"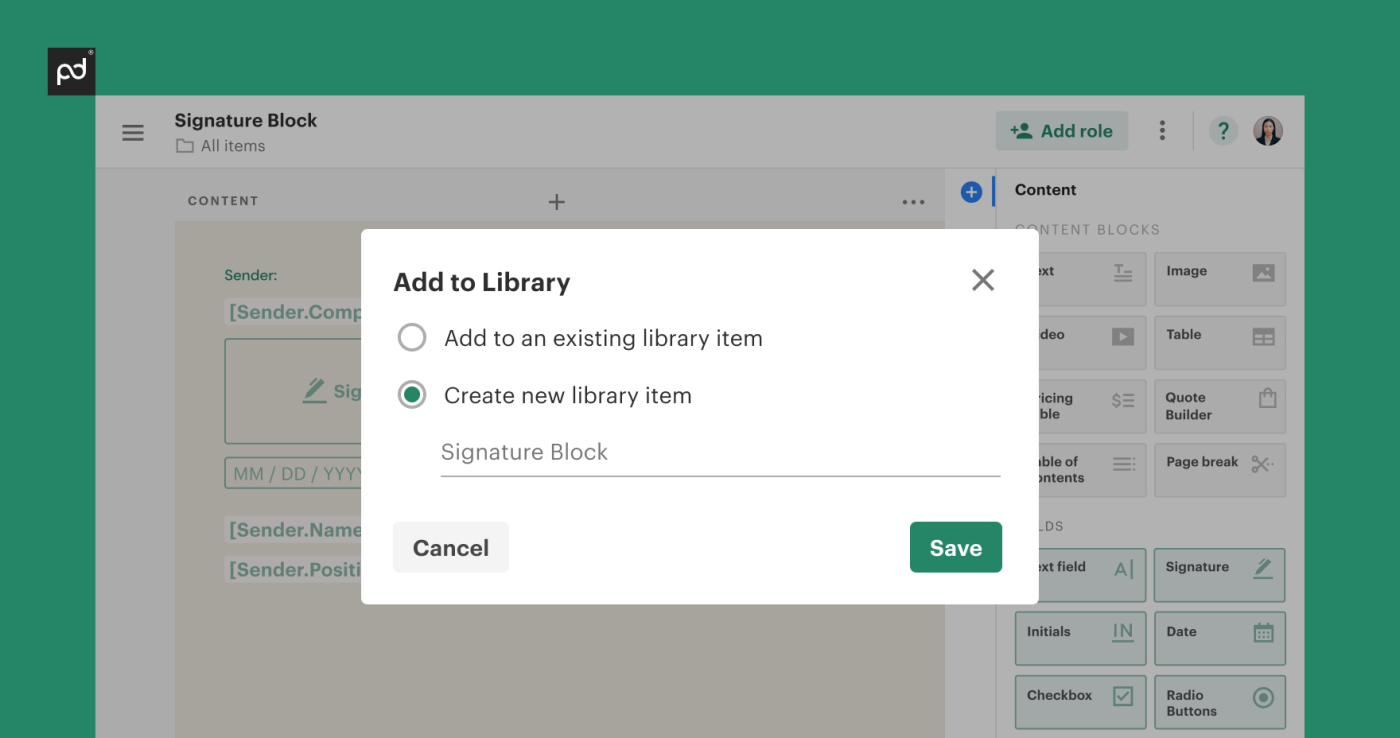 Step 8: Add the item to a specific folder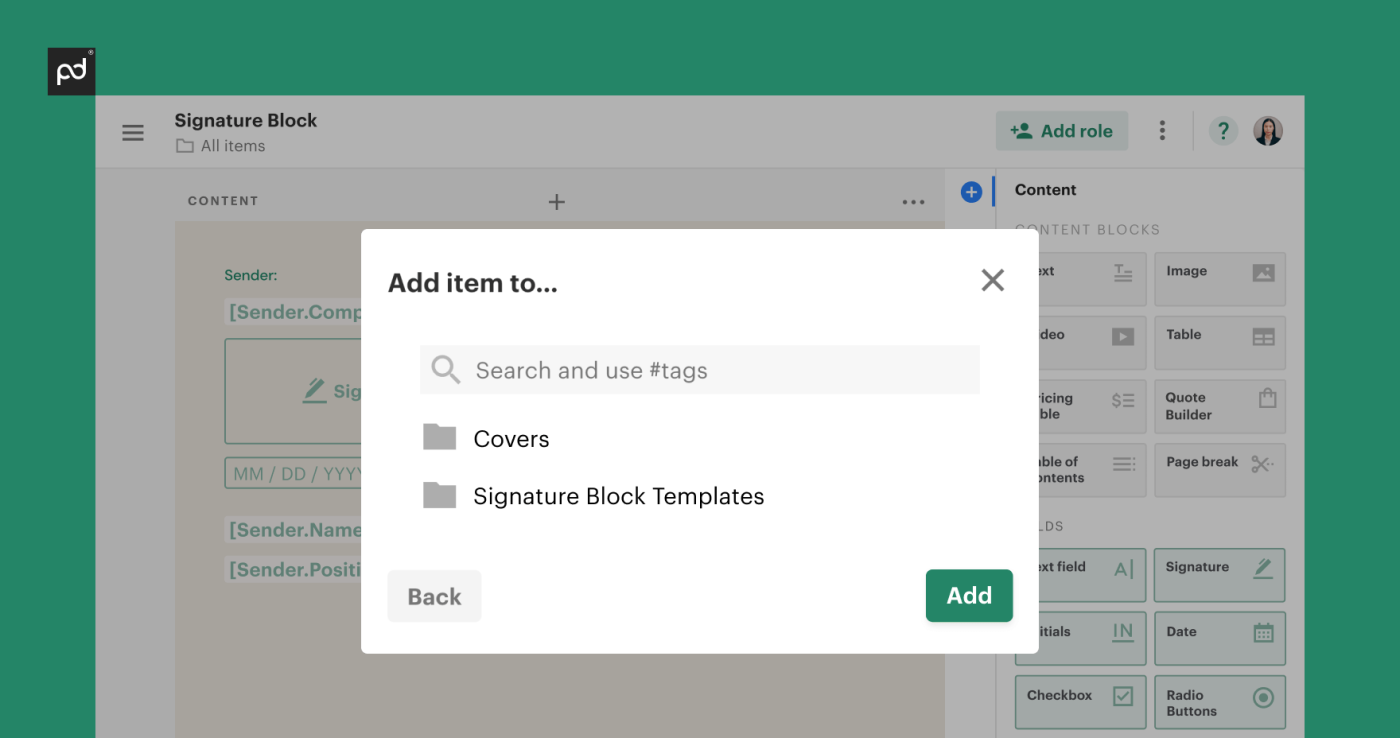 You can also just click "Add" on the screen and this will place the new item in the main Content Library folder.
Step 9: Add a signature block to a document or template
There is a blue line with a + on any native PandaDoc page between blocks. Click the + to access the Content Library and insert a signature block.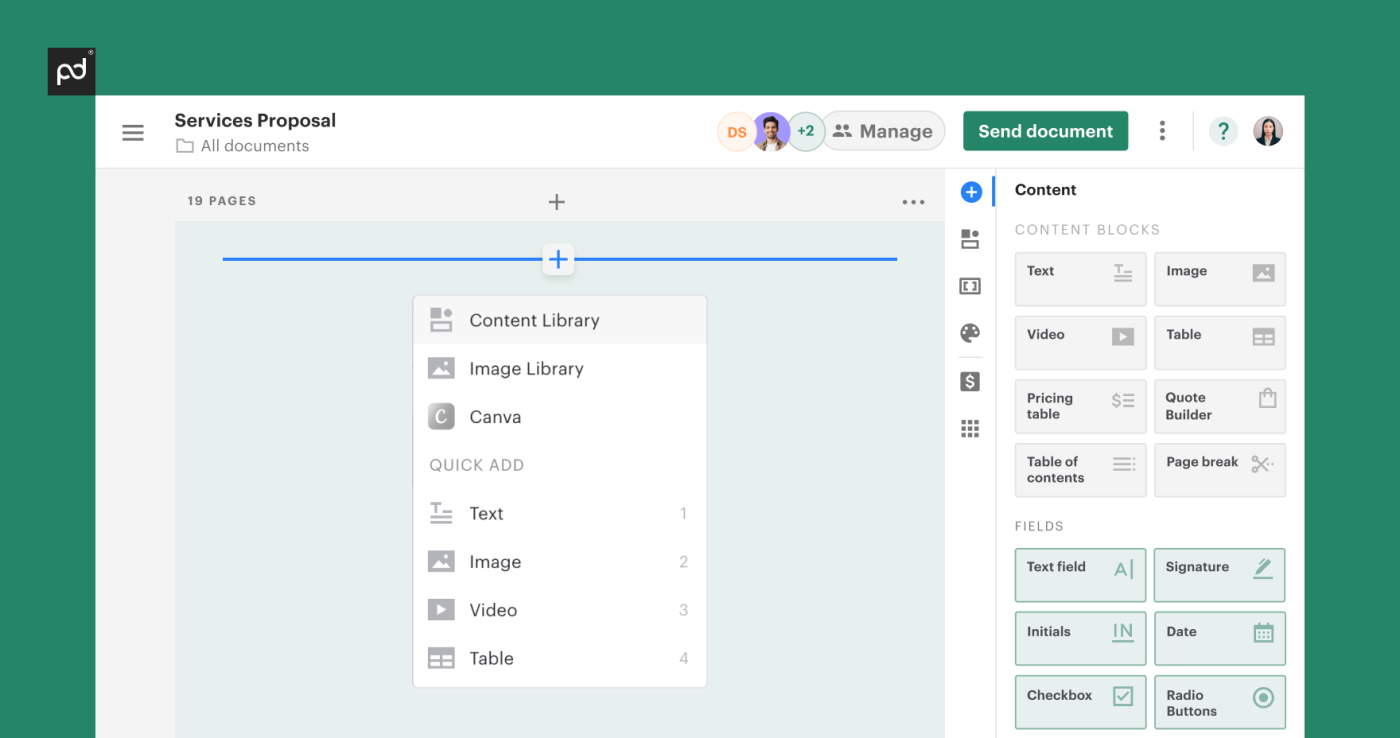 Signature block vs. signature field — what's the difference?
A signature block is a personalized block of text containing more information rather than just a signature.
A signature field is a signature line where a person signs their name.
A contract designed for two parties will have two signature fields and one signature block.
Each party signs on their own designated signature field, while both signatures represent the contract's signature block.
Create and automate signature blocks with PandaDoc
Signature blocks work as a digital stamp and can become an excellent addition to any document that you send electronically.
They make documents look more professional to the business entities with whom you interact, speed up the signing process and allow recipients to learn more about you and your business.
Looking to boost personalization, increase sales or organize a secure signing process?
PandaDoc offers users simplified drag-and-drop eSignature block templates, as well as the ability to customize them.
Create professional-looking documents, business or marketing emails, or contracts — all with your own signature block. Start a free trial today!