Consumer Loan Application Form
Create your consumer loan application form in a few clicks. Add unique links and drag-and-drop information fields. Streamline your document workflows, get reliable data, and save time and resources.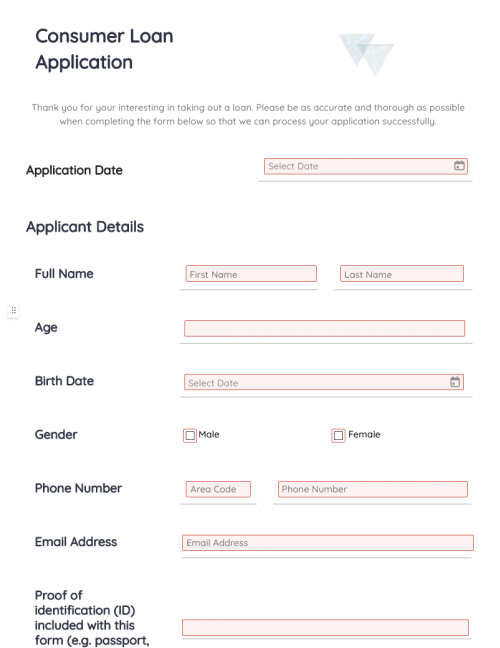 Why do people get consumer loans?
People take out consumer loans for many reasons.
The two most common use cases are paying down existing debt at a lower rate, also known as refinancing or credit card consolidation, and making a purchase when they don't have the money currently available.
Consumer loans can be more attractive than credit card debt because fixed-rate loans will often help you save money.
Are consumer loan interest rates lower?
Different borrowers have different options available to them. Rates and loans are largely determined by a borrower's credit history and credit score. Limited history and low credit will reduce options and raise rates.
How do lenders decide whom to lend to?
Each lender has established a formula to determine whom to lend to and at what rate. This process is known as underwriting.
Creditworthiness depends on several factors including the applicant's credit history, current debt-to-income ratio, and expenses.
What is a consumer loan application form?
A consumer loan application form is used for collecting data from loan prospects required to make an underwriting decision on their request for a loan.
The application is made available on your website to persons interested in applying for a loan from your company.
What should a consumer loan application form include?
Consumer loan application forms should be tailored to meet the underwriting and marketing needs of your company. The main areas covered in loan applications include the following:
Applicant information. Most consumer loan application forms begin with a section identifying the applicant's personal information, including their contact data and marital status.
Loan Request. Most loan applications ask the borrower to identify details of the requested loan, such as the loan amount, the purpose of the loan, the down payment, and the proposed collateral.
Employment Information. Your company wants to collect this information so they can assess the prospects that the applicant will have a reliable source of income during the life of the loan to repay the principal and interest.
Financial Data. Your company needs this data to understand a borrower's current debt-to-income ratio and their expenses in assessing creditworthiness
Other Content. It's a good practice to include a content field for the applicant to explain special circumstances or add other relevant information.
Consent to Background Checks. In order to make appropriate underwriting decisions, your company needs to obtain complete information on the applicant's financial situation and creditworthiness, and the prospect's certification that the info in the application is accurate and complete. Consumer lending regulations require your firm to procure the applicant's consent to conduct this background search.
Should you use a template to create a consumer loan application form?
If your company offers a variety of consumer loan products or receives a large volume of applications, you will likely benefit from using a template to generate the application, so that the form collects all the information your company needs.
Loan application templates remove the need to create every new document from scratch whenever you want to update the data collected or offer a new loan product.
PandaDoc frees up time for your team to do other parts of their jobs that were neglected because you were inundated with paperwork. PandaDoc Forms significantly improves your ability to review more loan applications quickly.
Download the free fully customizable template from PandaDoc today to get started.
‌What is the sales value of using a consumer loan application form?
To maximize the profitability of your loan product(s), you need to get as many qualified borrowers as possible to complete your consumer loan application forms.
The best strategy for getting more responses is to make the process easy and stress-free.
You can share a PandaDoc Form via direct link or by embedding it on your website — no coding necessary. PandaDoc's user-friendly forms make it easy for people to answer every question without getting annoyed.
Unlike other online tools that generate electronic forms, PandaDoc Forms offer legally binding eSignatures, making it ideal for creating a document more likely to result in a closed loan.
Furthermore, these online forms can be filled out on any type of device, so your surveys are easily accessible.
In addition to more loans closed, PandaDoc's consumer loan application forms result in a higher number of responses, better data collection, and more accurate market research for future products.
What are the requirements when applying for a consumer loan?
To apply for a consumer loan, you need documents such as a consumer loan application, proof of identity, proof of residence, proof of employment and income, and credit score. You will also need to verify if you're above the legal age to obtain a loan and if you're a U.S. based citizen or not (if you're seeking a loan in the USA).
What is a consumer loan in banking?
Consumer loan is a type of loan where a bank gives money to a borrower on the agreement that they'll apply the fund toward certain expenditures. Consumer loans can be of many types, such as credit cards, student loans, personal loans, mortgages, auto loans, etc.