IT contract management software from PandaDoc
Transform your IT contract lifecycle management across your whole enterprise. PandaDoc is a solution which enables businesses to streamline the most critical parts of all contract management systems: contract generation, approvals, negotiations, and eSigning.
Contract management made secure and simple
Our contract management software provides everything your internal sales team needs to save time, increase productivity, and close more deals.
Sales contract software made simpler
Contract management solutions are known to be complex due to their lack of user-friendly business processes and dynamic sales contract lifecycle. While the entire contract lifecycle can be difficult, as it often requires multiple management platforms, it can be streamlined by integrating the contract creation, negotiation, and eSigning phases of sales contract capabilities into a single application. Tools offering automated approval workflows and intuitive CRM software integrations significantly streamline the IT sales contract management process, while automated renewal notifications alert you when it's time to address all contracts that are ending.
Contract management accuracy
The wording and pricing used in sales contracts need to be exact. Other enterprise contract management software solutions do not provide safeguards to prevent users from entering incorrect pricing information, potentially locking-in bad service rates. Vague wording and other issues can have legal ramifications throughout the contract lifecycle. The legalese used in contract management is particularly sensitive and frequently compromised when modified by sales staff. You can circumvent these issues by building all contracts from templates, utilizing content locking features, and filling out terms with pre-approved legal language from the content library.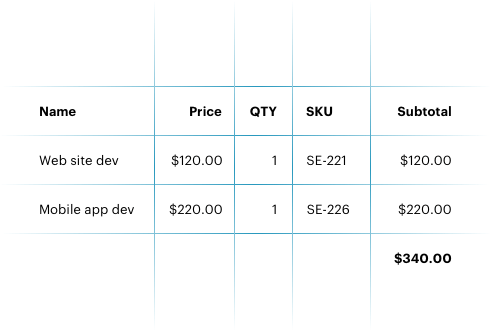 Making negotiation easier
The negotiation phase of the contract process is often tedious and contentious. You can make this process easier by tracking the successive versions of contract documents during negotiations with redlining and comments features, which allows each party to comment directly on the document. Our software allows you to add pricing tables to your quotes to give your customers a clear presentation of their various options and the costs associated with them.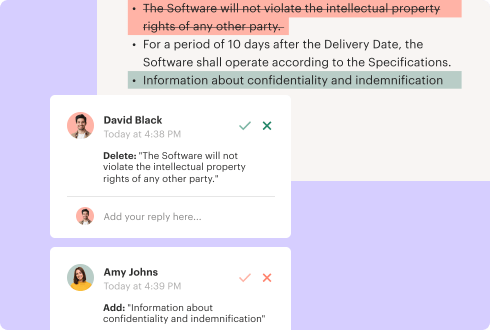 Streamlining teamwork
IT contract management software processes typically involve many different parties spread across different departments within the organization, and connecting them is not always easy. It can be difficult to know whose eyes and electronic signature are needed at different steps within the entire contract lifecycle. Sharing contract management amongst your team can be simplified with tools such as streamlined approval processes, easy signing order setup, and contract signature auto reminders that help keep contracts moving through the pipeline toward completion rather than getting lost in the shuffle of somebody's inbox.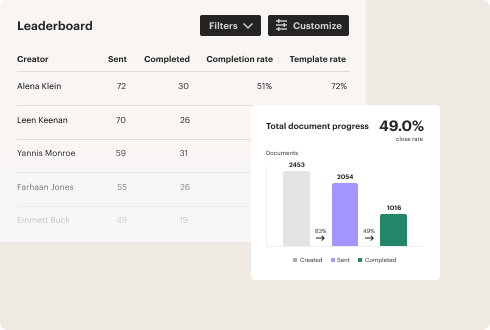 Legally binding and secure eSignatures
Make sure your contract approval is complete and legally binding with valid and verifiable eSignatures. Our real-time electronic signature software helps you by accelerating contract completion with legally binding and secure signatures that are ESIGN and UETA compliant. All signed contract approvals feature a unique digital certificate which confirms their legitimacy to protect all parties.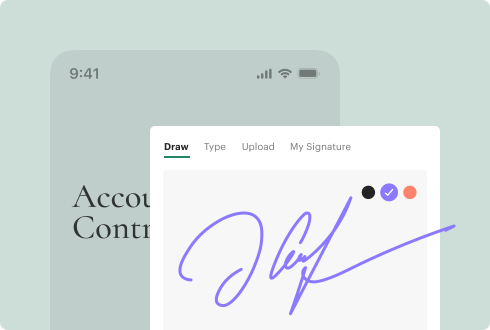 Paperless business, paperless contracts
Gone are the days of printing and storing countless service contracts in perpetuity. You can store your digital contract documents through PandaDoc cloud storage or in your own digital storage locations by way of our API or Zapier integration. Keep your digital contracts organized through the intuitive file folder system.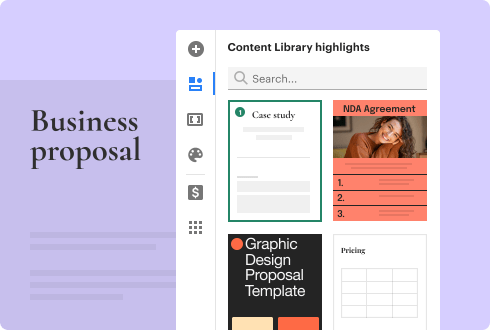 Contract renewal
It's important not to let contracts lapse, as a break in contract continuity can open up the door for a client exploring other options in a way they might not have otherwise. Knowing in advance that a contract is coming up for renewal allows you to strategically plan any additional negotiations necessitated by changes to your business, as well as plan out the provisioning process for the renewal. You can stay on top of contract renewals with the "Renewal notification" setting, which allows you to set up automatic contract renewal.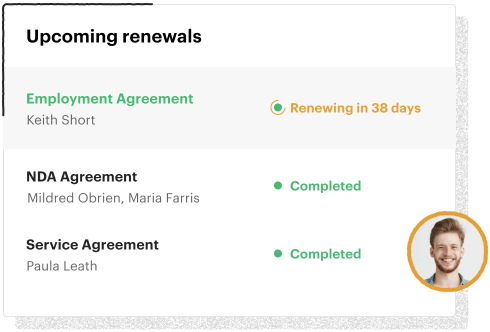 Contract redlining
With most contract management solutions, redlining is one of the most difficult processes of the entire contract lifecycle. As part of the contract approval process, contract negotiations can be painstaking due to the frequently long and drawn out pace at which it proceeds. Our "Contract redlining" functionality helps simplify and accelerate negotiation by adding transparency to the process, allowing users to see and track versions as negotiations go back and forth.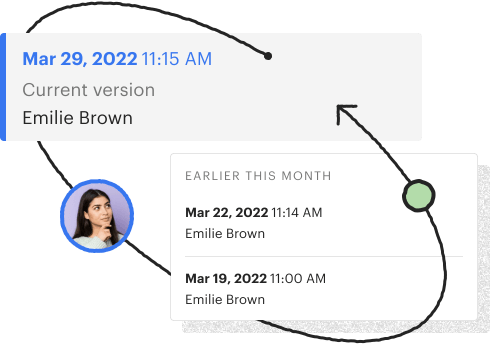 Create contracts as quickly as new business rolls in
Accurately and efficiently generating a new contract can be the difference between a new client and one that got away. Most businesses today generate their contracts through CRM software. PandaDoc integrates with over a dozen CRM software suites, including Salesforce, to allow you to quickly generate new contracts to keep up with the fast flow of business. The PandaDoc API allows us to integrate with other software offerings to help you seamlessly consolidate your workflow across multiple applications, ultimately saving time and energy and helping you create new contracts at the pace of your business's needs.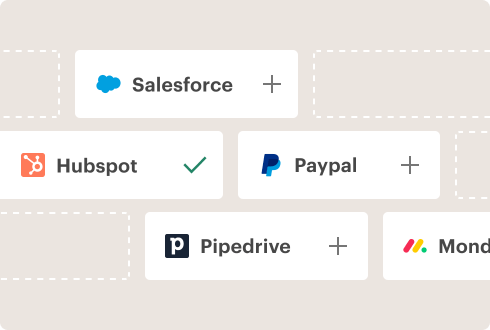 Use integrations to enhance your workflow
PandaDoc can easily integrate with a host of different business tools. Our Zapier integrations and flexible API allow you to connect and automate with a variety of software tools, from CRMs and cloud storage all the way to payment gateways and accounting software. Connect PandaDoc with your daily business tools to make your document process seamless from start to finish.