Effortless paperwork: A comprehensive guide to contract management for small businesses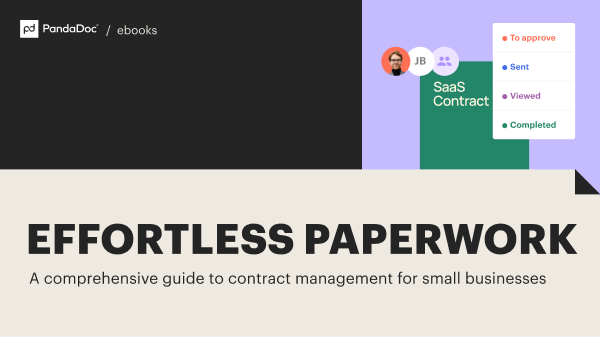 Contract management software for small business made easy
Discover the power of contract management solutions and take your workflow to the next level with our eBook.
No matter the size, every business runs on contracts. 
Contract management is an integral part of any business operations, yet, many companies still rely on outdated methods that are costly, labor-intensive, and error-prone to create these legally-binding documents. Fortunately, there is an easier, more efficient solution available. 
You can completely transform your company's contract management process using new tools like eSignatures that allow executives to quickly sign documents without the hassle of printing and pre-approved templates that expedite contract creation. 
Modern business contract management solutions like PandaDoc, allow you to create, execute, negotiate, eSign, manage, and renew contracts all under one roof.  
In this eBook, you'll learn how to manage contracts quickly and efficiently with a contract management solution. 
PandaDoc helps you manage small business contracts
This eBook will help you answer the question "what is contract management?". You'll be enlightened to the amount of work needed to create any contract for small business. Also, you'll learn that software is essential for business contract management.
Businesses need efficient and effective contract management software solutions. Happily, PandaDoc can provide that. That's thanks to a raft of user-friendly tools. These are a great help in managing small business agreements and contracts.
Let's look at some PandaDoc's contract management software features:
Use our

customizable contract templates

to quickly create contracts.

Draw from the

clause library

to ensure contracts are accurate.

Utilize

CRM integrations

to easily add customer data.

Boost collaboration with the ability to

leave comments

on contracts.

Further enhance collaboration with the

general chat

function.

Find and reuse contracts with the

document repository

with search and filters.

Never miss a renewal date with

contract renewal notifications

.
With Pandadoc, you can negotiate with clients online. They can suggest changes to contracts which you can view, comment on, and approve. Once all parties are satisfied, sign online with PandaDoc's eSignature capabilities.
PandaDoc's contract management software is suitable for businesses large and small. 
Download our comprehensive guide to contract management for small businesses today!