An operating agreement (OA) is a legal document that establishes the company's control structure, sheds light on its activities and the rights and obligations of board members. In fact, this is an analog of the shareholders' agreement, including a description of the relationships inside and outside the company, rules, policies, and regulations used to make financial, organizational, and functional decisions.
You can quickly get an LLC operating agreement tailored to different state regulations, set up your business and save time. Download the operating agreement form to any device with PandaDoc and print it at your convenience.
When to Use an Operating Agreement Template
Some states do not require an OA. In others, it is necessary if several members are in the LLC. It allows you to effectively set up operations, protect your status, and sometimes avoid legal liabilities.
Financial institutions and investors often request a completed example of an operating agreement to open a current account or make an investment decision. Without it, your state's laws will apply automatically. For instance, your company can be dissolved without your consent if the established leader dies.
In some states, the law equalizes members' shares, even if their investments in the company are not comparable. But you will be able to retain control and flexibility because the members of your company's founding board own a percentage, not shares.
A properly formulated OA will allow you to protect your rights better, build the foundation for day-to-day operation, gain access to a large, solvent market, developed infrastructure and profitable financing, and, under certain conditions, save on taxes.
Operating Agreements by Type
Different types of LLCs have their specifics when drawing up operating agreements.
Several founders
This is the only document that establishes who the owners are and their share of ownership in the company. As a rule, it is more complex since it describes the relationship between many interested parties and the procedure for distributing shares in case of death or criminal liability.
Single founder
The operating agreement sample is the most beneficial in this case. In particular, it separates the owner from the company to protect them from excessive liability. No one can interfere with your activities in case of legal conflicts.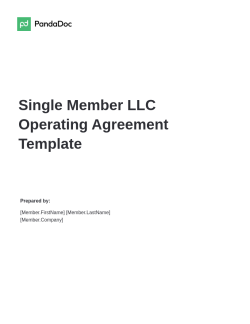 Single Member LLC Operating Agreement Template
Are you required to uphold your limited liability corporation status in accordance with state law? If the business is sued, the owner's assets may be safeguarded by this agreement.
Use Single Member LLC Operating Agreement Template
State requirements
In the five US jurisdictions, the formulation of the operating agreement is strictly required by law before establishing an LLC.
In New York State, it must be in writing only. Moreover, despite the number of founding members, OA is compiled in a single copy. In California and Missouri, it can be established orally. If a written operating agreement is used, it should be kept with other business papers. In Maine and Delaware, it is a little more complicated since OA will have to be concluded orally or in writing at least twice – before and after applying for the opening of an LLC.
How to Write an Operating Agreement
Let us consider the main components of a typical operating agreement.
1. Identification
Here you must specify the name, date, period of registration, and legal address of the company. Include the names of all founding members and the states in which you seek to operate.
2. Rights and shares
In this part, you describe the voting procedure adopted and whether voting rights are transferable. Be sure to specify how new members' rights will be considered. Keep in mind to denominate:
The number of class A and B-class shares that the LLC can issue;
The percentage of votes required for a quorum when calling the general meeting.
3. Management
In this section, indicate the higher managerial positions, terms of office, the procedure for election to an administrative post. Write clearly the obligations and rights to conclude contracts and compensation for work.
4. Contributions
State contributions and correlation with ownership shares and return of investment procedure.
5. Income distribution
This section should specify how revenues will be accounted for and distributed.
6. Rewards
This part must establish salary amounts and explain how expenses will be accounted for and whether individual members can be compensated additionally. It can also specify how voting will take place to resolve these issues.
7. Accounting and reporting
Here you denominate:
Usage of GAAP;
The procedure of initiating an audit per request of founding members;
Record keeping methods and rights of access to them;
Ways to pay taxes;
Partners in tax matters and market valuations.
8. Termination of activity
This section describes how and when an LLC may cease operations. It indicates who makes the decision, describes the conditions for automatic dissolution, and the asset liquidation and liability payments procedures.
9. Confidential data
In this part, you need to describe the information that, in your opinion, is subject to non-disclosure. It is important to note how confidentiality will be protected and what sanctions are provided for NDA violations. Some operating agreement examples also list exceptions.
10. Miscellaneous
This section may contain conditions for mergers and acquisitions, arbitration, etc.
You can employ our free operating agreement template to make it less challenging to create the document. There are several in our database, considering the nuances typical for many business situations. We have used a simple, accessible language so you can save time.
All the LLC's founding members must sign it, and a copy must be kept along with other primary legal documents. The registered agent must keep the original.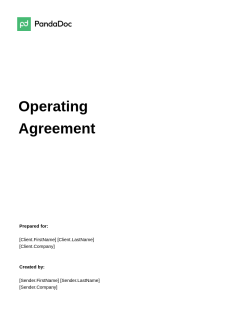 Operating Agreement Template
An Operating Agreement is an agreement amongst an LLC's members to govern it's business and financial and managerial rights.
Use Operating Agreement Template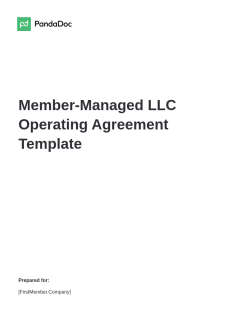 Member-Managed LLC Operating Agreement Template
A manager is chosen by the firm owners to oversee day-to-day operations in a manager-managed LLC. Use this Member-Managed LLC Operating Agreement Template right away.
Use Member-Managed LLC Operating Agreement Template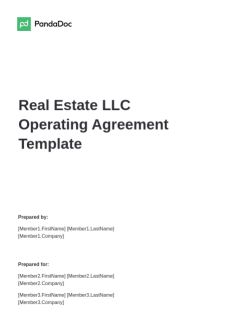 Real Estate LLC Operating Agreement
The members of the real estate limited liability corporation have signed this operational agreement. Use this Real Estate LLC Operating Agreement and make any necessary changes.
Use Real Estate LLC Operating Agreement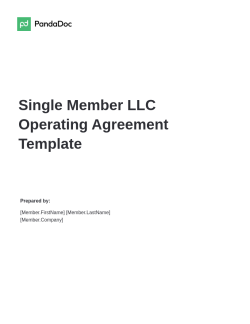 Single Member LLC Operating Agreement Template
Are you required to uphold your limited liability corporation status in accordance with state law? If the business is sued, the owner's assets may be safeguarded by this agreement.
Use Single Member LLC Operating Agreement Template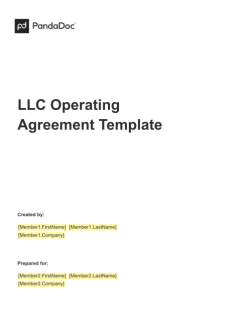 LLC Operating Agreement Template
Streamline operations to ensure you're running your business smoothly with a free LLC Operating Agreement Template.
Use LLC Operating Agreement Template
FAQ
An operating agreement is a legal document that describes the rules related to business operations, property, and financial decisions of the LLC being organized. While only some states require it, businesses are at risk without such an agreement. The document is valid when applying for loans. Some financial applications require it unconditionally. Free operating agreement might come in handy for potential investor review. It minimizes the occurrence of many problems with your business.
The operating agreement should contain details regarding the creation, capital, financial contributions, management, and conditions to be followed when transferring or dissolving the company: Personal data of founding parties; Ownership; Responsibilities of the administrative personnel; Employee roles; Operations and profit distribution rules; Investment data; Actions in case of unforeseen circumstances and dissolution.
Creating an operating agreement is relatively easy. To do this, you can fill out a manageable number of pages with simple terms. It is enough to find a suitable operating agreement free template on our website, which other people successfully use. Free operating agreement templates can be downloaded after registration. You can edit templates to your taste and access the online editor by paying for a subscription.