Why PandaDoc is better than eFileCabinet
Learn why PandaDoc is the perfect alternative to eFileCabinet software and switch to a faster solution.


| | eFileCabinet | PandaDoc |
| --- | --- | --- |
| Workflow automation | | |
| Document search | | |
| Mobile application | | |
| Audit log | | |
| CRM integrations | 1 | 15 |
| eSignature | Third-party integration at an extra fee | |
| Commenting | Internal only | Internal and public |
| Storage | Starting from 25 GB | Unlimited |
Send out proposals faster
Get your professional proposal ready and sent to prospective clients quickly and efficiently. We've specifically designed each PandaDoc feature to be as simple, intuitive, and fast as possible, meaning you'll have everything set up and proposals flying out the door in no time. There's no need to settle for a more complex service like eFileCabinet when everything you need is ready and waiting with PandaDoc.
Say goodbye to restrictive user requirements
It doesn't matter if you're an individual user, small business, or enterprise company, you'll have no problems using PandaDoc top-level functionality right away. You won't need multiple licenses to get started. You can try everything out risk-free with a 14-day free trial.
Exceptional CRM integrations
We want to make customer relationship management software compatibility seamless and straightforward, so PandaDoc includes comprehensive, intuitive CRM integrations. We're compatible with the most popular CRMs and have made ease-of-use a priority. Take Salesforce, for example, PandaDoc can immediately build, send, track, and eSign important professional documents without having to leave Salesforce.
Greater ROI right away
It can take a lot of trial and error to find the best solution and maximum ROI from your investment. Choose our contract management software to avoid wasting the time of you and your sales team. Our features such as detailed analytics, easy electronic signatures, native integrations, organized folders, mobile app, and high-quality customer support mean your investment can start to pay off immediately. PandaDoc helps businesses of any industry to boost their closing rates by up to 28% and massively reduce the number of resources they need to grow.
How you can benefit by switching from eFileCabinet
Intuitive integrations
PandaDoc has built-in CRM software integrations for every leading provider, such as Salesforce, HubSpot, and Microsoft Dynamics making content management a whole lot easier. Forward-thinking, user-friendly features like the Stripe integration allow your business to accept credit card and ACH payments as soon as your recipient signs, as well as effortlessly connect with accounting software like Xero to produce accurate invoices.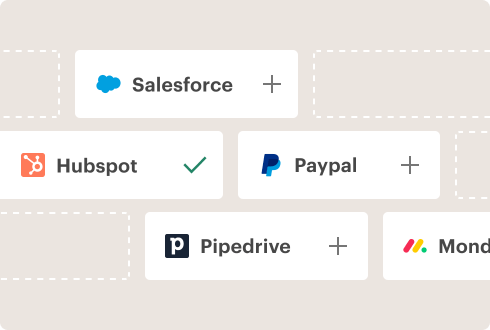 Industry-leading customer support
We're confident in saying that we offer the most effective, helpful, and flexible support teams in the industry. Whatever your specific business requirements and budget, whether your an individual entrepreneur or part of a billion-dollar global corporation, our support team is just seconds away via live chat or phone, and ready to help you with anything you need.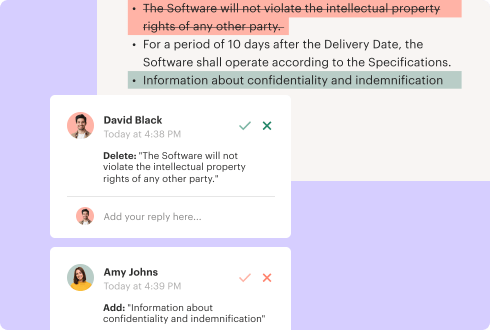 Security and data protection
The protection of customer data and secure file storage is extremely important to us at PandaDoc. That's why we've gone to extra lengths to ensure your workspace is secure. We are SOC2 type 1 certified and use Amazon AWS innovative technology to maintain a water-tight cloud environment that is scalable to meet any customer's needs.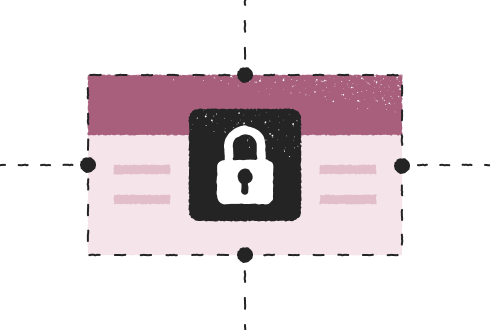 Create documents faster
Switching from eFileCabinet document management software to PandaDoc can save you and your business valuable time when creating and learning to use your document management system. Everything about our interface is intuitive, so you can create perfect proposals, quotes, contracts, and other sales documents right from your web browser or mobile device (including an Apple iPhone and Android phone) in a matter of minutes.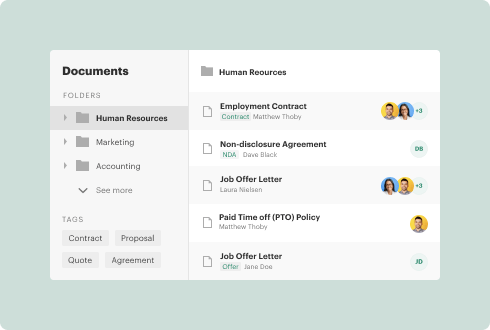 Powerful analytics
With PandaDoc analytics, you can see exactly who opens, views, and completes the documents you send. You can also see the amount of time they've spent on each page and section of your document. Real-time notifications via email also make it extremely easy to improve your document management workflow, so you can keep improving them over time, and boost your conversion rates.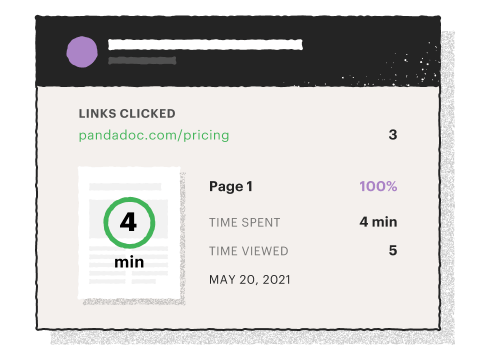 Bespoke templates and resource library
Making the switch from eFileCabinet to PandaDoc can help you to improve your brand identity and increase revenue. With PandaDoc, you can personalize document templates and build a custom library to store reusable marketing collateral like logos, videos, and other content.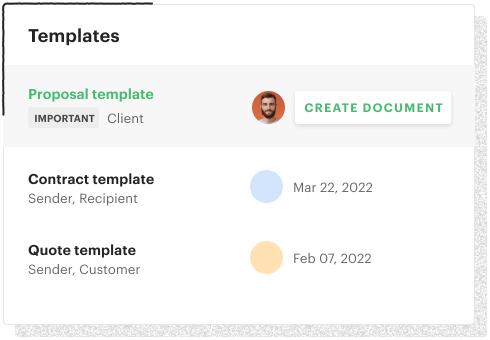 Find the perfect PandaDoc solution for your business