Need an alternative to HubSpot Quotes?
Our simple quoting software adds powerful CPQ functionality to your CRM. PandaDoc allows your team to create, send, track, and eSign quotes in no time and from one place.


| | HubSpot Quotes | PandaDoc |
| --- | --- | --- |
| Branding and snippets | | |
| CRM data merge | HubSpot Only | |
| Payments | | |
| Share by URL and Email | | |
| eSignatures | Starts from Enterprise Plan ($1200/month) | All Plans |
| Quote expiration date | | |
| Quote approvals | Starts from Enterprise Plan ($1200/month) | |
| Product catalog | | |
| Taxes and fees | | |
| Custom templates | | |
| Drag-and-drop editor | | |
| Notifications, reminders, and commenting | | |
| Upload or import files | | |
| Attached files | | |
| Bulk send | | |
Error-free quotes
PandaDoc quoting software allows you to create error-free quotes in no time by giving you access to the customizable product catalog feature, which allows you to add and remove entries from your product catalog in real-time, any time. Use the product catalog to easily include information such as new contacts, sales quantities, SKU numbers, product names and descriptions, and even images of your products so customers can see what they're getting.
Robust functionality
PandaDoc quotes stand out versus HubSpot quotes in large part due to the functionality of the product catalog features; the product catalog gives you flexibility in how quickly and easily you can populate your quotes while also maintaining uniformity and accuracy with regard to your product line. You can both improve sales efficiency as well as close more deals using our software to auto-populate the fields that typically cause hang-ups in the quoting process.
Let your quote do the selling
When compared to HubSpot Quotes, PandaDoc quotes feature a number of tools for creating modifiable fields that your customers and prospects can manipulate as needed. A well-drafted quote is a powerful selling tool, and giving your customers the ability to interact with your quote will improve the efficiency of your sales process by reducing the amount of time your sales staff has to go back and forth with the prospect to get it right. Instead, use features like optional items, modifiable quantities, multiple choice selections, and line item discounts to give your prospects the ability to shape the quote to their specific needs. This suite of tools gives prospective customers the best experience of the sales process.
Know when and how the recipient engaged with your quote
One of the most frustrating parts of sending a sales quote is the ambiguity of not knowing how – or even if – someone engaged with your quote. HubSpot users immediately notice how PandaDoc quote software differentiates itself by the insights they gain into a prospect's engagement with the quote they've received. With our software, you can see when your quote was opened, viewed, and signed with our quote tracking capabilities.
See the difference in flexibility when you switch from HubSpot Quotes
Faster transactions – integration with leading payment gateways
Get paid quickly with any of the leading payment processors, including Stripe, Square, PayPal, Authorize.Net, and QuickBooks Payments, which allows your prospects to submit payment via credit card or PayPal upon signing. It's as easy as connecting your Stripe account or other merchant accounts to your PandaDoc account. Our software also features the ability to send follow up emails to remind customers when their invoice is due. You'll get paid faster with our software than with HubSpot Quotes.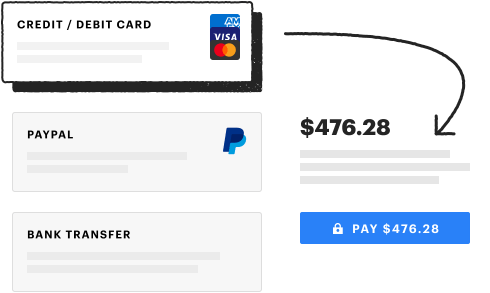 The only quoting software you'll need
Our quoting software is the only solution you'll need to send and sign sales quotes. All eSignatures are legally binding and ESIGN and UETA compliant. Our electronic signature software makes collecting signatures easy by enabling them to sign from any device for free. PandaDoc also offers users the ability to automate the generation of new quotes, speeding up the sales process even more versus HubSpot integration.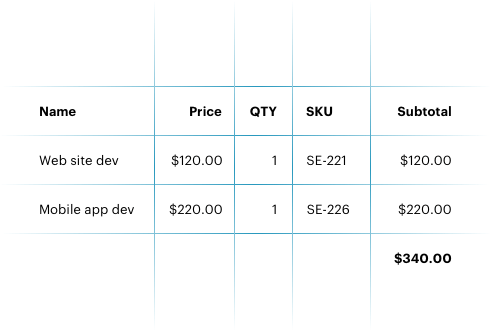 Streamlining in-house collaboration
When compared to HubSpot Quotes, our software saves sales managers time and worry by allowing you to set up automation. A nimble and efficient sales team works together closely and efficiently, and PandaDoc quoting software is designed with collaboration firmly in mind. Management can also keep an eye on how quotes perform with customers based upon close rates, which can be broken down by specific employee.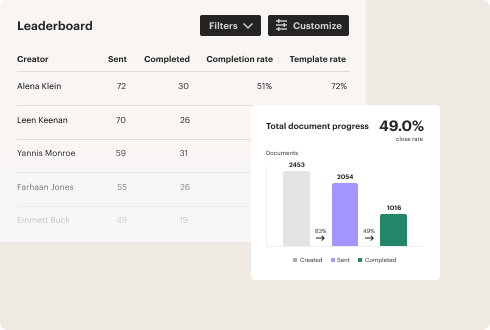 PandaDoc uses your existing stack for seamless integration
Enterprise organizations have a large software infrastructure. That's why we provide you with 20+ integrations (including Salesforce, Microsoft Dynamics, and HubSpot CRM & Inbound marketing software) that communicate with the tools you use every day. Connect PandaDoc with your existing CRM and other software solutions to create, send, eSign and track documents faster than before, letting your sales reps close deals in half the time.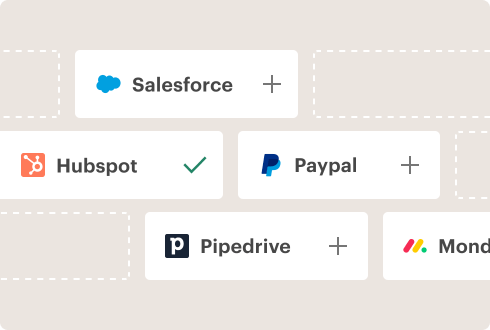 Find the perfect PandaDoc solution for your business