Looking for an alternative to Proposable?
Replace Proposable and take advantage of time-saving features like over a dozen integrations, legally-binding eSignatures, and more efficient teamwork.
| | Proposable | PandaDoc |
| --- | --- | --- |
| Online document editor | | |
| Electronic signatures | Limited | |
| Analytics | | |
| CRM integrations | 8 | 15 |
| Custom pricing tables | | |
| Content library | | |
| Custom workflows | | |
| Document folders and tags | | |
| Upload and import | | |
| Content locking | | |
| Line-item taxes/discounts | | |
| eSignature certificate | | |
| Auto-reminders | | |
| Bulk send | | |
| Embedded templates | | |
Scale up for bigger teams
Sales documents often require input from multiple individuals in sales, marketing, legal, and management. We make it easy for everyone to work together and keeps conversations and approvals centralized to each document. Different teams and team members can organize their documents in custom folders, share them, or limit access with custom workspaces, user roles, and permissions.
Spend less time on documents
Our online editor combines an intuitive drag-and-drop interface with media embedding, tokens, and pricing tables to create sales proposals and business contracts faster than ever. Start from scratch or reuse your existing local and cloud docs to create documents and templates in minutes. Every edit is autosaved and we'll even keep your accidentally deleted blocks a week.
Get approvals faster
Does your company require approvals on business contracts or sales proposals? If so, you'll save a ton of time when you switch to PandaDoc contract management software. Use our custom workflow features to define approval requirements, automatically send approved documents to prospects, and track documents as they're viewed, approved, and sent.
Move deals forward
Close deals faster with auto-reminders sent to your customers on your behalf. Just customize your deals with a few clicks by adding personalized videos, testimonials, and references right from your custom content library.
Collect eSignatures
Collect legally-binding electronic signatures with our electronic signature software. You can create a proper signing order to designate who should sign and when and you can even designate signing groups.
See the difference when you switch from Proposable to PandaDoc
Stay organized
Empower your sales team with marketing content, product information, and frequently used content to make it easy for them to create accurate, compelling sales documents. Our content library allows you to create a central repository for all of the content that your sales team needs to create their proposals, quotes, and contracts. Content library, custom folders, tags, and full-text search help to organize even the highest of volumes of documents and templates easily.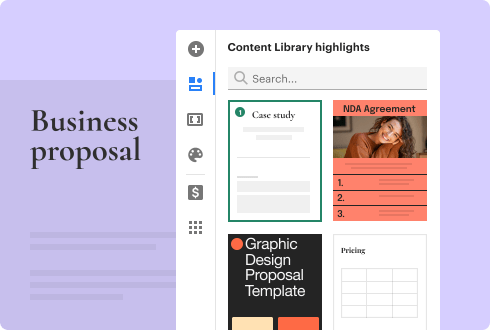 Easy electronic signatures
Every PandaDoc account includes electronic signatures that include individual eSignature certificates. Our eSignature technology is ESIGN and UETA compliant and work effortlessly on any computer, smartphone, or tablet. PandaDoc provides more eSignature collection features than Proposable, including signing order, signing groups, custom fields, masked fields, eSignature certificates, and more.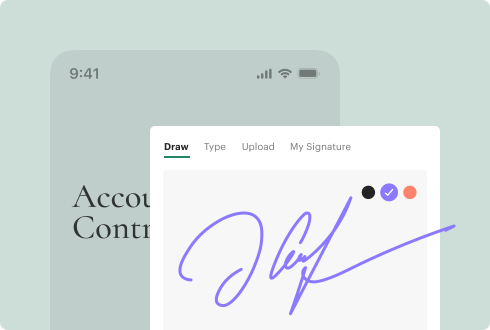 Use your existing docs
Like Proposable.com, we offer an online editor and a large library of pre-built proposal templates. We also make it easy to create your own templates and documents using our upload and import features or drag and drop document builder. Leverage your existing local or cloud files and convert them to editable and ready-to-send documents. Whatever option you choose, we autosave your document so you never have to worry about losing your work. Each of these features make PandaDoc the perfect option over Proposable.com.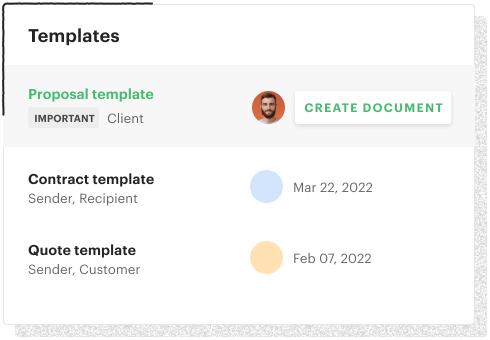 Simplify approval workflows
Set up custom approval rules and roles that align with your internal processes. Rather than set up approval rules in Proposable user profiles, which can't be amended easily, PandaDoc provides greater flexibility by allowing you to create unique approval rules at the template level. This functionality is extremely helpful because you can include anyone from your organization in any particular order you'd like. You can also change your rules in real time at either the template or document level, unlike Proposable.
Smarter quotes
PandaDoc quoting software allows more flexibility when generating quotes than Proposable. Create multiple sections in your pricing table with headings, totals, and subtotals. Apply taxes or discounts either to line items or to the table's total. Better yet, generate your pricing tables automatically from Salesforce, Pipedrive or HubSpot CRM to editing and creation time.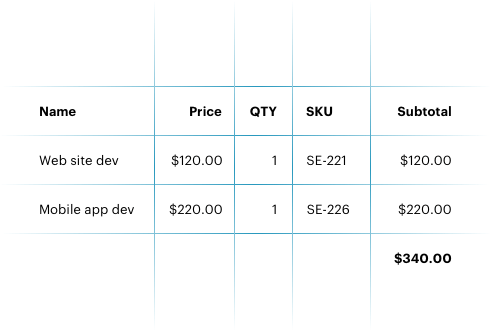 Lock down content
In addition to fast document creation, bigger teams need additional functionalities to have a successful custom proposal process. With PandaDoc proposal software you can lock specific content blocks from editing (like legal clauses, terms and conditions, etc.). You can also share frequently used templates across the same workspace, a feature that is not available with Proposable.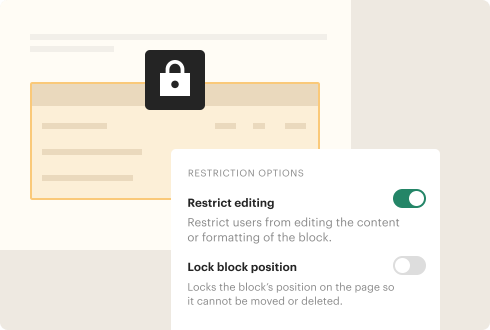 Find the perfect PandaDoc solution for your business