How to send contracts to clients
Businesses nowadays prefer sending contracts to clients using legally binding digital tools.
This approach speeds up the sending, signing, and approval processes, as well as aligns with the paperless ethos of sustainability.
The digital options that come to mind include:
Using email attachments,
Sending files (PDF or DOCX) from cloud storage,
Using document management platforms.
In this short article, we'll show you the ways of sending client contracts in order to guarantee security in transit, seamless signing, and safe storage.
Let's dissect them one by one.
Sending contracts as email attachments
Freelancers, companies, and business owners can send contracts to their clients as email attachments.
But the main drawback to this method of sending contracts is that the client still needs to download the document before signing.
Some email service providers like Gmail enable add-ons, which the client would have to download in order to sign or edit the email.
Besides, email messages with attachments could end up in the spam folder — quite rare, but still possible. So yes, this method of sending contracts is already going out of style.
Using cloud-based storage to send contracts
A better upgrade to using email attachments is the use of cloud-based storage software such as Dropbox and Google Drive.
These storage platforms also make it possible for users to send contracts and other documents using a URL.
This makes it easy for people to access the documents without worrying about the attachment entering their spam folder. You can even send contracts from your Android or iOS smartphone.
You can also use extensions to expand the scope of services as regards contracts. With an add-on like PandaDoc for Google Drive, you can send contracts to multiple contacts and monitor how they interact with it using the Free Email Tracker.
Follow these steps to install PandaDoc on Google Drive:
Open Google Drive> Click the plus(+)sign > Click "Get add-ons."
Search for PandaDoc on Google Workspace Marketplace and install it.
Find the installed PandaDoc add-on in the right panel.
Connect Google Drive to the PandaDoc add-on by authorizing access.
If you already have a PandaDoc account, log in using your details. Otherwise, you need to create an account.
Authorize access to your PandaDoc account.
Select a file you want to send (PNG, PDF, DOCX, etc).
Select the intended recipients.
Send your document.
Note: You can also use tools like Google Docs to edit the contents of Word documents.
Going fully digital with a contract management solution
What if the client doesn't have Google Drive and wants the ability to easily access electronic signature software?
That's where PandaDoc shines.
By now, you already know that PandaDoc has a Google-compatible add-on.
Now, let's show you how its fully-fledged platform handles everything related to documents, contracts, proposals, forms, workflows, and more.
If you are an independent contractor or a small business owner trying to send contracts to your client, here are the steps to follow:
1. Visit the PandaDoc website.
2. Create an account (you can log in with Google, LinkedIn, Office, Slack, or SSO).
3. After the onboarding, upload the document from your local drive or drag and drop it onto the interface.
4. With the document open, scroll to the top and click "Send."
5. Choose "Send via email" or "Send via link" from the dropdown menu.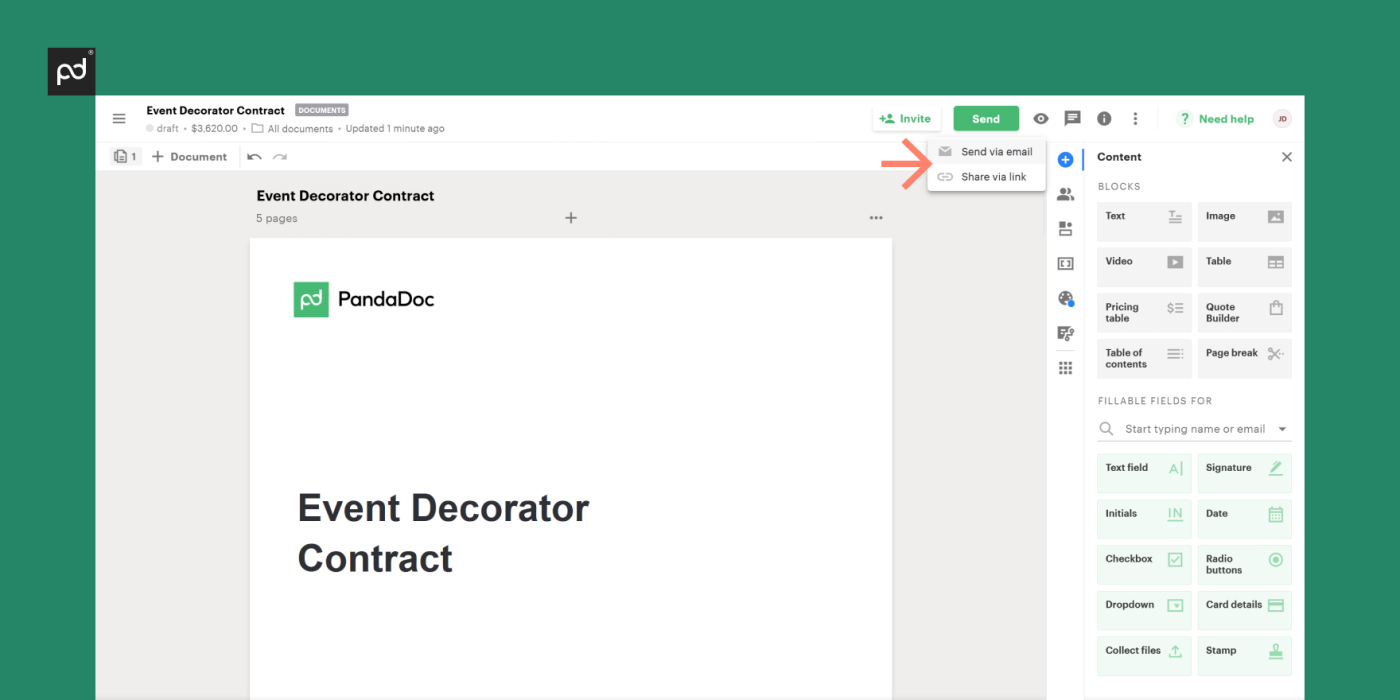 6. Add the email of the recipient(s).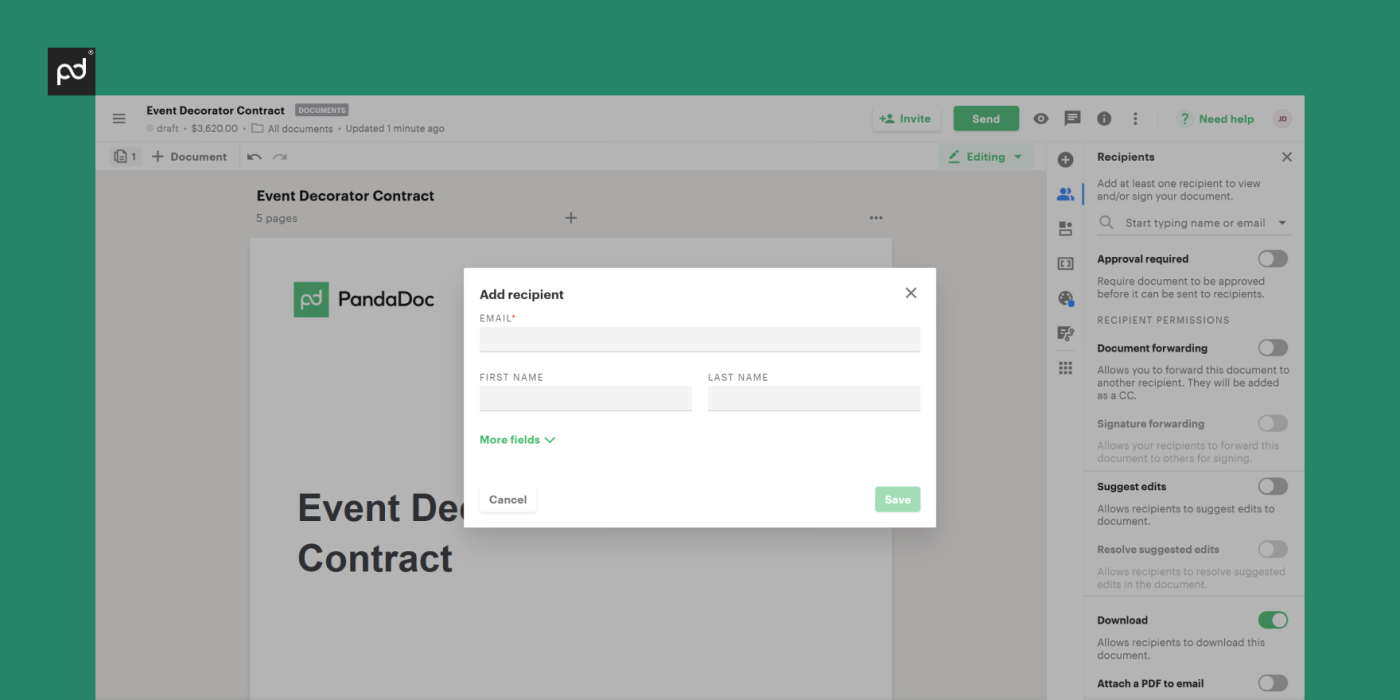 7. Copy the link and share it with them. They'll also receive email notifications to access the document.
Your clients will also receive reminders periodically until they open and sign the document.
And most importantly, you can configure the duration of validity for the generated link.
Also, the contracts you send will stay in the document repository until you remove them.
Read the guidelines for sending and signing contracts seamlessly with PandaDoc's contract management software.
Use PandaDoc for all your contract needs
You can send contracts and service agreements using cloud software or a document management solution such as PandaDoc.
These tools make it possible to send any digital contract securely and smoothly.
PandaDoc provides a platform and an add-on for sending contracts, as well as editing capabilities for signature fields.
And if you want to designate specific users to sign contracts without extra hassle, the eSign tool is the perfect option.
Every user can add a digital signature to their document to provide additional encryption and validity before sending it over.
There is also an option to embed signature requests for specific signers on the contract.
Also, the contract management software allows you to fill and sign any online contract with the help of the click-wrap feature.
This speeds up the signing process and streamlines the contract signing workflow. You can also embed fields like stamps, initials, dates, and payment portals.
Use the contract management software for sending, receiving, reviewing, renewing, and signing contracts.