How to sign invoices online
An invoice is the bill created once a product or service is sold.
As a statement of charges itemizing the purchase and the total amount of money owed to the seller from a buyer, a thorough and professional sales invoice can get you paid faster.
Electronic invoice templates offer convenience and security
Electronic invoices are the norm in business today and most businesses maintain invoice templates that allow them to quickly issue new invoices and ensure the accuracy of the terms outlined.
The ability to issue electronic invoices, collect digital signatures, automate payment reminders, and monitor how a client interacts with an invoice in real time gives small business owners peace of mind.
It's important to get your invoice template tuned to your specific needs as a business. Invoicing is intrinsically linked to your organization's payment process, and many businesses choose to indicate acceptable payment options (e.g., PayPal, credit card, bank account number) on their invoices.
Working from a template is particularly helpful when entering the wrong information into your invoice can lock your organization into a bad agreement.
Luckily, PandaDoc offers its users the ability to upload their own template through the user dashboard, which they can then modify and interact with via PandaDoc robust user tools.
Once you've created an invoice template, the PandaDoc Transfer Data To feature allows you to transfer potentially recurring information between documents.
This includes company information, the invoice recipient's name, address, contact info, and more which can be transferred automatically to all new documents instead of requiring you to input existing data unnecessarily.
You can also use Content locking, Approvals, and the Transfer Data To features to prevent reps from making unapproved edits, ensure proper approval workflows are observed, and minimize the risk of manual errors and improperly entered data.
PandaDoc helps users generate new electronic invoices, monitor due dates, and collect digital signatures on sales contracts within a cloud-based user interface.
With a strong and customizable invoice template, you can go from receiving a purchase order to issuing your next invoice number in real time, helping you generate positive cash flow through your business much faster.
PandaDoc also offers users prefab invoice templates to help them get started quickly.
Using this template as a basis, let's go through the whole process of how to create, modify, send, and eSign an invoice through a PandaDoc account.
1. Upload your invoice template
PandaDoc allows users to issue new invoices using their own invoice template, which can be uploaded via the user dashboard.
Uploading one's own invoice template can help save time on future invoices, thereby expediting the payment process.
Log in to your PandaDoc account to access the freelance invoice template.
If you don't already have one, create a PandaDoc account.
To upload your own invoice template go to your user dashboard homepage.
Click on the green Create button in the upper right-hand corner of your browser window.
If you want to jump right in and take the existing PandaDoc freelance invoice template for a test drive, click here.
Note: Alternatively, you can create your new invoice template directly within PandaDoc by starting with a blank document. This approach gives you the greatest ability to modify and interact with every element of your document.
2. Populate standardized text parameters with the appropriate information
A purchase order is an indication that a sale has been made and can include a web sale, approved proposal, or signed agreement.
The faster you can turn around an invoice after receiving a purchase order, the better the odds that your client pays you by the invoice due date.
Faster invoicing means fewer unpaid invoices, which ultimately means improved cash flow and peace of mind for small business owners.
PandaDoc helps save time for users by streamlining the process by which you change the dynamic details of your invoice, such as client name, company name, city, and any other detail that changes from client to client.
The PandaDoc invoice template features various yellow-highlighted text parameters that allow for quick data entry that is then standardized throughout the entire document.
With the PandaDoc invoice template loaded on the screen, click on any yellow-highlighted text such as [Client.FirstName] on the document.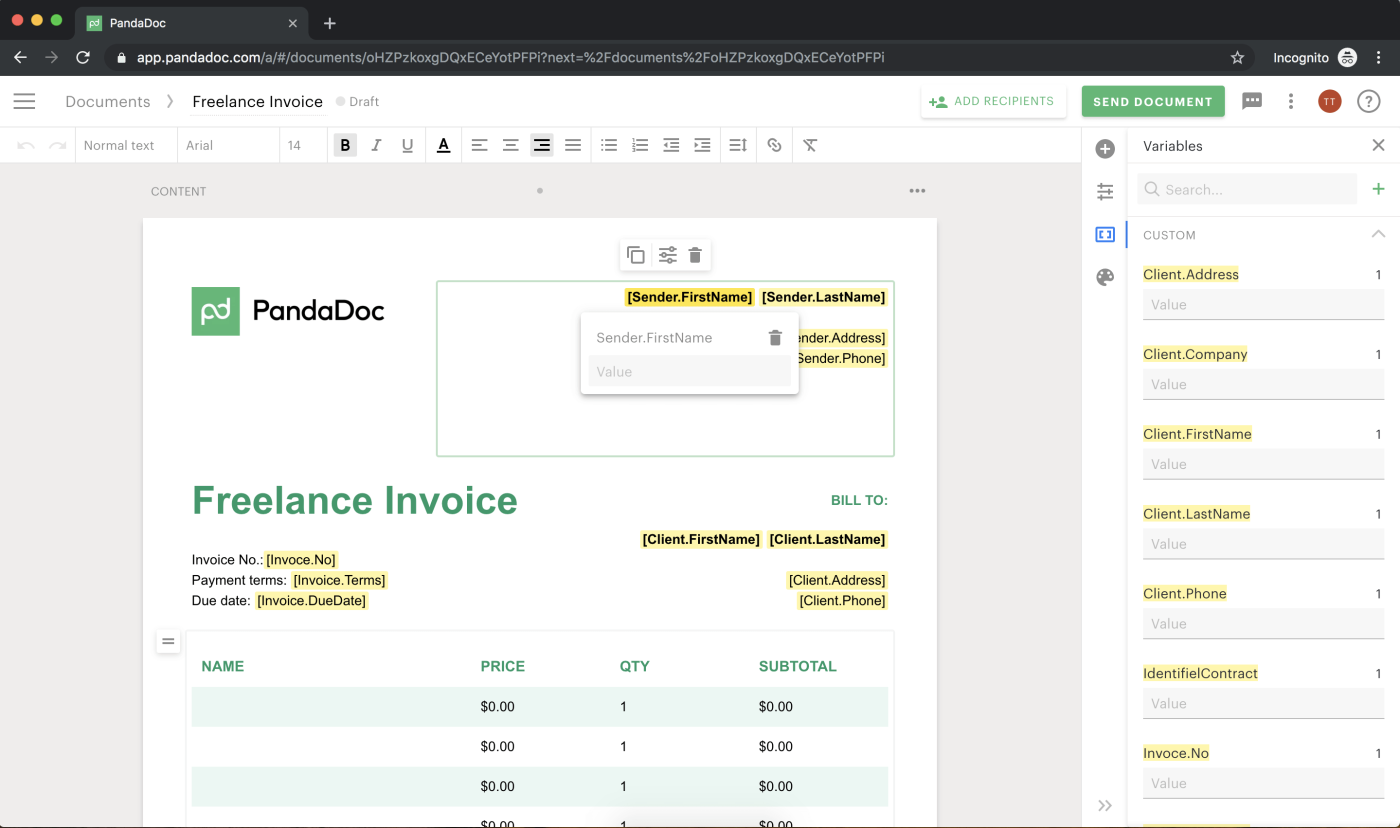 A box will appear which allows you to enter any value for this macro, which will then auto-fill throughout the rest of the document.
You can create these kinds of modifiable macros in your own template by following the format you see in the PandaDoc invoice template.
For example, if you offer your clients cost-per-impression online marketing services, you can include your CPI fee in your invoice by including a macro like [CPI.rate] that you can then auto-populate within PandaDoc.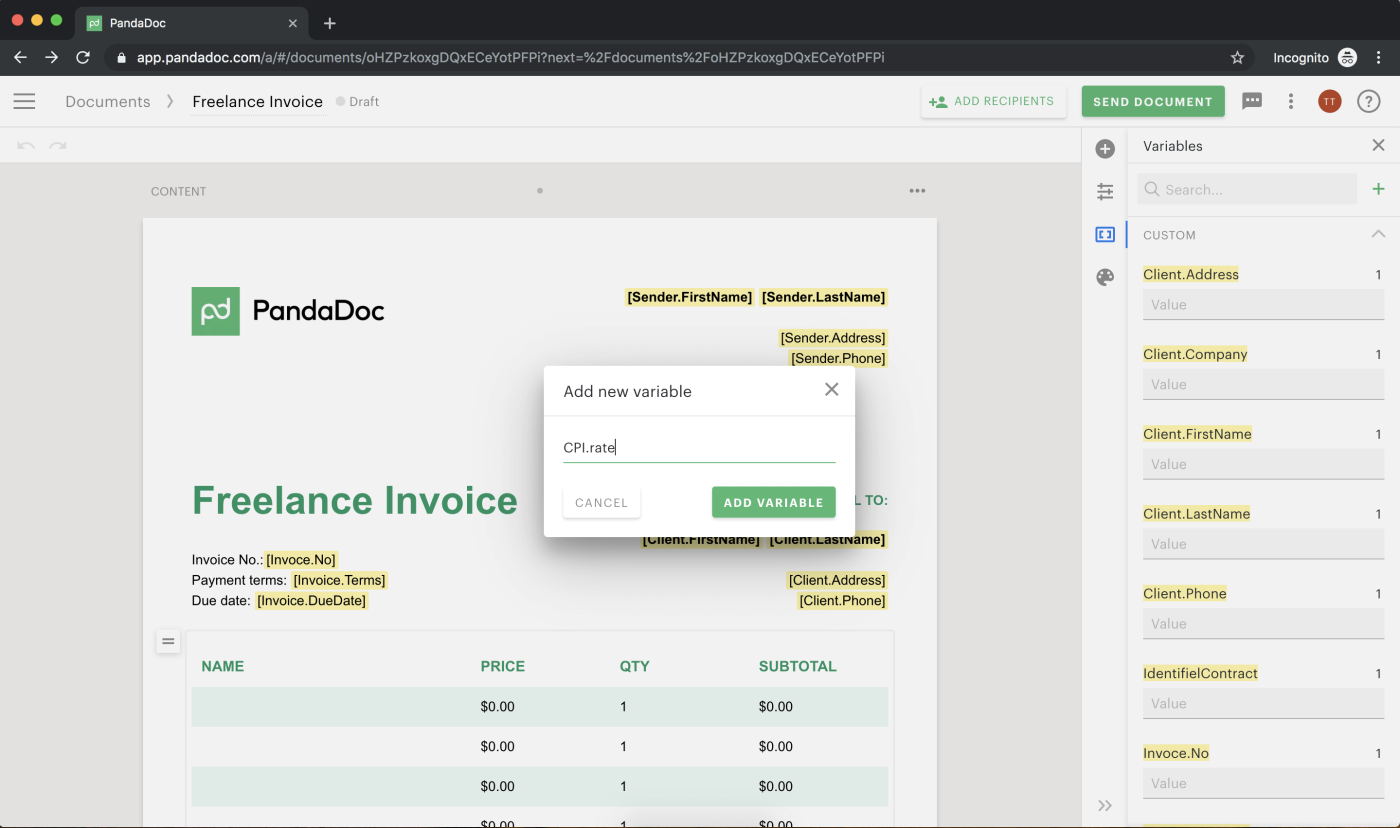 Here are a few fields that you might auto-populate with a text macro:
Due date
Identification number
Invoice number
Company name
Phone number
3. Add elements to your invoice
The easier your invoice is to interact with, the more likely it will be paid by its due date.
In addition to blocks that allow you to insert text fields and digital signatures, you'll also find tools for inserting images and dropdown menus into your invoice template to make it more functional for your business.
Why simply write your company name at the top of your invoice when you can insert your logo?
Clients respond well to flexible payment options so allowing them to select their preferred payment method on your invoice can benefit your business.
For instance, you might give your clients the ability to select their payment method (e.g. credit card, PayPal, or bank account) from a dropdown menu.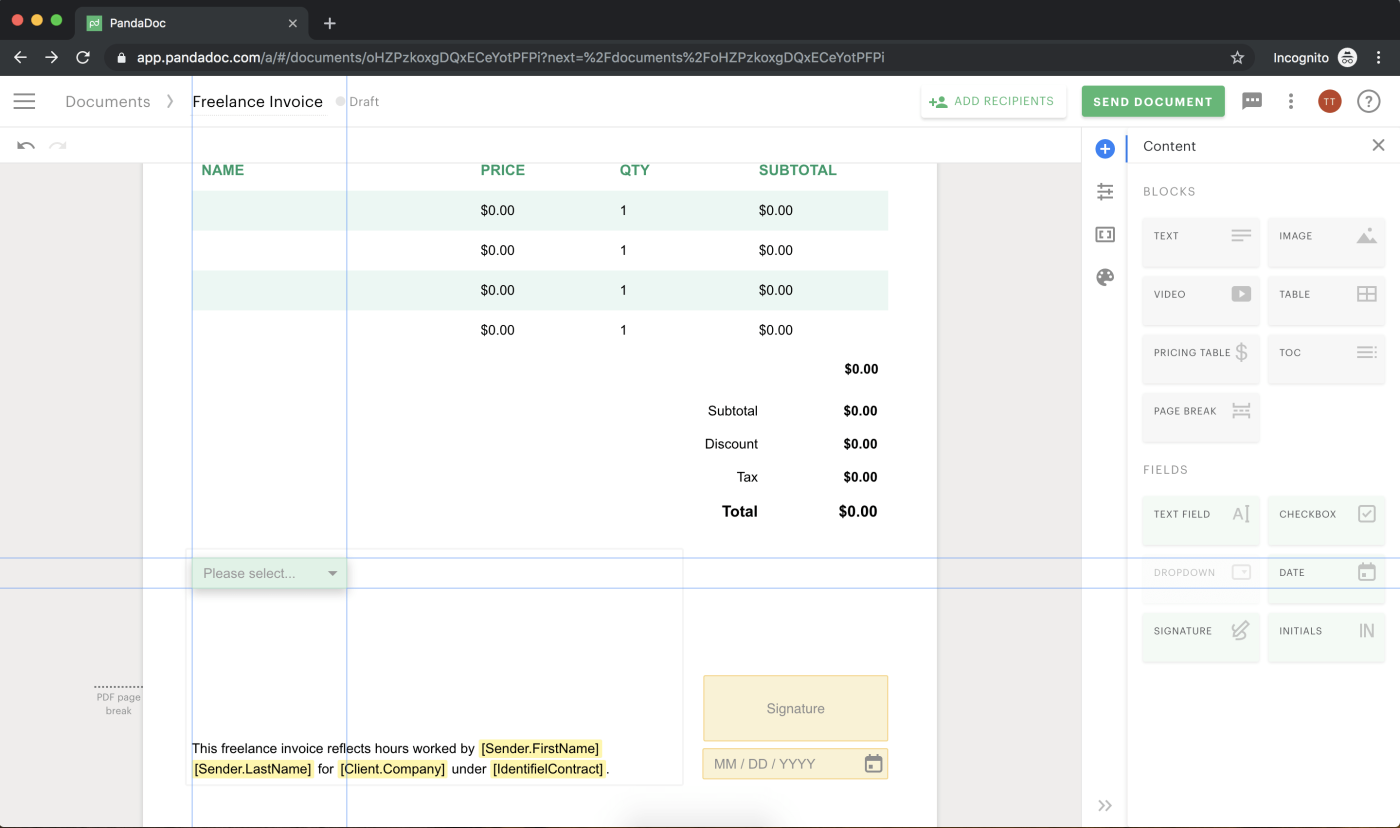 To create a dropdown menu on your invoice:
Click on the Dropdown button under Fields on the right side of your browser window and drag it onto your document.
Click inside your new dropdown menu, then click on the properties button that appears in the popup box above it.
Navigate to the Dropdown menu that appears on the right side of your browser window, then add any payment options such as PayPal that you wish to include at the bottom where you see Dropdown Items.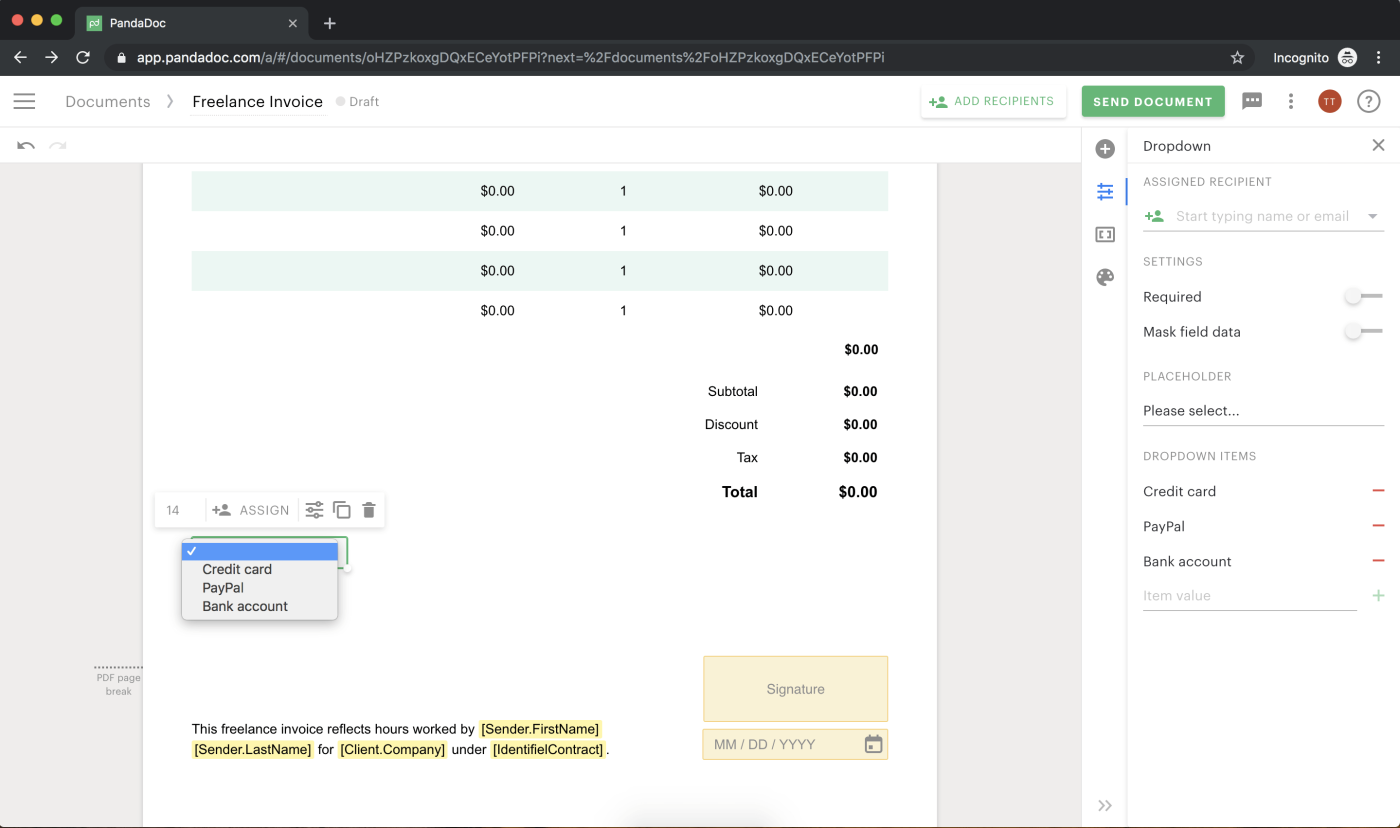 Note: If you do business internationally, it might be worthwhile to check on international invoicing conventions across European or Asian territories. There might be standard invoice information unique to your German clients such as a region-specific tax identification number that your Lebanese clients don't need.
4. Fill in or assign any signature fields on your invoice
While many invoices do not require signatures, some freelancers and small business owners employ them.
PandaDoc provides users and their clients the ability to immediately sign electronic invoices with a digital signature.
Create a place for a digital signature by dragging the Signature block into the appropriate place on your document.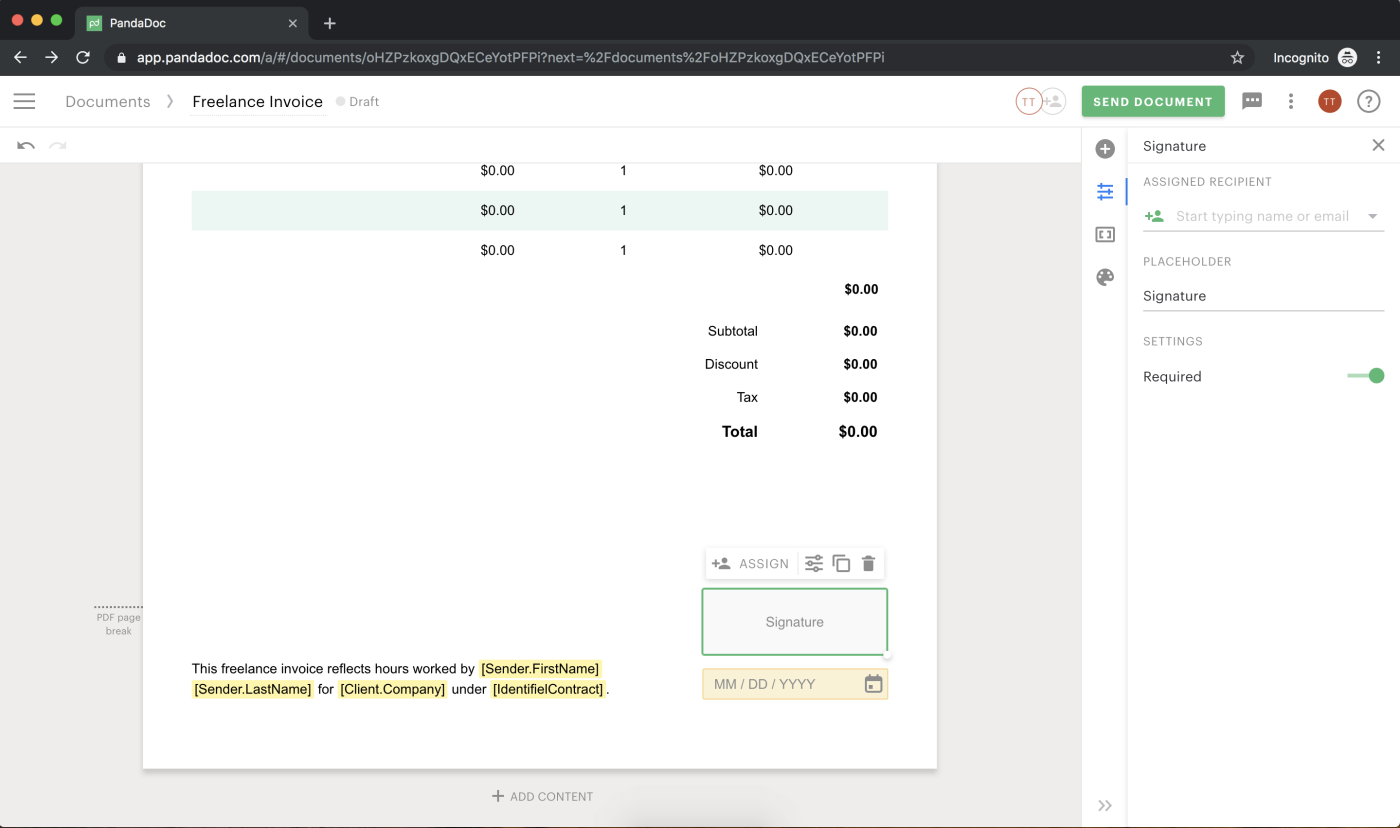 Affix your own electronic signature where appropriate by double-clicking in the signature box and entering your signature.
Click on any signature box you'd like to assign to a recipient and click the Assign button in the box that pops up.
Enter the email address of the recipient you'd like to sign.
The recipient of your invoice will be directed to sign where you've indicated.
5. Complete your invoice
Give the document a thorough check for the accuracy of all information. Is the due date correct? Have you included a phone number where you can be reached?
If you use a digital signature field, have you set it up correctly?
Once you're confident that the invoice is error-free, click the green Complete button on the right side of your browser window.
This will check through the document for any incomplete or unassigned fields.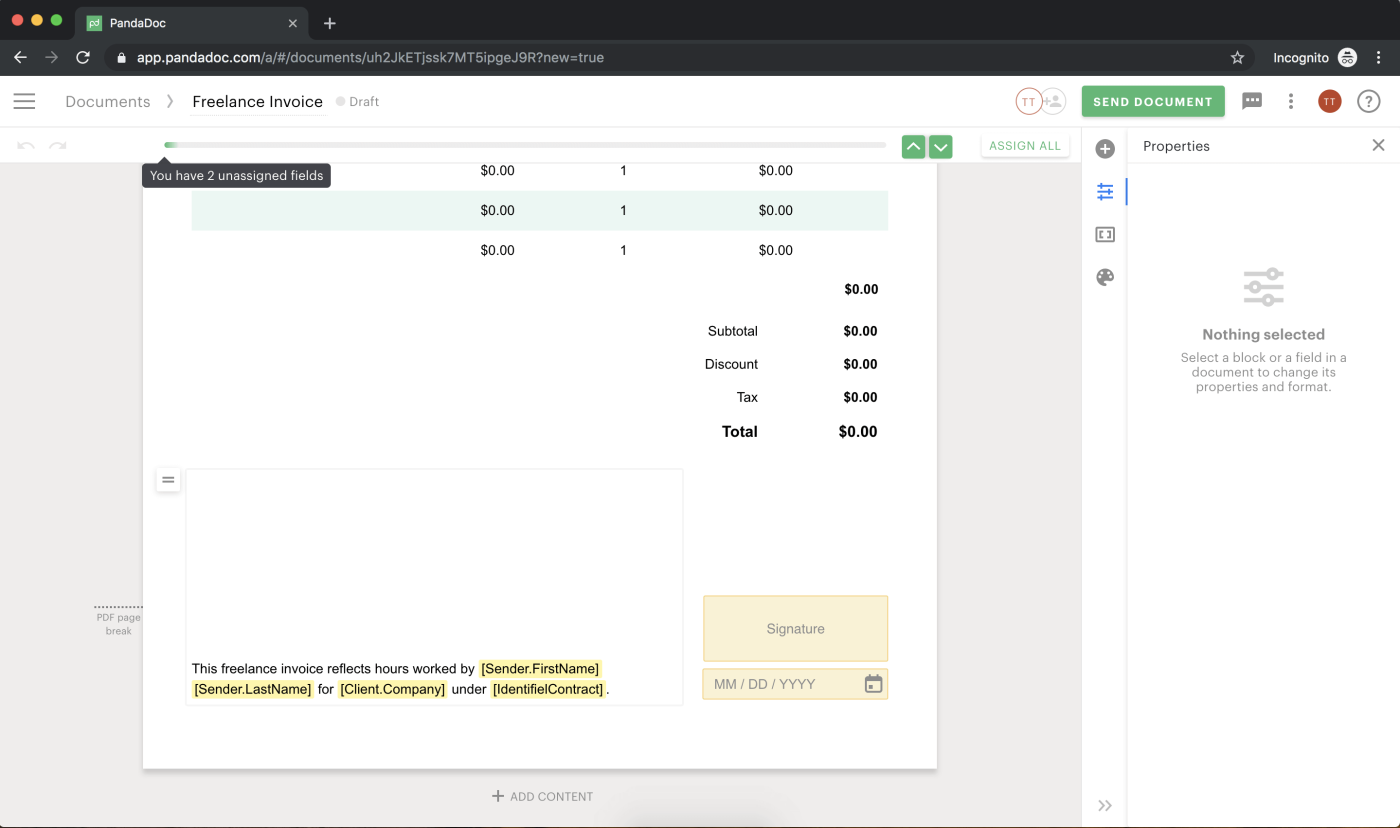 If the PandaDoc software finds no outstanding fields, it will change the green Complete button to a green Send button, which you can click to send the invoice document to the specified recipient(s) for completion.
You're finished! Ready to draft an invoice?
To draft your first invoice, create a PandaDoc account, then complete and send your invoice online.
The sooner you send it off to your client, the sooner you get paid! Traditional invoicing software is cumbersome to set up and difficult to use and maintain.
By taking advantage of PandaDoc's automatic invoice generation, your customer data, company information, and product details are automatically added to the invoices you create and allow you to process secure credit card and ACH payments directly within your invoices as soon as your recipient signs.
You control who pays and how much they pay.
Much more than invoices
You can use PandaDoc for more than just invoices.
Many companies utilize the platform for all of their business document needs including contracts, proposals, presentations, and quotes. PandaDoc gets any document you need, signed faster.
End-to-end integration with 3rd-party apps means convenient and accurately documented information accessible whenever you need it.