Auto Loan Application Form
Use PandaDoc to efficiently create and complete auto loan application forms across departments in minimal time.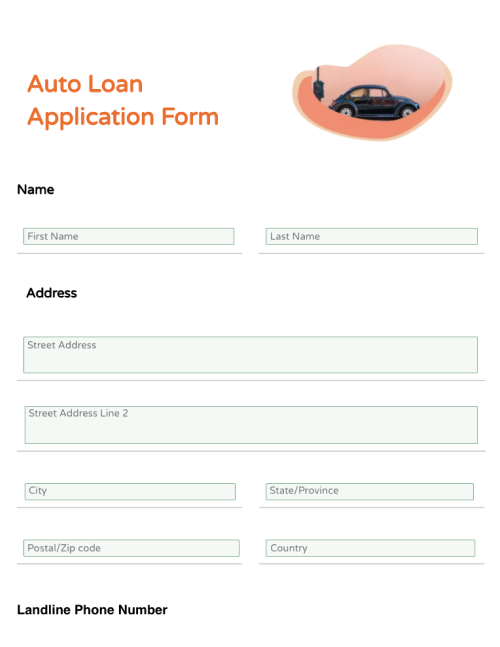 How can you create a sample loan application from a car dealership?
PandaDoc allows you to modify your existing documents by converting them through a template. It allows you to import your existing data with a drag-and-drop editor. All documents can be personalized, and customized to suit your auto dealership's individual requirements. All aspects of the auto loan application can be created, including auto loan and credit application forms.
The data that you require from the client will be entered into preset content blocks. This will include the client's basic personal details such as name, address, cell phone number, email address, driver's license number, and social security number.
What additional information should you request from potential clients to complete the auto loan application?
You will need need to verify other personal information of your client, including
birthdate and age
nationality
gender
marital status
highest education level attained
whether they have owned a car previously
whether they own or rent a property
how long they have lived at the current property
You will also need to verify their employment status. You should ask for information including
if they are employed by a company or self-employed
the name, location, and website address of the company
the nature of the business
how long the applicant has been employed and in what capacity
This required information will also be required in respect of the client's spouse or live-in partner.
Why do you need personal information from a person who is not the client?
You will need to verify the client's overall financial status. Ask the client to furnish a basic monthly income and expenses statement. Income details should reflect
the client's basic salary
their spouse or live-in partner's basic salary
any additional regular income
In addition, living expenses should reflect
home loan or rent
credit card repayments
additional regular expenses such as food, gas, school fees where applicable
What additional financial information do you need?
You will need to know the name, branch, and account number of the client's bank. You will also need the client to furnish the contact names of their credit referees, which you must follow up on and confirm. This is a vital step to corroborate the client's financial ability to service the auto loan.
How do you use this to create a PandaDoc auto loan application form?
PandaDoc Forms are easy to convert to your particular requirements. Simply edit the content box headings to reflect the information you will need. An automotive credit application form will differ from (e.g., an application to purchase home appliances such as a fridge or TV).
PandaDoc makes it simple for each relevant signatory to e-sign the auto loan application at each step. eSignatures are legally binding and save you having to physically deliver documents for signature, thus bypassing inevitable delays.
How can you benefit from using a PandaDoc Form for an auto loan application?
PandaDoc uses advanced analytics to provide real-time analysis of their template forms. You will find that using a PandaDoc Form will save you time and money because the entire auto loan application process will move much faster than through old-school personal delivery methods.
It is also more secure, and each stage of the application can be tracked and monitored. You can see who has viewed the application, how many times it was viewed, how much time was spent viewing each stage of the application, and whether any related links were opened and how many times.