Information Request Form
Create information request forms quickly and easily with drag-and-drop form fields, automated workflows, and secure data storage.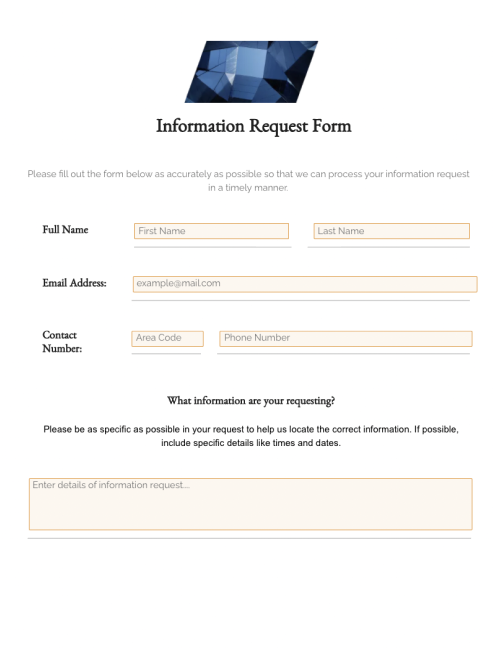 What is an information request form?
An information request form is a document commonly provided by consultants and government facilities. These forms allow the public to contact the organization or professional in question to obtain more details concerning a topic.
They help connect people with trustworthy answers and give professionals a better idea of what people need.
Information request forms are among the most common online documents. They help protect the privacy of professionals and government officials while allowing people to contact them.
Since a form is sent to its recipient automatically, there's no need for the recipient's email to be publicly listed. This strategy minimizes the spam they receive without cutting them off from the public.
Who needs to complete an information request form?
If an information request form is part of a website's design, then it should be used by anyone who would otherwise send an email requesting information. The intent of these forms is to standardize informational queries for the site owner.
Request forms are helpful because they prevent spam or unclear requests. An info request form on your site ensures that you receive everything you need to answer questions in a single message.
That prevents an extensive back and forth email conversation, saving you a significant amount of time while still keeping your organization publicly accessible.
What is an information request form used for?
These documents are used to connect the curious public with professionals who can answer their questions. Many subjects may be too broad to fully cover in an FAQ, so it can be simpler to answer questions individually.
Local government agencies may use public information request forms to connect citizens with the correct department to learn more.
Similarly, some professionals may prefer to answer questions individually to contact leads and potential clients. In this case, the information request form acts as a simple means to connect with a curious audience already interested in their brand.
There are also Freedom of Information request forms, which are specific to the federal government. These forms allow the general public to request more information about particular topics that are not already public.
They rely on the Freedom of Information Act, which states that citizens have the right to request such access from any federal agency.
What should an information request form include?
Information request forms are relatively straightforward documents. Most of these documents will include the following fields:
Name
Email address
The subject the person has a question about
A blank field where the person can describe the information they're requesting
Suppose, for example, that a firm provides information like project pricing quotes. In that case, including additional fields is a helpful way to collect further details specific to the industry.
Finally, you can opt to collect additional information through your form, such as company details or how people found your site. While this isn't directly connected to the request for information, it can act as a helpful research tool for you.
Knowing how people find your organization and what organizations they are connected to allows you to tailor your answers more effectively.
Should you use an information request form template?
Businesses that regularly post information request forms will likely benefit from using a template to create them. Working with a template helps you ensure that you collect all the information you need without leaving out any critical sections.
Moreover, eliminating the need to build new forms from scratch every time saves your organization time and money in the long run.
To get started, download the free template from PandaDoc. It's completely customizable, and you can use it for all your future info request forms.
Is an information request form the same as an appointment request form?
Information request forms and appointment request forms have many commonalities, but they aren't the same.
Although asking for more info can lead to an in-person consultation, most inquiries are usually satisfied by sending quotes or other resources.
By contrast, appointment request forms specifically ask for a time to meet. An appointment inquiry will include a field for listing availability, but standard information inquiries will not.
Both appointment and information query forms will include fields for the requester's contact information and the reason for their request. This allows the recipient to reply to their request without having to post anything publicly.