This is unbelievable, but our customers created almost 400,000 documents using the PandaDoc Chrome Extension for Pipedrive last year! And in just one day, a remarkable record-breaking 2,400 documents were created, hopefully resulting in 2,400 closed deals.?
Now, great news for our Pipedrive champions!
Welcome to the new PandaDoc integration for Pipedrive CRM that works natively within Pipedrive deals. The new integration comes with a long list of standard tokens (much longer than in the previous version), attached documents, in-deal status tracking, pricing table support for products and variations, and works from any browser without any extensions necessary.
Let's dive deeper and see what's new.
Don't have Pipedrive yet?
You could be closing over a quarter more deals than today by selecting the right sales CRM. Pipedrive users increase their close rates by an average of 28% after their first year using Pipedrive. Start a 30-day free Pipedrive trial now and get 25% off for the first 3 months.
Follow document statuses without leaving Pipedrive
Now you can see notifications on document status changes together with other deal updates in the timeline. The note contains the link to the document so you can easily open it in PandaDoc to edit or if you want to view more details in Document Analytics.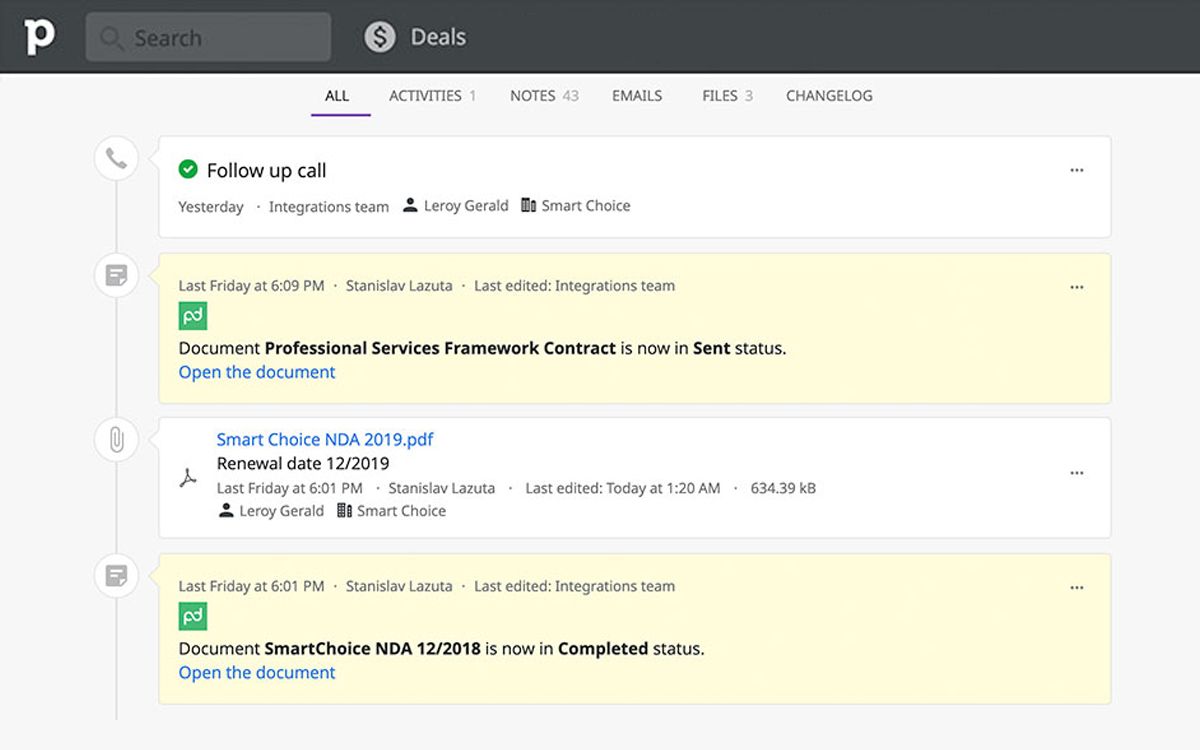 Merge products and custom columns into pricing
The new PandaDoc native integration is a better fit for sales teams working with products in Pipedrive deals. Customers love getting comprehensive info in proposals and quotes. With Pipedrive, you can create custom product columns to add all the info you need.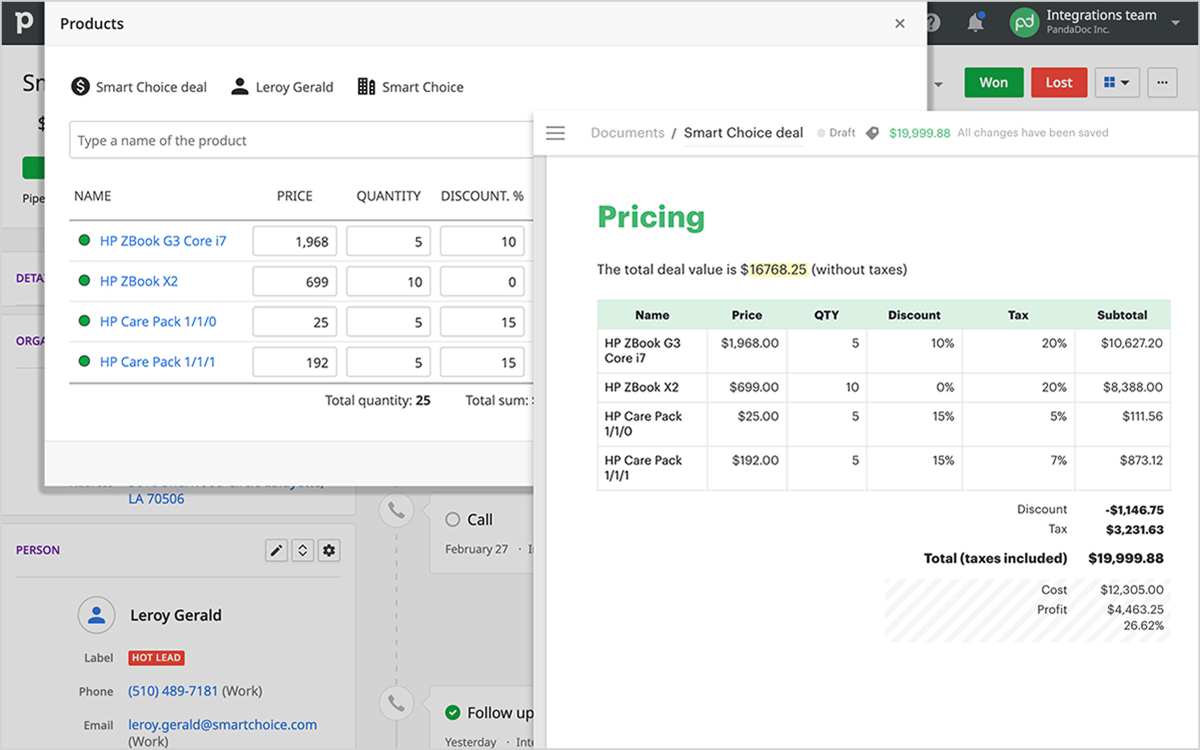 Now when you generate a new quote, PandaDoc pricing tables will have standard product line items, taxes, discounts, and the option to add a custom column too. The list of custom columns associated with the product is hidden by default, but the document author can add it as a new column.
This helps to manage products in a single place (in Pipedrive products) rather than checking different product lists or typing them one by one.
Set up templates faster with new tokens
We've updated our list of standard tokens so that you can merge Pipedrive fields into PandaDoc documents even faster. We've got a long list of tokens for just about every Deal, Organization, and People field.
One thing of note, the tokens for the native integration also have new formatting. So when you start with the new integration version, make sure you update your templates with the new token format. If you try to create a document within the native integration with the tokens for Chrome extension, your CRM data will not be transferred to the document.
Open a Deal Window to access the list of available tokens and their format.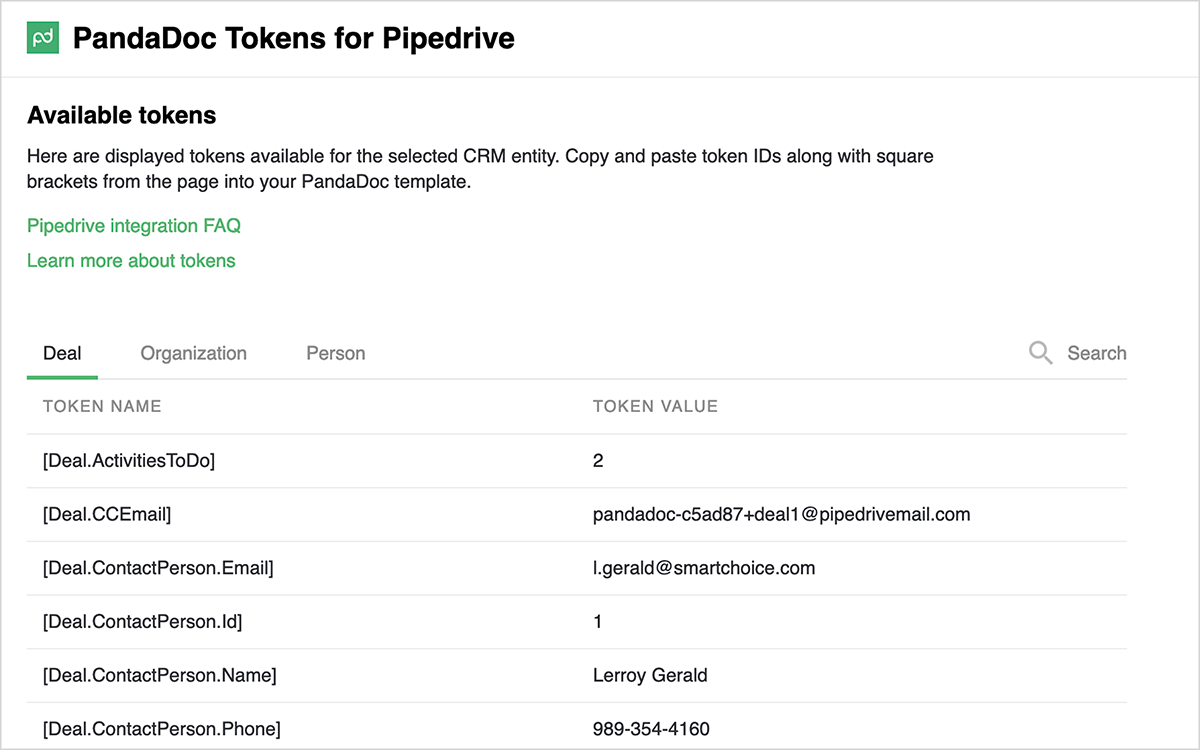 Get easy access to signed documents
Now you can find all deal-related completed documents attached to Deal Files. Open or download the signed PDFs right from the deal and you can keep a record of the deal by having all deal history and signed documents in one place.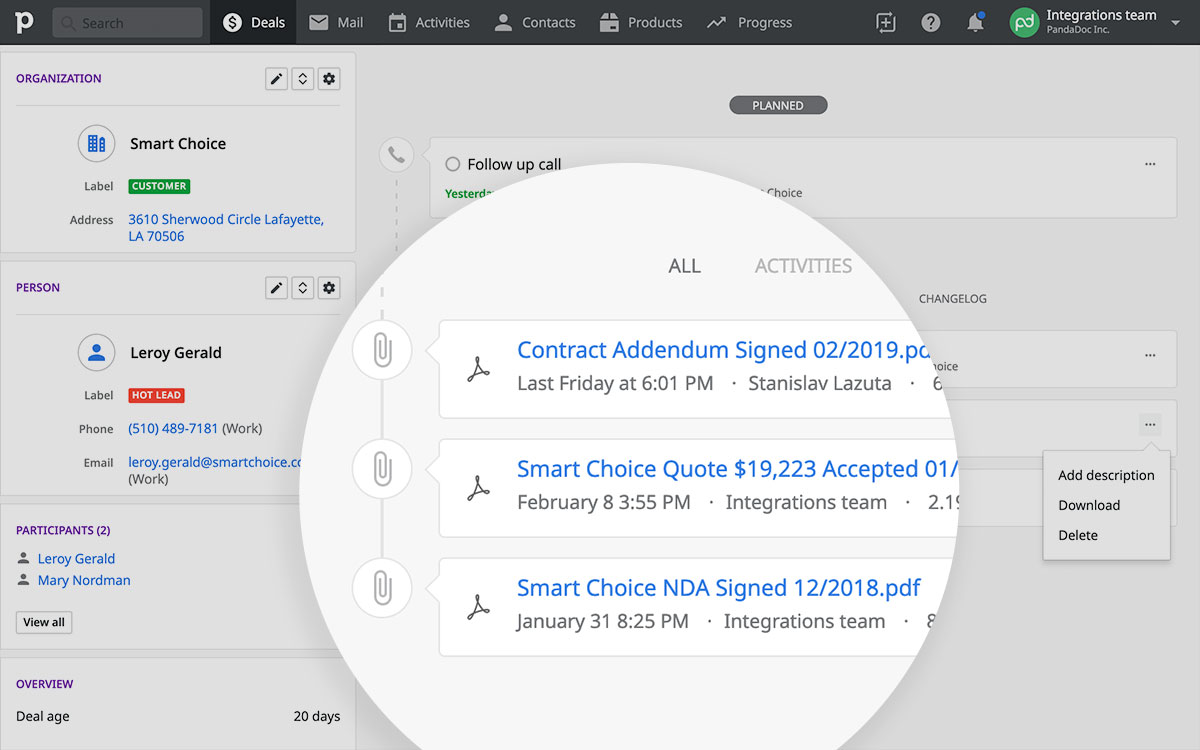 Just a few clicks to install
The native integration is very easy to install.
Search for PandaDoc in the Pipedrive marketplace and click "Install" (you can find the link in the Workspace Settings).
Login into your PandaDoc account and allow PandaDoc to access your Pipedrive deals and data. Make sure every team member has installed the integration, as this should be done at the user level.
The last step is to prepare your templates with the tokens formatted for the native integration.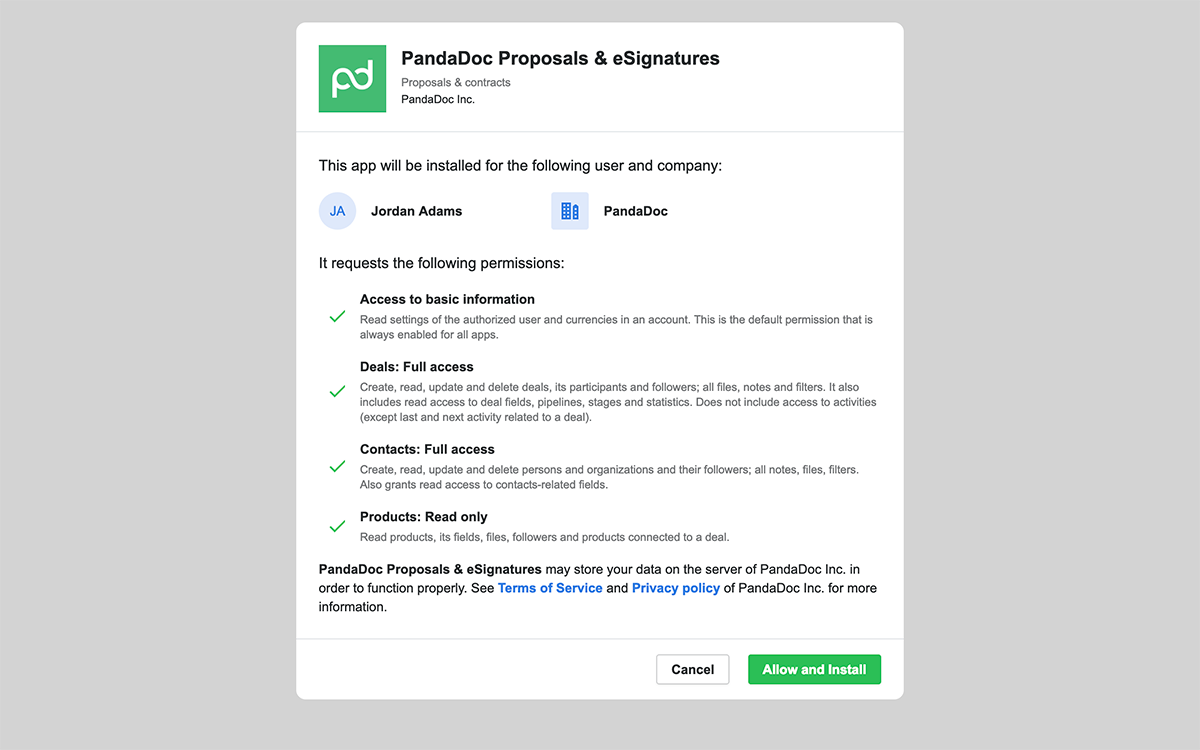 And you're all set, now your Pipedrive and PandaDoc accounts are connected.
If you use the PandaDoc Chrome extension for Pipedrive you can enable native integration in parallel and copy the templates to update the tokens format. Need more guidance? Read the FAQ article to learn more.
Make your Pipedrive CRM even more powerful with the new PandaDoc integration. Try the new Pipedrive integration now by logging into your PandaDoc account or start a PandaDoc free 14-day trial. Don't have Pipedrive account yet? Start a free 30-day Pipedrive trial now and get 25% off for the first 3 months.