Dealer Registration Form
Use this dealer registration form template in your organization to collect information from third-party vendors. Cut down on administrative tasks, and stay ahead of your competitors.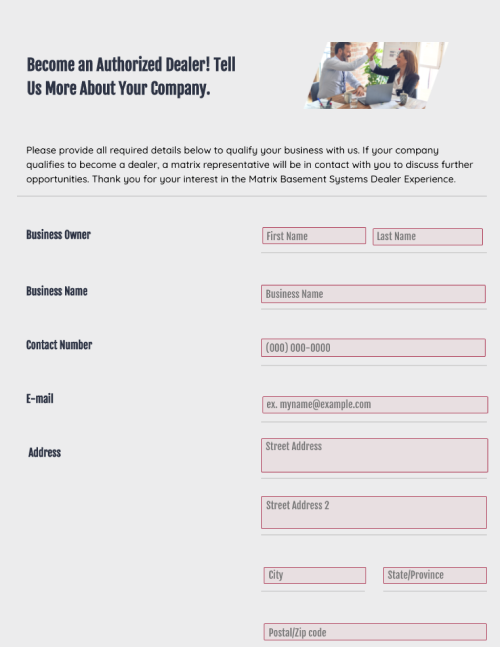 What is a dealer registration form?
Negotiating long-distance contracts is typically a daily occurrence at any company that uses third-party vendors to sell its products. A dealer registration form expedites this process by collecting all the information your company needs to work with a dealer. Data can be rapidly collected, input into your system, and analyzed so your team can make decisions about which dealers to work with faster than ever before.
Why should I use PandaDoc's dealer registration form format?
PandaDoc's dealer registration form provides examples of the types of questions to ask your dealers, laid out in an easy-to-view format. You may find questions you wouldn't have thought to ask but actually want the answers to, or you may discover that the format looks more professional than anything your team has previously created.
There are also other benefits to using PandaDoc's dealer registration form. Drag-and-drop technology makes it easy to customize the sample form to meet the needs of your company. Whether you're looking for an alcohol dealer registration form or an automotive electronic dealer registration form sample, PandaDoc will meet your needs.
Once your dealer registration form looks exactly the way you intended and has all the required information, it can then be saved as a custom template and used by anyone in your organization.
You can track who uses the form, how it's used, and how long dealers spend on the page. This helps you make educated updates to your form as needed. Once data has been entered into the form, automated workflows simplify the process of adding data to your system and timely follow-ups with dealers.
Is it safe to collect sensitive financial data using PandaDoc's dealer registration form?
Yes! PandaDoc prioritizes security. From servers to software, PandaDoc meets or exceeds security standards, so you can use PandaDoc's dealer registration form confident that every client's financial information is safe. Given its HIPAA and FERPA compliance, you can use PandaDoc securely, regardless of what specialized field you work in.
Who can benefit from a dealer registration form template?
Anyone who uses third-party vendors to sell their products can modify PandaDoc's template form to fit their company. Whether you're looking for a dealer tire registration form or an alcohol dealer registration form, PandaDoc's drag-and-drop technology offers a simple, uncomplicated way to design the perfect form for your brand.
Is it hard to make PandaDoc's forms work with my existing business workflow?
Not at all! PandaDoc's goal is to work with your business to create a streamlined process that your organization can adapt quickly and easily.
That's why PandaDoc integrates with over 22 popular business tools, from powerful CRM tools to payment collection software. Add PandaDoc to your current workflow without having to give up your favorite tools. By using PandaDoc's forms, you can simplify your workflow further while presenting professional-looking, polished dealer registration forms to your potential clients.
What information should a dealer registration form include?
Your dealer registration form should include all the information you need to evaluate whether a dealer is a good fit for your company. Ideally, your dealer registration form contains questions that can be answered in a single word or number so that your evaluating team doesn't have to read through thick paragraphs to make a determination about a dealer. Here are a few examples of good questions to include in your dealer registration form:
What is the name of your business?
Where is your business located?
How long has your business been operating?
What is your annual sales volume?
How many people are on your sales team?
In addition to these types of questions, you'll want contact information for the owner. This should include their name, office and/or mobile number, and email address. You may also want to include a section where people can include a brief message to your brand or link to reviews they may have received over the years. 
How do I create a dealer registration form?
Before creating a dealer registration form, know what details you would like to hear from a prospect to consider partnering with them. Include questions about company details, experiences they have, why they want to partner with you, what they bring to the table, etc. Alternatively, you can also use ready made templates instead of creating registration forms.
What is the purpose of a registration form?
Registration forms help gather details and insights. Overall, registration forms have many uses. For example, with event registration forms, you find out how many people are coming to the event and what would they like to see there. With a dealer registration form, you find out why dealers want to partner with you and how will the partnership benefit you.