Event Registration Form
Customize registration forms for your upcoming events quickly and easily. UsePandaDoc's drag-and-drop form builder to streamline your whole form creation workflow.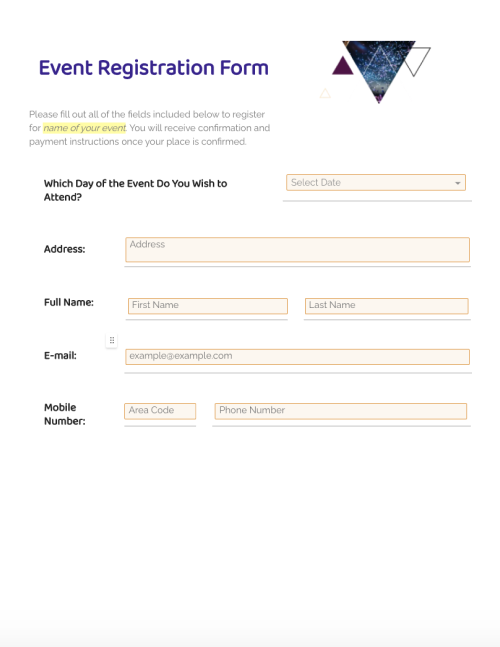 What is an event registration form?
An event registration form is a business document that event hosts use to gather information about attendees and sell tickets.
From the point of view of event organizers, they are essential documents. Without them, there is no way to process sign-ups and payments, collect attendee details, or ask supplementary questions, such as if attendees have any special requirements.
Event registration forms are straightforward documents that follow an easily-recognizable format. Nowadays, organizers will typically embed forms on websites. As such, mobile-friendly, online event registration forms are much more common than paper alternatives.
Are event registration forms complex documents?
Event registration forms are simple but essential documents. Despite the straightforward structure of event forms, however, it's important to ensure that all relevant sections are included. It's equally crucial to guarantee that the sign-up process isn't overly complicated, a mistake that can reduce conversions.
Most organizations, from small companies to multi-national enterprises, will benefit from streamlining their event registration processes. Using a proven template from which all future event registration forms are drafted is one way of doing this.
How do event forms work with other types of software in an organization?
Despite their simple structure, however, it's important to remember that event registration forms do not exist in isolation. They are invariably the customer-facing component of complex software systems.
Once an attendee has submitted a form, for example, their information needs to be stored securely (in compliance with regulations such as GDPR) in a way that makes it accessible to event organizers. Often, an analytics platform will be connected to the attendee database to make it possible to track metrics like sign-ups and revenue. Sign-up forms for paid events will also usually be integrated with a payment processing service so that participants can purchase tickets.
What are event registration forms used for?
Event registration forms fulfill several functions. Here is a list of the main reasons that event organizers use them:
Collect attendee details –If organizers are to maintain guest lists, send tickets to participants, provide them with follow-up information, and allocate the relevant materials on the day (seating, learning documents, lanyards, meals, etc.), they need to maintain an up-to-date database of client information. Event organizers may use emails for further email marketing after an event.
Communicate event information – Forms usually include the time, date, and location of the event. This allows people to confirm they can attend before purchasing tickets.
Process ticket payments – Event registration forms are usually integrated with payment processing services, enabling registrants to sign-up and immediately pay for tickets.
Gather supplementary information – Often, event organizers will require additional details, such as questions for speakers, special dietary needs, disabled access requirements, and so on. Forms are used to gather these.
Conduct marketing surveys – It is common for organizers to collect marketing information, such as where participants heard about the event and why they chose to attend.
What are the different types of event registration forms?
Here is a list of the types of events that registration forms are used for:
Online events – Online events include virtual summits, webinars, conferences, and more. During the COVID pandemic, online formats, which rely on video conferencing software, became the norm for the events industry.
Live in-person events – Live events occur in a physical location and usually incorporate public speakers, workshops, and networking time.
Workshops – Workshops, which can occur online or in person, are more hands-on and participatory than more traditional events. Sometimes, registration forms for workshops will also include questionnaire-style sections. These are designed to collect information about the skill levels of the participants. In this way, organizations can tailor training to meet the attendants' needs and direct them to appropriate instructors and classes.
Corporate conferences – Registration forms for corporate conferences tend to be aimed towards businesses rather than individuals. As such, a single form may include fields for numerous people, who will be attending due to their organization having purchased one multi-person corporate ticket.
Another type of event form, though not strictly a registration or even application form, is an RSVP form. After receiving an invitation, recipients may be prompted to confirm their attendance (or non-attendance) by filling one out. These forms can be included with physical invitations or hosted online.
What should an event registration form include?
Every registration form tied to a specific event will be unique. It will be tailored to the event's theme, format, and practical details. That said, event forms tend to follow a similar structure.
Here are the main sections that event forms usually include:
Event topic and description – Most event forms begin with the event's title, general subject, and a longer description of what will be involved, along with any pricing information. Speaker details, such as bios and social media accounts, may also be shown here.
Event date, time, and address – Attendees will often need to verify the event's time and date before submitting their details. Include this information at the beginning of the form, either immediately after the event description or before it. Forms for in-person events should also display an address.
Name and email – All forms should include fields for attendee names, emails, and other relevant contact information.
Marketing questions – Organizations sometimes like to ask research questions like, "How did you hear about this event?" Including a section with a single or small handful of questions like this can be an effective, unobtrusive way of collecting valuable marketing data.
Questions for the speakers – Collecting questions beforehand will allow speakers to formulate comprehensive responses.
Additional information and requirements – It is common practice to include a general field where registrants can add any further information they deem relevant.
A form for a paid event with registration fees may also include ticket drop-downs or checkboxes, payment buttons, credit card checkout form fields, or integrations with popular payment providers like PayPal and Stripe
Should your organization use a template to create event registration forms?
Event registration forms are simple documents. In the vast majority of cases, there is no need for an organization to draft a new form from scratch every time it hosts an event.
Using a template provides an array of benefits beyond obvious time savings. Because organizations use them to collect marketing research data – through questions like, "How did you hear about this event?" – it is vital to ensure that forms are effective. Equally, a poorly designed form increases the number of would-be event attendees that drop off during the sign-up process. Thus, the design and content of forms can directly impact ticket sales.
Download the free, fully-customizable event registration form template provided by PandaDoc to get started. You can modify it and use it to create all of your forms moving forward.