Employment Application Form
Streamline your internal application, evaluation, and hiring processes with PandaDoc's employment application form template, form builder, and automation tools.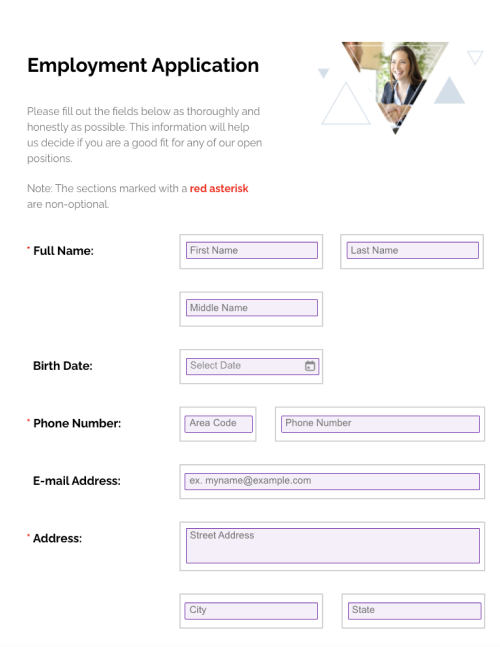 What is an employment application form?
An employment application form, also known as an "application for employment", is a document designed to be filled out by applicants to an open job post and then returned to the employer, usually in conjunction with a resume or curriculum vitae (CV).
Employment application forms are drafted and supplied by the hiring company. Often, they are included in a job post or sent to candidates as part of the application process.
They tend to be straightforward, one or two-page documents that enable the department responsible for hiring in a company to collect certain pieces of specific information – such as candidate qualifications, references, past experience, and so on – in a standardized way.
What is an employment application form used for?
Employment application forms are popular because they help businesses streamline the hiring process, often in significant ways.
In many cases, human resources departments only require a handful of information-points to filter and evaluate prospects and decide whether they should be invited for an interview. By asking for this information in a straightforward, standard format, it becomes possible to process candidate details in a fraction of the time it would take to read a full resume.
What are the benefits of employment application forms to candidates?
Employment application forms are often useful from the perspective of the candidate. Because they are required to answer specific questions, they will gain a clearer idea of whether or not a role is suitable given their skills and experience.
Is an employment application form the same as a resume, cover letter, or CV (curriculum vitae)?
Many applicants are unsure about whether or not an employment application form is the same as a resume, cover letter, or curriculum vitae (CV).
Job application forms are not the same as these documents. Resumes (or CVs) and cover letters are formatted and written by candidates, whereas employment application forms are provided by the employer. Applicants interested in a job will usually send their resume in conjunction with an application form or be asked to fill one out at a later stage.
The main point to keep in mind is that employment application forms are internal corporate documents designed for use exclusively by the business responsible for hiring. Resumes or CVs, on the other hand, are written by applicants and include all the information that they personally deem relevant. In virtually all cases, candidates should not create their own employment application forms.
What should an employment application form include?
While every employment form will be different and designed to meet the unique requirements of the employer, most will include several essential fields. Here's a quick overview of the main areas that every employment form should cover:
Job description – Some organizations will include a brief job description at the beginning of the form.
Basic details – Basic information includes points like the candidate's full name, date of birth, address, contact details (email and phone number), LinkedIn account, social security number, and so on. If a company uses a general application form, a section asking job seekers to specify which position they are applying for will also be displayed. Employers that wish to conduct background checks may require more information from this section.
Weekly availability – It is good practice to ask applicants about their weekly availability and the earliest possible start date.
Qualifications and educational background – Companies will often stipulate which qualifications they are interested in, such as high school grades, industry-standard certificates, and university degrees.
Work experience and references – A brief section detailing a candidate's employment history – including positions, working hours (part-time/full-time), military service, and so on – will allow an employer to check for relevant experience and verify references. Fields asking for reference details, such as the referee's name, job title, and contact information, should be shown in this section.
Additional information – A field for additional notes and information will allow employees to provide extra clarification if it's required.
Signature – As employment application forms may be relevant in a legal context, employers often ask for a digital or handwritten signature.
Employment application forms, particularly if they are online, may also include a button for uploading a resume so that both documents can be sent together. Forms may be provided to candidates as a PDF via email, through an online portal, or in a more traditional paper format.
Should you use employment application forms?
Employment application forms are internal company documents. They are drafted by businesses engaged in the process of hiring new employees as a way of streamlining the application and eligibility evaluation cycle. Any company that feels they might benefit from the expedited collection of employee details should consider using application forms.
Should you use a template to create an employment application form?
Employment application templates are beneficial for a number of reasons:
They can be tailored to different vacancies without the need to draft a new document from scratch.
Companies that use a single template across their whole organization can make gradual improvements over time, further boosting the speed with which they can evaluate new candidates.
Templates accelerate the collaboration process, allowing relevant departments and individuals, such as legal experts and upper management, to review a document quickly and without the need for further approval.
Many companies benefit from transitioning to a paperless or online document workflow if they haven't already. By offering digital employment application forms, either via email or through a website, employers make it easier for candidates to fill out information fields, add their signature, and send it to the applicable department.
Use the free, fully-customizable template from PandaDoc to get started.