Loan Exit Interview
Create a free loan exit interview form with PandaDoc's free, customizable template. Add electronic signatures and store data securely while saving time and resources.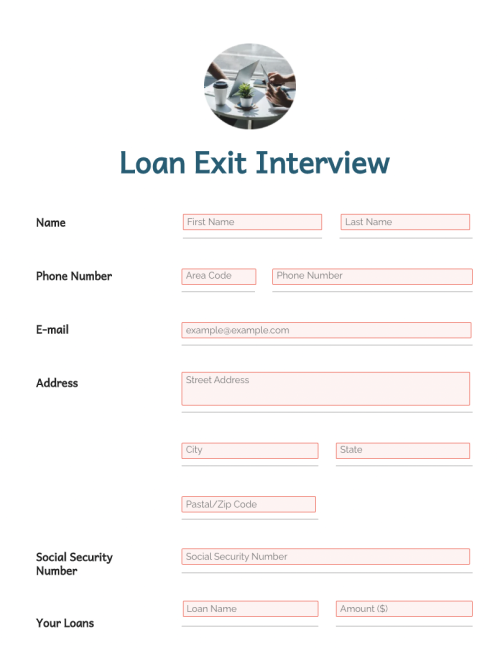 What is a loan exit interview?
A loan exit interview is a type of loan counseling available to people who have received certain student loans.
When people leave the academic world, they may need to attend a loan exit interview for their student loans.
Not every student loan is legally required to offer a loan exit interview, but many do. Over the course of exit counseling, the financial aid office or lender explains what to expect as the student borrower pays back their loans.
This includes their interest rates, their repayment schedule, and any details about their eligibility for future loans.
What is a loan exit interview used for?
Student loans are some of the largest and most common loans in the U.S., and many people first take them out when they're just 18 years old. Because of this, many people don't consider the requirements and risks of a student loan until they graduate.
As a result, the federal government has made loan exit counseling a requirement for people with federal student loans.
These people must complete the counselling before leaving school, graduating, or dropping below half-time enrollment. This is when student borrowers need to start paying back their federal loans.
The goal of these counseling sessions is to make sure students understand their loans and any changes their new educational status may cause.
When are loan exit interviews necessary?
Federal law requires schools to offer loan exit interviews to anyone who receives:
Subsidized Direct Federal Stafford Loans: Undergraduate student loans provided by the U.S. Department of Education. Interest is subsidized by the government until the student graduates.
Unsubsidized Direct Federal Stafford Loans: Undergraduate, professional, and graduate student loans provided by the U.S. Department of Education. Interest is not subsidized by the government.
Federal Perkins Loans: A federally-subsidized loan available to undergraduates and graduate students based on financial need. These loans are offered through the educational institution.
Graduate/Professional Student PLUS Loans: Federally-subsidized loans available to graduate and professional students through the U.S. Department of Education.
While loan exit interviews aren't legally required for other types of lending, they can still be used.
Any student loan program where terms change upon graduation may benefit from an exit interview requirement.
What should a loan exit interview include?
A complete loan exit interview both collects information and provides explanations to loan borrowers.
These complex documents include collection fields for contact information, references, and schools to be notified of the completed exit counseling.
They should explain how loans work generally as well as explain the student's specific loans, including repayment options, payment schedules, and interest accrual information.
‌Other information that may be found in a loan exit interview includes explanations of how to repay the loan, avoid delinquency or cancellation, and the rights and benefits of federal student loan recipients.
How secure should loan exit interviews be?
Because loan exit interviews contain private financial information, they need to be kept secure. Like all documents related to higher education, they are also held to the standards of FERPA (Family Educational Rights and Privacy Act).
Following FERPA regulations is crucial if you're offering student loans of any type. PandaDoc's online forms are FERPA-compliant, so you never need to worry about sensitive information being released.
You can further protect student privacy by ensuring that your exit interviews are filled out by the right person.
With electronic signature capabilities, PandaDoc can help you keep your exit interviews trustworthy, secure, and in line with federal regulations.
Is a loan exit interview the same as a loan summary?
A loan exit interview is a more in-depth version of a loan summary. Outside of student loans, most lenders require borrowers to begin repaying the loan immediately.
A loan summary explains all of the terms, interest rates, and payment schedules in a single document.
It doesn't need to be as complex as a loan exit interview because there's no lag between taking out the loan and beginning repayments.
On the other hand, student loans often have a deferment period of months or years before they start accruing interest and requiring payment.
As a result, the student borrower may not remember the loan terms by the time they need to make payments. Loan exit interviews remind them of that information when it becomes relevant.
Should you use a template to create a loan exit interview?
If your organization regularly issues student loans, you will likely benefit from using a template for your loan exit interviews.
Whenever you need to update your forms to fit changing federal regulations, a template can ensure that you've included all required sections.
It can also help you maintain robust legal elements throughout the document. Without the need to create every interview from scratch when you need to update things, you can save significant time and effort for your organization.
Download the free template from PandaDoc to get started. It's fully customizable, free, and can serve as the basis for every federal student loan exit interview you need to produce.
How many days do you have to resolve your delinquency before your loan officially defaults?
According to most institutions and country laws, you have up to 270 days to start making payments on your loans before they officially begin to default. If you get assigned that status, your lender can take you to court or take other drastic measures to ensure you pay the remaining sum of the loan.
Is loan exit counseling required?
Yes, a loan exit interview is absolutely required for federal loan borrowers. The reason for these exit interviews is to make you understand repayment options after you graduate or dropout so that you don't default on your loans. These interviews can last between 20-30 minutes.