Loan Pre-Application Form
Easily create a customized loan pre-application form in a few clicks. Streamline contract management of the loan process in a timely manner.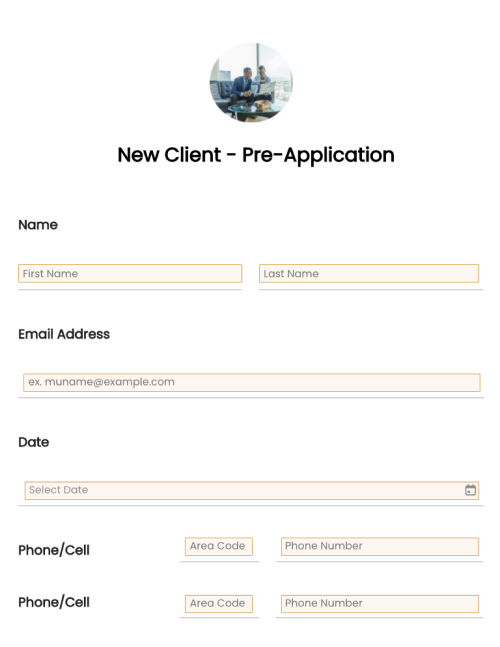 What are loan pre-application‌ forms?
Loan pre-application forms are often requested by institutions and organizations as a prerequisite for applying to secure a loan. Think of a pre-application loan form as a business proposal that requires clear, concise, and organized documentation for success. The type of loan you are applying for will dictate any additional information you may be required to provide.
Generally, there are three steps to the loan process:
‌a pre-check or qualifying loan application
a pre-approval loan application
‌the official loan application
What benefits does a pre-check application provide?‌
A pre-check application is a soft credit check. It does not impact your existing credit score. It is simply a way for the lender to assess the likelihood that you are a good loan candidate. A pre-check application will also provide you with an estimated maximum dollar amount you can apply for in your official loan application, based on your income and credit history.
‌Once a pre-check loan application is processed, the second step will require you to complete a pre-approval loan application.
‌Attaining a pre-approved loan is a benefit to both you and the lender in the loan process. The pre-approval loan application will provide insight into your ability to potentially, ultimately, secure a loan. Many financial institutions require a loan candidate to be pre-approved through a pre-application stage before you submit your official loan application.
How do I fill out a pre-approval loan application form?
Once the pre-check — qualifying — loan application provides approval through a soft credit check, you will proceed with the pre-approval loan application. Each loan institute has specific criteria they will request from you to provide to them. The required criteria depend on the type of loan you are seeking to secure.
The key to a successful pre-approval loan application is providing the specific criteria and documents, as required by the type of loan you are seeking. You can ensure a smoother, quicker loans process by
‌Writing a professional, powerful presentation free of grammatical and punctuation errors
‌Organizing your material
Striving for clarity and ease in delivering your information ‌
Crucial elements to filling out a successful and glitch-free pre-approval loan application involve
demonstrating a timely response to any questions you are asked
providing clear, and meticulous, responses to questions
providing all the requested documents in an organized fashion
‌providing clear details about your goals
advocating for the funding you are seeking with simple, clear, and richly informative responses ‌
By doing so, you will increase your chances of success in securing a loan.
How long does a pre-approval loan application take?
‌After submitting your pre-approval loan application, a standard email response is often sent to borrowers as confirmation that the institution received it. Official response times from loan institutions on the actual pre-approval loan application vary. Depending on the institution you made your pre-approval loan application to, factors affecting the response time include
whether you have an existing account with the loan institution
whether you are a new customer
‌ if there are any specific pre-existing timelines for applications for the loan already established
how quickly you respond to any follow-up questions and clarifications requested by the loan institution
Ensure that you respond quickly and provide all the information the loan institution requires because this will aid you in avoiding any unnecessary delays with your pre-approval loan application.
How long does a pre-approved loan last?
Once you are pre-approved for a loan, you will receive an official document. The document will provide details that will include the maximum dollar amount you are able to borrow, based on the information you provided. As a general rule, pre-approved loan confirmations are valid for 90 days.
The timeline for the final stage in securing your loan will depend on the loan institution you are working with. In some cases, and pending the type of loan you are applying for, the loan institution will have specific deadlines. Failure to meet these timelines will risk your ability to secure the loan.‌
Depending on the institution you made your pre-approved loan application to will dictate when the final step in the loan process will occur — that of officially securing the loan. With powerful document creation capabilities, you can better provide professional and personalized proposals in a timely fashion.