Counseling Consent Form
Use PandaDoc's free, customizable template to create counseling consent forms with just a few clicks. Streamline your healthcare organization's entire document workflow.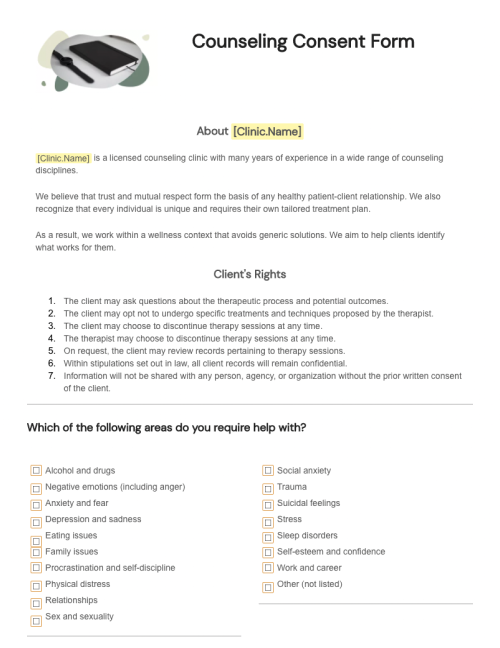 What is a counseling consent form?
Counseling consent forms, also known as "professional counseling informed consent forms," are a critical medical document for counselors.
Healthcare professionals such as family counselors and therapists use them to acquire informed consent from their patients before beginning the counseling relationship.
A counseling consent form lists the essential parts of the treatment offered, such as the goals of the counseling and any potential problems or side effects.
Its purpose is to help potential patients understand exactly what they will experience before they attend treatment. Consent forms protect both patients and mental health professionals by acting as a record of what the treatment will entail.
Who needs to complete a counseling consent form?
Legally, almost every single healthcare professional must obtain their patients' informed consent before treatment commences. Counselors, alternative therapists, and psychologists must have their patients complete an informed consent form before working with them.
In some cases, group counseling consent forms may be completed by several persons — for example, in marital or family counseling.
Anyone seeking mental health treatment of any kind will likely need to complete one of these documents.
Therefore, providing straightforward online consent forms that patients can fill out before coming to the office allows mental health providers to make their treatment more accessible.
What is a counseling consent form used for?
A consent form is a legal document that records a patient's agreement to a proposed treatment plan.
Mental health providers require these documents before offering treatment to a patient. The goal is to ensure that the patient understands how they will be treated and any potential consequences.
In other words, a properly written consent form acts as a legally robust document that can protect you and your clients from legal liability.
Patients can also refer to their consent forms to find essential details about their rights to privacy, confidentiality, and the particulars of their treatment. A thorough consent form functions as both a form of legal protection and a reference document for the future.
What should a counseling consent form include?
A sample informed consent form for counseling might include:
Description of the treatment: Any medical consent form must describe what kind of treatment will be provided so patients understand what they are agreeing to.
Patient-provider relationship rules: The relationship between counselors and their patients requires clear boundaries to remain healthy. Outlining the relationship rules puts these boundaries in place from the beginning. It gives the patient an idea of what to expect.
Confidentiality clause: Counselors hear many personal details of patients' lives. The confidentiality clause explains the rules of privacy and confidentiality to which counselors are held, along with the circumstances that would compel them to break confidentiality.
Side-effects and risks: Outlining the potential risks of treatment acts similarly to a waiver, where the patient agrees to treatment while being informed.
Patient name and signature: The patient's signature is what identifies the document as legally binding.
Patient caretaker name and signature: A counseling informed consent form for minors must include a field where their caretaker can agree to their treatment.
Counselor name and signature: Once the patient has signed the document, the counselor must sign it in order to complete the agreement between the two parties.
Should you use a template to create a counseling consent form?
Do you regularly use counseling consent forms in your counseling practice or healthcare organization? Utilizing a template facilitates the process.
Rather than creating each document from scratch, you can use a template to save time and money. A template also eliminates the risk of forgetting essential elements and helps to ensure that your form's legal features are robust.
To get started today, download PandaDoc's free template. It's fully customizable, and it can be used as the framework for an assortment of counseling consent forms.
Is a counseling consent form the same as a medical consent form?
A counseling consent form is a specific type of medical consent form.
These documents are required by the American Counseling Association's Code of Ethics, a document that outlines how to build an ethical relationship with counseling patients. Licensed counselors are held to the standards listed in the Code of Ethics.
The Code of Ethics states that counselors are obligated to review their rights and responsibilities before beginning the treatment process.
As in other forms of medical care, it is unethical to treat a patient if they don't understand what they are agreeing to. Some other types of medical consent forms include telehealth consent forms and physical therapy consent forms.