Dental Consent Form
Use Pandadoc's free, customizable template to create dental consent forms in a few clicks. Streamline your healthcare organization's entire document workflow.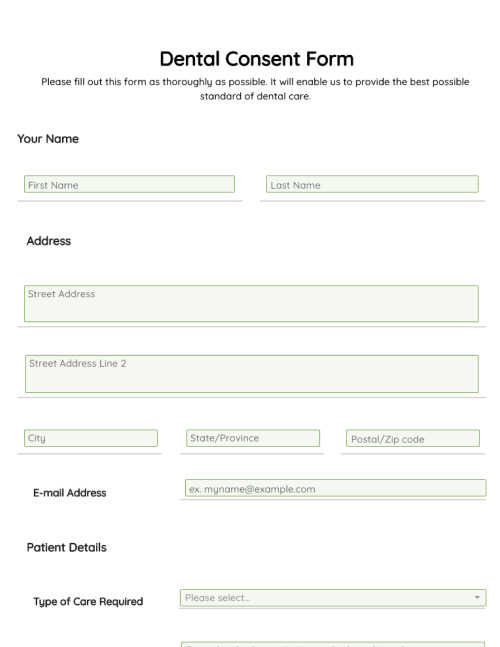 What is a dental consent form?
A dental consent form, also known as a "general dentistry informed consent form", is a business document used by medical organizations that offer dentistry services. Dentists use them to ask patients relevant questions, provide information about their services, and ensure that consent is given.
Dental consent forms may be hosted online or provided as paper documents. Often, patients or legal guardians are asked to complete a dental consent form in person at the surgery before receiving treatment. Alternatively, patients may fill out a general consent form when they first register at the medical practice.
When should you use a dental consent form?
Whether or not dental consent forms are required in your organization depends on several factors, including local regulations, medical guidelines, and the information management systems the organization has in place.
Generally speaking, it is a good idea for dentists to use consent forms prior to any initial consultations and before treatment is provided. If issues arise later down the line, they can act as supporting legal documents. What's more, they provide an efficient means of collecting and storing patient data, especially when hosted online and connected with database software.
What is a dental consent form used for?
Dental consent forms fulfill two primary functions. First, they enable dentists to collect important information, such as a patient's date of birth, address, and details about pre-existing medical conditions. Second, they act as the primary means of obtaining informed consent about any treatments that a patient will undergo.
Patients will usually need to read a short legal section outlining the nature of the healthcare package being offered along with any potential risks and side effects, such as drowsiness and allergic reactions. They will be prompted to sign a statement indicating that they understand these points and consent to receiving treatment.
What kind of questions do dental consent forms ask?
Dental consent forms tend to ask two types of questions, relating to either general patient information or informed consent.
Patients will be asked to provide personal and health information like their name, address, pre-existing conditions, and so on. These questions are relatively straightforward.
In terms of informed consent, forms also ask patients to confirm statements like the following:
"I authorize the dentistry clinic to administer treatment."
"I am aware of risks, potential complications, and possible side effects."
"I have been instructed about how to prepare for treatment."
"All information provided in this form is, to the best of my knowledge, true and accurate.".
Are dental consent forms legal documents?
Yes. Dental consent forms are important legal documents. They should be tailored to meet the requirements of the organization responsible for issuing them and take into account local regulatory and legislative requirements.
Because they fill a necessary legal role, and because patient details must be stored securely in accordance with data protection laws such as the Health Insurance Portability and Accountability Act (HIPAA) and General Data Protection Regulation (GDPR), consent forms should be drafted and approved in consultation with legal experts. Any online storage providers (where patient information will be kept) should also be checked for compliance with relevant regulations regarding protected health information (PHI) and electronic protected health information (ePHI)
Using a template that has been approved by your legal department or a third-party legal service will help ensure that all new consent forms based on the template are legally robust.
Is a dental consent form the same as a medical consent form?
Although there will be differences between forms used in distinct medical fields and by separate organizations, medical consent forms tend to follow a similar format.
All medical consent forms are generally concerned with gathering client details and obtaining consent to treatment plans. They are also sometimes beneficial from a legal perspective if any disputes arise later. Sometimes, dental consent forms are used to gain permission to access a client's medical records before a consultation or diagnosis.
Digital medical consent forms are also usually connected to an information management system, such as a customer relationship management (CRM) app or database, thus allowing allow practitioners to access patient details quickly.
What are the different types of dental consent forms?
Generally speaking, dental consent forms will fall into one of the following four categories:
"Generic" consent forms – These are straightforward forms used by medical organizations and dentists to obtain a patient's consent for a treatment plan and gather essential details. Information about general practices, such as the use of nitrous oxide, analgesics, and requirements for ongoing dental care and oral health may also be included.
Telehealth consent forms – Telehealth consent forms are used to gain agreement for treatments delivered remotely, usually through video conferencing software. Although more common among other medical practitioners, they are sometimes utilized by dentists.
Preliminary consent forms – Medical organizations use preliminary consent forms, or "medical consult" forms, to access an individual's medical records and to register them as a patient. This is usually done before the first consultation.
Detailed consent forms – Detailed consent forms include more specific, extensive information about a proposed healthcare plan. They are usually only needed when a patient will be undergoing a complex set of dental procedures, such as endodontic or orthodontic surgery, sedation with anesthetics, root canal treatment, and so on.
What should a dental consent form include?
Every dental consent form will be unique and tailored to the needs of the medical organization that issues them. That said, most forms will include the following sections:
Patient health information –This section contains fields for details like the patient name, address, age, gender, phone number, and email address.
Medical information – Dentists ask for medical information, such as details about pre-existing conditions, before providing a treatment plan.
Legal terms and waiver – This section will usually include the legal points that a patient consents to.
Recommended treatment – You may wish to include a brief description of the proposed treatment plan, further treatment suggestions, additional recommended treatment options, the period of time required, and so on.
Additional comments – It is common to include an area for any additional comments from the patient.
Signature field – A signature field at the bottom of the document allows a patient to provide their agreement. If a form is hosted online, they will be prompted to provide an electronic signature.
Note: During the COVID-19 pandemic, dental treatment consent forms may also be used to communicate safety obligations that patients must fulfill, such as wearing a mask and maintaining social distance.
Should your organization use a template to create dental consent forms?
If you regularly use dental consent forms in your dental practice or healthcare organization, you will likely benefit from using a template. Whenever you need to create a new form, working from a template will ensure that all the required sections are included and that the form's legal elements are robust. By removing the need to create a new form from scratch every time a different version is required, you will save significant amounts of money and employee time over the long-term.
Download the free template from PandaDoc to get started. It's free, fully customizable, and be used as the basis for an assortment of dental consent forms.