IT Service Ticket Form
Improve productivity and efficiency with easy-to-use IT support ticket templates. Organize IT service requests from customers for timely responses.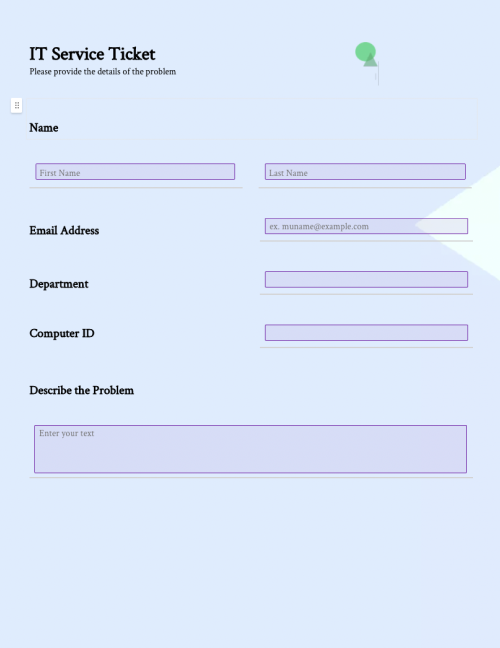 What is an IT service ticket form?
‌An IT service ticket form is a support request form that allows IT products' end-users to communicate with your IT help desk regarding issues.
In the form, customers can provide their name, contact information, urgency level, and any other information that can indicate the nature of the problem further.
It's a type of business application form through which customers can conveniently relay their experience using your product. An IT service request form optimizes your IT service desk's workflow by eliminating error-prone paper trails.
By using PandaDoc's IT service request forms, customers can simply enter their name, email address, and a brief description of the problem and have it sorted out as soon as possible.
Why does your business need an IT service ticket form?
‌An IT ticketing system is more than a troubleshooting start point. It's a great CRM tool that helps you increase efficiency through automation while providing personalized customer support.
Thanks to such a system, you can increase your help desk's efficiency, as well as track, monitor, and measure customer service standards.
You also get to achieve a well-organized customer support system that increases customer satisfaction and loyalty.
What information should an IT service ticket form have?
An IT service ticket form should have all the information your IT support needs to evaluate and solve the issue. It should also include the details identifying the customers for more personalized customer support.
Ideally, your support team should be able to quickly identify what needs solving at a glance.
Here are good examples of what info to include in an IT support request form: customer name, email and phone number for follow-ups if needed, a description of the problem, date and time, a section to drag and drop screenshots of the problem, and a submit button.
You may also want to include the ticket type and the urgency level — also known as the priority level — of the issue.
Priority levels help your service desk determine how fast a new ticket should be handled. They also power automation so that your team is not pulled in different directions all at once and customers can get answers quickly.
Why should I use PandaDoc's IT service ticket form format?
‌PandaDoc's IT service ticket forms are professional support request application forms that allow seamless customer support.
Our form builder software will allow you to create contact forms embedded with dropdown custom fields so that you can develop a solution that's unique to your business needs.
You may find details that your customers may not have known they should include in their support requests, making the interactions more productive and helpful.
Our IT service ticket forms are also laid out in a friendly format so that your business can save time customizing them for your specific business requirements.
Once your IT service form takes on your preferred aesthetic and format and contains all the important details, you can then save it as a custom template and use it for both in-office and customer IT troubleshooting needs.
Is it safe to collect sensitive customer data using PandaDoc's IT service ticket form?
‌PandaDoc is GDPR, HIPAA, and FERPA compliant. Whether it's our servers or software, clients can be confident of the highest security and privacy standards.
In addition, all data is secured with encryption technology so that regardless of which type of your industry you're in, you can use PandaDoc securely.
Who can benefit from an IT service ticket form template?
Whether you work in cloud services, computer or mobile device management, cybersecurity, IT consulting, data backup and restoration, monitoring services, or consumer products, you can benefit from PandaDoc's IT service ticket form template. ‌
Whatever your niche may be, PandaDoc's drag-and-drop technology allows your service desk to troubleshoot your customers' problems in no time.
Should you use a template to create an IT service ticket form?
‌The average person is not well-versed with the intricacies of their IT software or gadget. That's why they need a clear, easy-to-follow contact form to help them reach out to your IT support team.
You can even customize our form fields and add whatever details best reflect your specific relationship with your customers.
With a template to work with, your customers can quickly document the problem they're facing, which saves time. The faster they can do so, the faster they can get a solution. This enhances customer satisfaction and loyalty.
‌