Expense Report Form
Create and share expense report forms, simplify approvals, track and control spendings.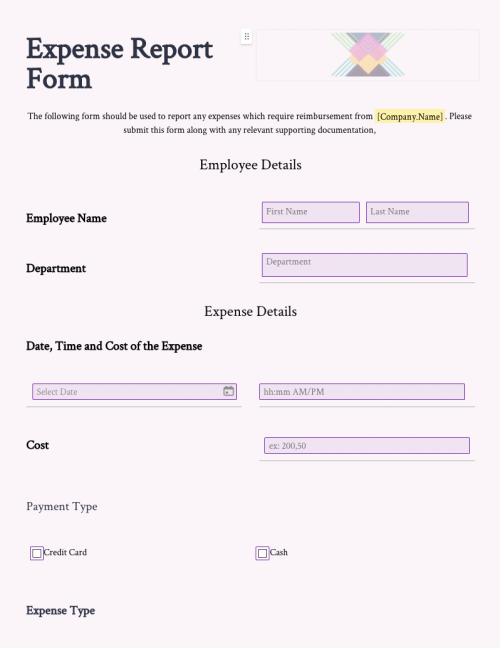 What is an expense report form, and what is it used for?
An expense report form is a document that reports the expenses necessary to run a business. They provide a uniform method for reporting, categorizing, and tracking the money your business spends.
Employees often use them to report reimbursable costs that they pay out of pocket, such as travel expenses. However, they can be used by anyone to document costs.
You can use expense report forms for several reasons, depending on your needs.
They are beneficial for creating, analyzing, and tweaking budgets, keeping up with large and small purchases, tracking project progress, and tax purposes.
What types of expenses can I track with my form?
You can use your expense report form to track any type of expenses your business incurs. The form is yours to do with as you need. You can choose from more than 400 PandaDoc templates to customize or begin with a blank expense report template.
Simply add the fields your form needs with the simple drag-and-drop editor, and you can track your regular costs and purchases.
These can include costs such as: equipment depreciation, wages, bad debt, travel costs, meal expenses, insurance, vehicle expenses, credit card interest, advertising, maintenance, utilities, purchases for client projects, employee benefits.
What fields should I include in my expense report form template?
Your fields should directly reflect your business's unique activities and needs. The most common fields on a typical expense report form are:
The date of purchase
The vendor where the item was purchased
Client name or account number
The project the purchase was for
Amount of purchase
A notes section for any additional information
Depending on what your accounting records require, you may need to add more fields or omit others. The fields may also need to be edited to fit the type of expense report form you create.
For example, a monthly expense report may need more or less detail than a yearly expense form, while a standard weekly expense form will require different information than a credit card expense report.
For best results, consider consulting with your accounting department and management team to determine which fields will simplify expense reporting for your company.
Do I have to start over if I make a mistake on an expense form I create?
Mistakes happen, and PandaDoc makes them easy to fix. If you make one or simply need to update your form, there is no need to create a new one.
All you need to do is click the "Unpublish" button on your document dashboard and then make the necessary changes. While the form is unpublished, your employees and team members will be unable to access it.
However, as soon as you are done editing, click "Publish" again, and the form will immediately be available once more. There is no need to get a new link or code to share.
How much does it cost to create expense forms in PandaDoc?
PandaDoc offers several pricing options to fit your needs. There is a Free Plan and an Essentials Plan that provide access to many incredible features.
The ability to create forms, however, is only available in the Business and Enterprise Plans, which start at $49 per month.
With both plans, you can produce up to 250 documents per year. Anything over that number costs an additional $2 per form.
Take advantage of the free 14-day trial to try out PandaDoc's software. If you need more power and workspace, the sales team can provide a customized quote for the Enterprise Plan.
How can creating an expense form in PandaDoc save time and approve efficiency?
PandaDoc has several features to improve your expense reporting workflow. Some include the ability to add a signature box and automations.
For instance, you can set up automations so that once an employee expense report form is submitted, it is sent to the management personnel who must approve it.
After that person signs it, you can have it transmitted to accounting for dispersing funds to the employee.
Additionally, you can connect your current accounting software so that the expenses automatically upload. These three features alone will cut hours from your typical workflow.