During the implementation of a project, managers face a multitude of day-to-day tasks that are aimed at the successful attainment of its objectives. A project plan is a chief document they steer by in their work. It is a step-by-step guide that describes how the project team is going to reach its goal within the time and budg
Why Use a Project Plan Template
A project plan template helps team members with their tasks and deliverables set fair and square before them. ith a proper project plan, you can:
plan future actions
manage the whole project, setting smaller and core goals
create work schedules and assign tasks
plan and track budgets and timelines
A detailed and comprehensive project action plan template aligned with the general strategy of the enterprise allows the managers to observe the big picture, keep all stakeholders on the same page, and regularly communicate vital information to them.
Project Plan Templates by Type
PandaDoc provides project plan sample templates for different use cases to fit the needs of a particular domain.
Project management plan template. This is the most general document that covers all aspects of project implementation. It outlines the management approach, the project scope, the milestone list, the schedule baseline with a work breakdown structure, change, cost, quality, and communications management policies, and much more.
Consulting project plan template. It lays out the scenarios a consultancy agency will follow to provide advisory services to a company. This form contains a brief profile of the customer, the area in which it needs help, the indication of problems it faces, and how the consulting party is going to perform its responsibilities.
IT project plan template. IT vendors can formalize their relationships with customers. It includes a statement of work, a resource list, project timeframe and deliverables, and a risk plan.
Event project plan template. You can manage and track the event budget and timeline, the guest list, the entire scope of logistic details, the related tasks and schedules, as well as conduct post-event performance reporting and evaluations.
Marketing project plan template. This template embraces planning marketing research, competition analysis, marketing timeline and strategy, digital marketing, etc. It enables the optimization of repeatable processes, creating a collaboration venue, and integration of specific marketing tech stack.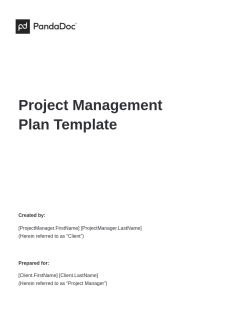 Project Management Plan Template
Use this simple template for a project management plan to ensure your next project goes off smoothly, without any problems.
Use Project Management Plan Template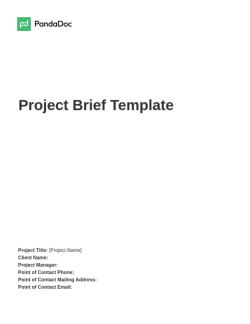 Project Brief Template
This Project Brief provides a project summary, deliverables, goals, business cases, and a list of all project-related hazards. Use this template for your needs to see the team members' names and what they are responsible for in order to advance the project.
Use Project Brief Template
How to Write a Project Plan Template
When customizing a project plan template, make sure to include the relevant data by items.
1. Planning Basis
Project scope. It mentions the tasks to be completed for implementing the project with a possible work breakdown structure that pinpoints all activities, deliverables, and timeframe of the project.
Project milestones. These are typically arranged in the form of a three-column table where milestones, their descriptions, and delivery dates are indicated.
Project management stages. Such stages as initiation, planning, implementation, monitoring, and closure are described, and the activities they contain are listed.
Project tasks. These are written in a chart where the phase, content, and sequence of each are presented.
Labor and resource requirements. Every task description is supplied with the roster of efforts and resources its execution will take together with the name of the person responsible for its accomplishment.
2. Project Plan Proper
This is the core element of the plan, where you create a project schedule, explain task dependencies, and enumerate project assumptions and constraints. It can be accompanied by an appendix containing various documents (feasibility study, business case, project charter, etc.).
3. Budget, Change, and Risk Management
In this section of the template, you must define the budget the project will require (with the breakdown of the total sum into task-related expenditure items), foresee the handling of changes to the initial plan, and create a risk log that contains potential threats and suggests risk mitigation measures to be envisaged.
In view of the complexity of the document and the multitude of aspects to be taken into consideration, writing it from scratch is hardly a wise decision for novices in the domain. Instead, download a free template for a project plan from our site. Here, you can find various project plan samples that cover the basic needs of most companies in different business domains and can be easily tailored to suit the particular use case of your enterprise.
FAQ
A project plan template is a form that contains a detailed guide to project implementation. Basically, it displays how the project team will reach its goal and lists the resources needed for it. Being a project execution roadmap, it also helps to manage it, monitor timelines, assign tasks, track project status, and keep the team in the know of all project-related routines.
You can create a project plan document consisting of three parts. In the first, you must list the project scope, tasks, milestones, and resources (both human and technical) the execution of the project requires. In the second, you should lay out the sequence of tasks to be completed and their timeframe. In the third, the project's budget is determined as well as risk and change management measures are outlined.
It is conditioned by the format. As a digital file, a project plan may come in the form of a Gantt chart, a Kanban board, a task list, a calendar, a work breakdown structure, or a spreadsheet, depending on the degree of visualization the manager and the personnel prefer. As a downloadable and printable template, a plan is organized in the form of a Word document split into sections that cover all aspects of the future project.