Looking for an alternative to Foleon?
Users switching from Foleon (formerly Instant Magazine) can take advantage of the interactive drag and drop features of the PandaDoc editor to create incredible proposals while keeping costs low.


| | Foleon | PandaDoc |
| --- | --- | --- |
| Powerful drag and drop editor | | |
| Mobile-friendly documents | | |
| Password protection | | |
| Data security | | |
| Brand kit | | |
| Customizable templates | | |
| Content library | | |
| Template library | Limited | |
| Team collaboration tools | Limited | |
| Integrations | | |
| Analytics dashboard | | |
| Legally-binding eSignatures | | |
| Unlimited documents | | |
| Payment collection | | |
| Custom variables | | |
| Team auditing tools | | |
| User permissions and roles | | |
| Mobile app | | |
| 24/7 support | | |
A drag and drop editor like no other
While Foleon and PandaDoc provide different services for different users, both platforms take advantage of a drag and drop editor to create user-friendly, interactive content for customers. PandaDoc takes ease of use to the next level by offering a set of tools to help customers electronically date and sign legally-binding quotes, proposals, sales agreements, contracts, and more.
Focused on proposals, not content marketing
At its core, Foleon is designed to help users create media-rich web publications for content marketing. The ability to create proposals and sales documents are secondary to its ability to create white papers, corporate brochures, and online magazines. PandaDoc takes a step in the opposite direction, instead focusing on helping you create the essential sales documents you need to grow your business.
An online creative platform for your business documents
Even though they are focused in different directions, both Foleon and PandaDoc deliver incredible creative freedom to users. PandaDoc users can easily upload product catalogs, media images, and a customizable brand kit to their PandaDoc content library, making document customization user-friendly and effective.
An all-in-one electronic signature and payment platform
Originally Instant Magazine, Foleon is still focused on magazine-related content drivers. They'll help you build an online magazine and give you the right tools to drive engagement via social media channels — but they can't help you create a sales proposal that captures a legally-binding eSignature and allows customers to pay for your products and services. Only PandaDoc can do that.
Better sales documents with PandaDoc
Sales-focused document analytics
While both Foleon and PandaDoc offer document analytics, only PandaDoc provides users with key insights that directly affect sales and conversions. Both companies also provide analytics and tracking in different ways. Foleon helps create media-rich web publications and connects to Google Analytics for detailed information.  PandaDoc analytics are delivered directly from PandaDoc. Learn how many times someone viewed your document, how long they spent on each page, if any web links were clicked, and more.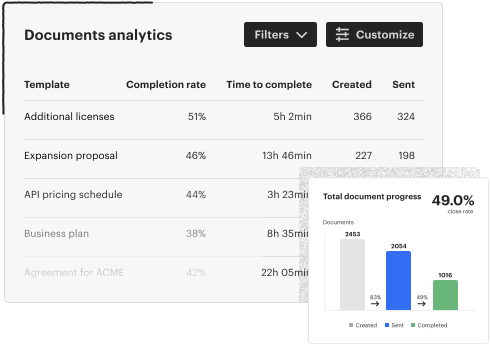 Add all your service and product details
Everyone from freelancers to huge corporations understands that part of closing the deal means outlining your deliverables. PandaDoc users can upload product catalogs and pricing table content quickly via .CSV files. This makes creating a clearly-defined scope of work simple and easy.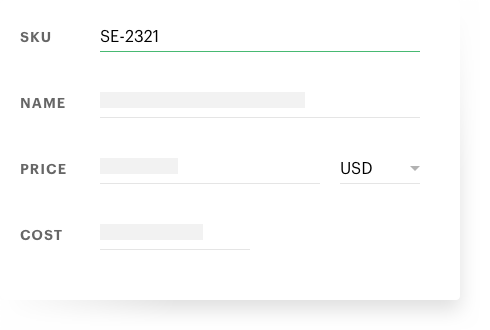 Better integrations for your brand
Foleon users can take advantage of integrations with Zapier, Google Analytics, and Bynder. PandaDoc offers a different set of integrations to help users connect to today's leading CRMs and payment platforms. We also connect directly to Google Drive, Box, and Dropbox so that importing your documents is simple and easy.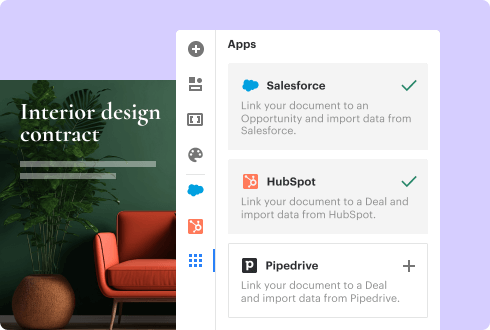 Create custom templates on the fly
While Foleon (Instant Magazine) provides some templates to help users get started, they're quick to emphasize the open creativity of the platform. PandaDoc goes a step beyond this by providing a robust template library to jumpstart your document creation process. Choose from 400+ templates and use custom variables to create unique templates for your brand. Save proposal templates to your PandaDoc library and reuse them the next time you need to create a marketing proposal or a sales contract.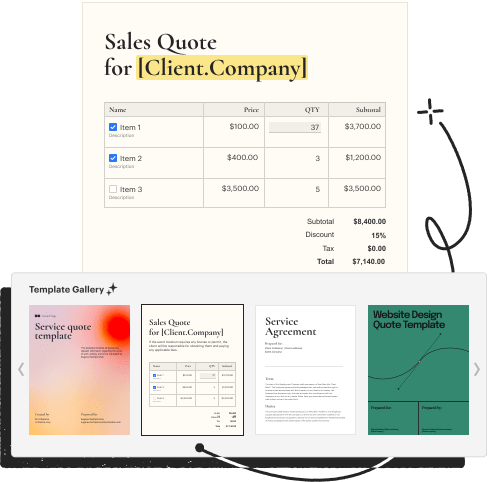 Collaboration tools for teams and customers
Whether it's customer magazines, digital annual reports, or interactive white papers, Foleon is all about creating a product that your customers can read and enjoy. PandaDoc helps you create documents that your employees and customers can use to collaborate. User teams and customers can add inline comments to your sales contracts and proposals so that you can isolate customer pain points and resolve outstanding issues before closing the deal.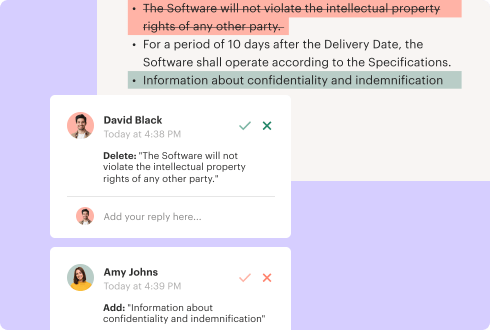 Support when you need it
While Foleon does offer an online knowledge base and priority support (Enterprise plan only), waiting for a response from tech support can stall your workflow and slow down your sales process. PandaDoc understands that you need answers quickly, which is why we offer 24/7 live chat support. If you have a question, we can help you find an answer fast.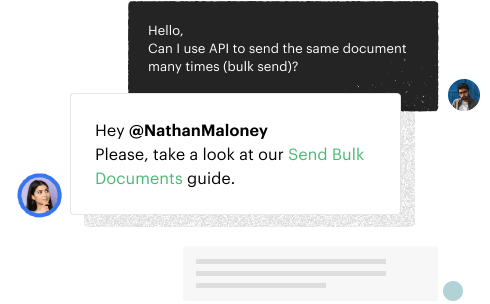 Find the perfect PandaDoc solution for your business