How to create an online registration form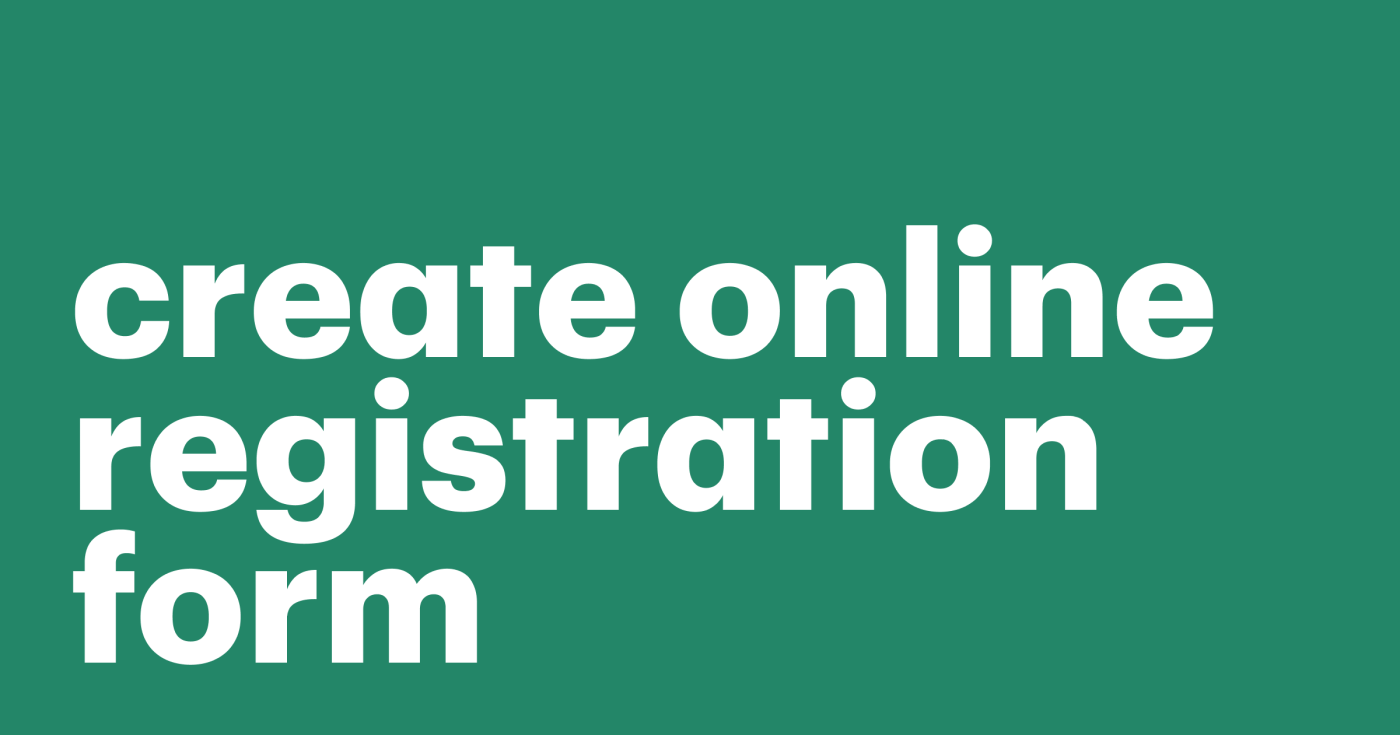 New to the world of online registration forms? Then it's likely you may be feeling a little overwhelmed.
Where do you start? What information do you need to collect? How do you make sure your form is easy and effective for getting results?
Don't fret. We're here to give you the lowdown on everything you need to know to create an online registration form that meets your (and your users) needs. We'll cover:
What online registration forms are
The different types of forms you might need
Whether you're organizing an awesome event, starting a membership program, or just looking to collect some basic info from your website visitors, a well-designed online registration form can be a powerful tool for achieving your goals.
So, let's get started and create your first web form together!
What exactly are online registration forms?
Ever signed up for an event, a club, or a service online? Then chances are you've filled out an online registration form yourself.
Online registrations offer a convenient and easy way for companies to collect info from their users or customers.
These digital forms can be accessed via a website or link, and they usually ask for details such as your:
Name
Email address
Phone number
Other relevant information.
Online registration forms come in many varieties, depending on their purpose and the information collected.
One of the most commonly used types is the customer registration form, which enables businesses to collect and organize important customer data.
What's great about these forms, you ask? Well, they make it easy for the company and its users.
Instead of spending lots of time manually filling out a paper form, you can simply type in your information on your computer or phone and hit submit.
Online registration format examples
Now you know what an online registration form is, let's take a look at two killer examples:
Charlotte Tilbury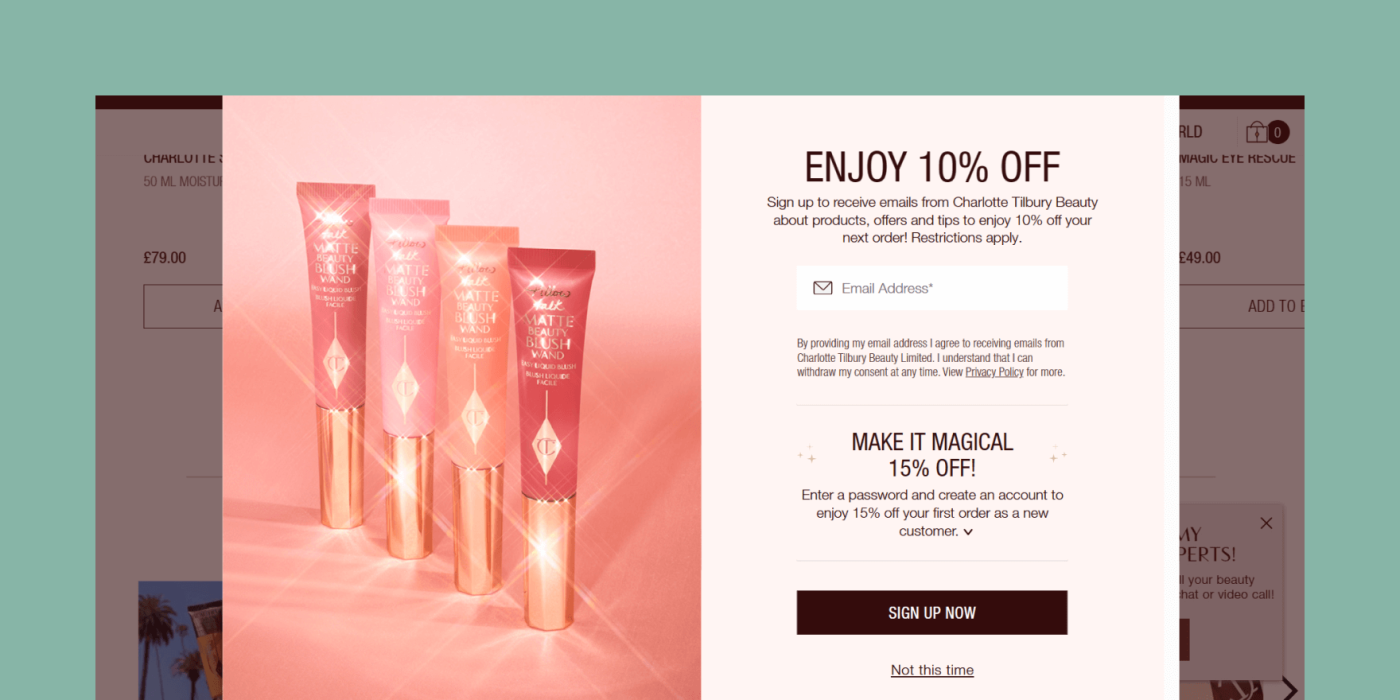 Email signup forms often lack creativity — and can even be rude with their opt-out buttons. These mistakes not only decrease conversions but can cause visitors to leave the site.
Charlotte Tilbury, however, understands this issue and has created a simple and elegant signup form that offers a small discount (15%) and early access to offers and product launches in exchange for an email address.
The form includes a polite "Not this time" opt-out option, which suggests the visitor might be interested at a later time.
If you want to create an effective double-CTA signup form, Charlotte Tilbury's example is worth following.
Shopify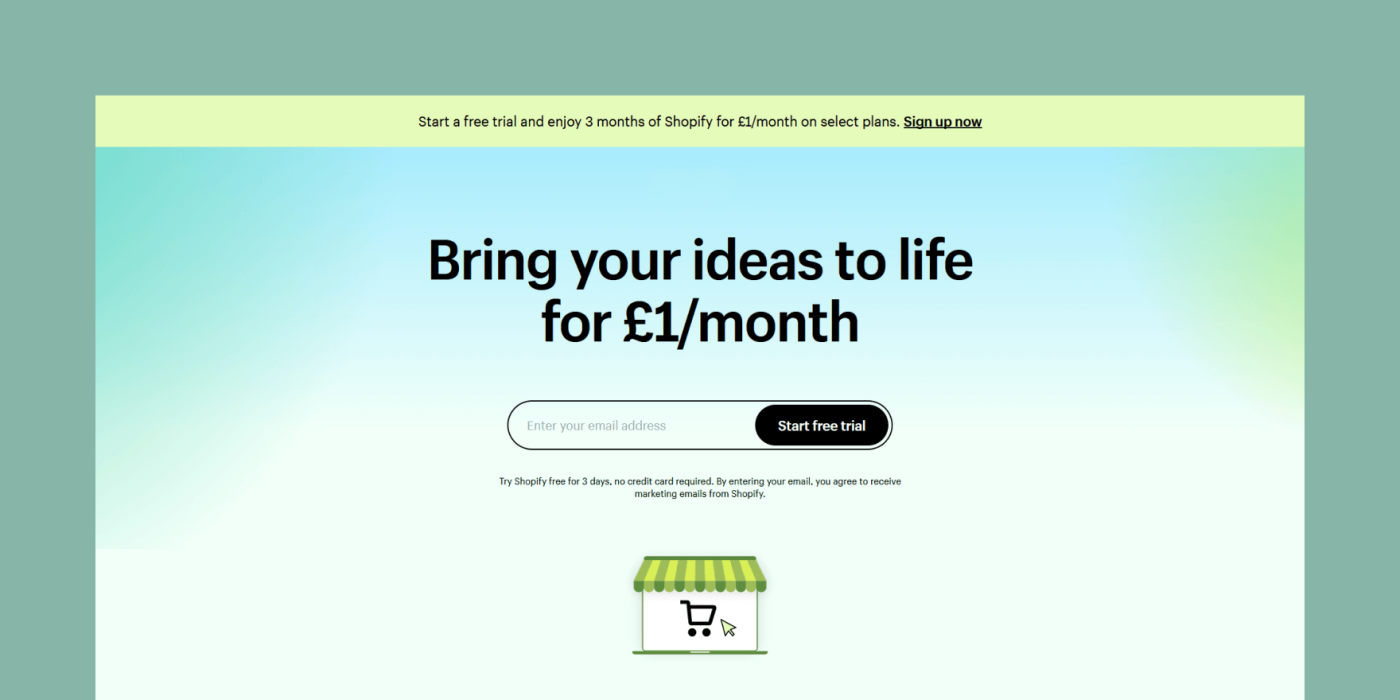 Shopify offers an engaging and concise headline, "Bring your ideas to life for £1/month", to grab the attention of potential customers.
It also has a clear call-to-action (CTA) button that prompts visitors to take action.
Additionally, Shopify provides a free trial, allowing users to try out the platform before committing to a subscription or purchase.
This approach can be effective in encouraging sign-ups and conversions as it removes any initial financial risk for potential customers.
Overall, Shopify's strategy showcases how effective messaging and a risk-free offer can help increase conversions and attract new customers.
How to create an online registration form using PandaDoc
Creating an online registration form using PandaDocs is actually quite straightforward if you follow these simple steps:
Step 1: Decide what information you need to collect from your customers. This should include basic info like their name and email. You can also add specific details like a signature section and CTA.
Step 2: Next, choose PandaDoc Forms as the platform to create your form.
Step 3: Write and design a killer form yourself or use one of literally hundreds of templates.
Step 4: The final step is to test and refine your form. Be sure to test your form on different devices like laptops, iPads, and smartphones to ensure it works well for all users. You can also gather feedback from users to identify any areas that can be improved.
Best practices for creating online registration forms
When you're creating online registration forms, it's essential to follow certain best practices so your form is effective and user-friendly:
Keep it simple
Don't ask for too much information upfront. Only request what you need and make sure the form is easy to navigate.
Use clear, concise, and compelling language
Avoid complex language or industry jargon. Use simple and clear phrasing that anyone can understand.
Make it look nice
Your form should have nice colors and design elements that are easy on the eye and enhance the user experience. Avoid clutter and use white space to create a clean and organized look.
Use a progress bar
If your form is long, consider adding a progress bar so users can see how far along they are in the process.
Offer help and support
Include a help section or FAQs to answer common questions users may have. You can also provide contact information in case they need additional assistance.
It's also important to keep accessibility in mind.
Make sure your form is compatible with assistive technology for people with disabilities. You can use tools like Google's Accessibility Scanner to check this.
Boost revenue with online registration forms
At PandaDoc, we offer a wide range of customizable online form templates to fit your needs.
Whether you require a simple contact form or a more complex registration form, we've got you covered.
Our platform is designed to make it easy for you to create and customize materials, and our templates will save you time and effort.
Now that you know how to create an online registration form, by using our online form templates and following best practices, you can boost revenue and provide a seamless user experience for your audience.
Why not give it a try today to see the benefits for yourself?