A business project proposal template is a document that comes first in the project management pipeline. Its goal is to help project managers establish the value proposition of the project and sell it to investors or clients. The template provides a framework to specify the essence of the project, define its aim and budget, outline the roadmap for accomplishing it, and explain why it is worthwhile to execute it.
Sometimes, it is associated with the project plan, but unlike the latter, a one-page project proposal template doesn't go into much detail as to the tasks and activities to be performed.
Why Use Templates for Project Proposals
win over new customers with a professional approach;
persuade the management to allocate resources to implement your idea or find investors presenting the essential information;
shape realistic plans and set clear expectations;
determine priorities on project details and requirements;
keep the team organized and lay the foundation for the project plan.
Project Proposals by Type
Depending on the industry where they are employed and their overall purpose, project proposal templates can be divided into the following types.
Business proposals. They are leveraged to persuade a company that your business services and products will be the best fit for their needs. Usually, they emphasize the unique value proposition of an organization and the way of solving the prospective client's problem.
Construction proposal. This is a business proposal variety of a narrower scope since it is used specifically in the construction industry. In it, the contractor offers its services to the client showing how they will benefit by choosing this particular firm for a building project.
Research proposals. Normally employed in the field of science (but not only), research proposals describe the subject of future investigation, enumerate the reasons for its importance, and map out how to conduct the research.
Grant proposals. These are similar in structure to the previous type, but the addressee is different – a grant-making body. Such a proposal aims to secure funding for a project and its core element is the justification of the submitter's need for financial support.
Event proposals. Usually sent as a response to a request for proposal, this document is written by an event manager, where they outline every single detail of organizing a celebration, presentation, or any other formal or informal event.
How to Write a Project Proposal Sample
Use our project proposal free template as a starting point for creating your own. Make sure the document contains the following items.
Project details. Along with the obvious introductory information about the project name, type, team, and dates, other essential details to include are the project background, objective, needs, and basic information about the company.
Project problem statement. Here, you outline the problem the project is called to solve and explain why your way of solving it is going to be effective.
Project scope. This part defines the tasks which you plan to carry out to reach your goal.
Overall project costs. In this section, you give your estimate of the total budget the client should allocate, plus you break it down into task-related expenditures.
Project timeline. This is only a ballpark figure at the stage of project pitching, yet it should give the potential client a general notion of the project duration.
Project roadmap. Alternatively, you can include the project timeline, as well as its objectives, milestones, and deliverables, in this section.
Project team. Here, you specify the personnel roster that will tackle the project and identify the roles and responsibilities of each crew member.
Necessary sponsorship. If the project needs a sponsor or you have already found one, you can include in this part of the proposal all information on the company or person that will finance your endeavor.
Evidently, writing a good project proposal takes considerable effort and requires special skills. And if you have to do it quite often, creating one from scratch is a sheer waste of time. That is why leveraging a free template for a project proposal on our site makes perfect sense. Competent experts at PandaDoc have included all the necessary sections into the workmanlike form that can be easily customized to fit your requirements, downloaded, and printed out in no time.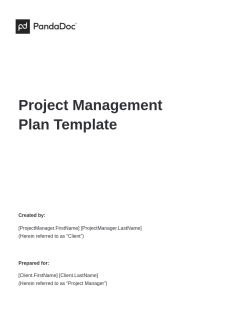 Project Management Plan Template
Use this simple template for a project management plan to ensure your next project goes off smoothly, without any problems.
Use Project Management Plan Template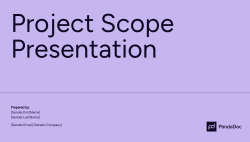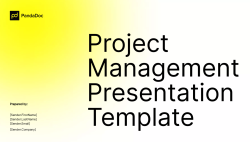 FAQ
A project proposal is a business document that aims to identify the major value proposition the project is going to deliver to clients and persuade them to opt for the company that submitted it. Alternatively, the overarching purpose of the project proposal can be to pitch it to prospective investors by explaining why and how it will bring profit to them.
A project proposal should cover all aspects of project implementation, namely its title and objective, the problem it is going to address, its scope and timeline, the roadmap of accomplishing the goal (with milestones and deliverables), the resources it will require (labor, money, equipment, etc.), and the indication of the roles and responsibilities of the team that will handle its implementation.
The overall formatting of your proposal is the foundation of its visual appeal, which is a major inviting point for most people viewing the file. So if it is a PDF file or a presentation, it is best designed in a visually pleasing color scheme (e.g., use palette colors, smooth transitions, and warm tones) so as not to put a strain on the viewer's eyes. As for regular docs and Excel tables, make sure to format them comprehensively, using text alignment, spacings, headlines, and comprehensive fonts (at least 11-12pt). When it comes to general file formats, PDFs are best used for pitch decks that you share with investors or proposals that you are going to send or distribute. PowerPoint presentations are the best fit for pitch decks that you conduct for a live audience. If it is a financial project with lots of stats, figures, tables, and calculations – use Excel. And Office or Google documents are regular options for simple text proposals that are usually shared between well-familiar partners.
All you need to do in order to create a new business project proposal is: Create an account at PandaDoc or log in if you already have one. You can also log in quickly via your Google Mail, LinkedIn, Microsoft Office, or Slack profile; Pick a template from a range of options fitting different goals. You can use search filters to find exactly what you need; Customize and edit your template however you see fit. Or use the recommended readymade options; Download your file or share it via the available share buttons. That's it! PandaDoc offers a universal range of options to fit your needs, from a simple project proposal example in PDF to more complex Excel files.