Financial Aid Application Form
Use PandaDoc's free, customizable template to create financial aid application form with just a few clicks. Add electronic signatures, rich media, and drag-and-drop information fields.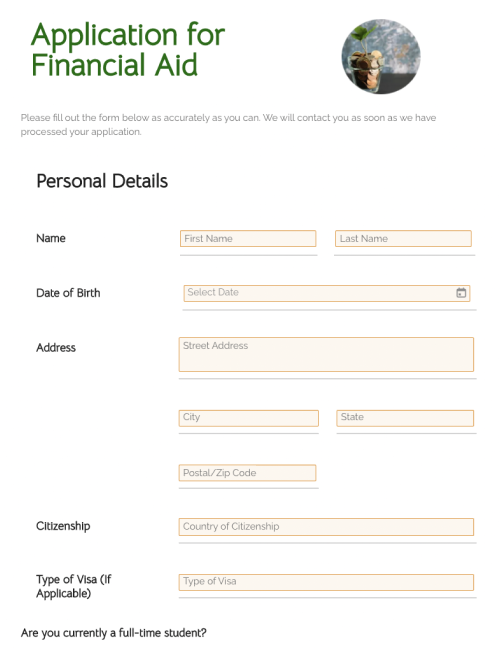 What is a financial aid application form?
A financial application form is a document someone typically submits to an educational institution — and sometimes a recreational one (e.g., a summer camp) — that they wish to attend when they are unable to pay on their own. Financial aid can be need- or merit-based.
Who needs to complete a financial aid form?
Any person who wishes to attend an educational institution but cannot afford it with their own resources should apply for financial aid.
A financial aid form is usually completed after someone is accepted to an institution and must then work out a financial strategy to attend it.
Sometimes, however, it is required as part of a student's application for enrollment.
In other cases, the financial situation of a student already enrolled in a program or institution will shift after they have been admitted, requiring them to submit a financial aid form as well.
What should a financial aid form include?
A financial aid form should include all the necessary information to evaluate whether an applicant qualifies for financial aid, such as:
Applicant's personal information: This is typically the person's name, address, date of birth, Student ID and/or Social Security Number, phone, and citizenship status.
Program information: Usually, this comprises the department they wish to enroll in or are already enrolled in, their desired area of study, their projected dates of study, and their full-time or part-time enrollment status.
Financial aid Information: This is the amount of aid the applicant is seeking.
This section may include any or all of the following:
Is the aid for a month, a semester, or a full academic year?
Is this a new or supplemental request?
Is it for a specific scholarship or aid program?
What are the applicant's projected monthly living expenses? This could include an on-campus meal plan and accommodation, as well as their projected monthly educational expenses, such as books and course materials.
Do they have outside sources of financial support, such as parents or family?
Do they have dependents?
Are they only applying for aid through your institution, or are they supplementing it with relevant federal aid, such as Federal Pell Grants or Direct Subsidized Loans?
Applicant signature(s): This is a dated signature from the applicant and their guardian, if necessary, confirming the veracity of the information.
Should you use a template to create a financial aid application form?
Yes! If you use financial aid application forms for your institution, using a template can make your life a lot simpler.
Although financial aid forms differ in some of their specifics, they share main elements and are fairly straightforward.
Using a template for a financial aid application form can streamline the entire process by covering all the standard information required of applicants, so you don't forget any important information. The forms can then be personalized as needed.
Using a template gives your institution a more professional, streamlined look and helps you gather information in a standardized, reliable way.
You will likely have to weigh the needs and merits of applicants against each other, too. Using a standardized template gives you the simple tools to do so.
Can an online template save time for applicants, too?
Yes! Using a template makes it easier for your applicants to take the time they need to gather the information required for their request for financial assistance.
They can always call with additional questions, and they may come in for an interview, but a simple application form based on a template will ensure they are well-prepared.
Can you save time with an online financial assistance form?
Yes! Maintaining an online template for your financial assistance forms reduces the use of time and resources needed to print forms.
On the applicant's side, it saves time and energy as well. They can fill in the information at a time that is convenient for them, saving the in-progress document as they go.
As soon as the applicant is ready, they can submit their forms with the click of a mouse. Their signatures will be collected in real-time and uploaded automatically into your system for a quick, paperless process.
Can you include sample letters requesting financial assistance?
Absolutely. Using a template to create financial aid forms will simplify the process for both the applicant and your organization.
You can also include examples of FAFSA forms, templates for financial support forms, and any other forms for financial aid that are specific to your institution. PandaDoc's templates are at once specific to your needs and highly flexible.