How to safely email sensitive documents
When you send a sensitive document via email, you lose direct control over its transmission.
It goes through multiple servers, may be stored in unwanted locations, or even accessed by third parties.
That's where measures for data protection come in.
In this article, we've gathered four different methods on how to safely email sensitive documents using:
A strong password for your documents
End-to-end encryption
Encrypted cloud storage solutions
E-Signature software solutions
We also share a step-by-step guide on using PandaDoc's e-Signature software and how the platform simplifies emailing sensitive documents.
Add a strong password to your documents
When you add a password to your document, it encrypts the content of your file so that others cannot access it unless they have the password.
Such measures also ensure that a third-party program cannot scan for data through the email network.
Microsoft Word and PDF support this feature of password protection. You can set one password to open a document and another to edit or print the content.
When you create a password, mix it with uppercase and lowercase letters, special characters, and numbers. Consider using a password generator to create a strong one.
Always use a secure communication channel when you want to share a password with a recipient.
Avoid sending confidential information in the same email as your document or via SMS. Here are three safe options to choose from:
Send a password as a separate email using end-to-end encryption
Share a password via phone call
Send a password using an encrypted messaging app like Signal or WhatsApp
Use end-to-end email encryption
End-to-end encryption means that encryption and decryption of content happen only on both the sender's and the recipient's respective devices.
Should a hacker disturb the transmission, they would only see encrypted gibberish.
There are two main end-to-end encryption protocols: S/MIME and PGP/MIME.
They are both effective, and the choice between them depends on the level of control and the email client you use.
S/MIME comes with a signing certificate that confirms you are a legitimate sender of the message. It also contains a public key needed for a recipient's email client to encrypt the content, which the recipient can then decrypt and read using their private key. S/MIME is supported natively by Outlook and can be installed in Gmail as well.
PGP/MIME, on the other hand, requires the use of third-party software or plugins for integration into email clients. It typically involves more manual setup than S/MIME, so it is best to use open-source email providers that have already inherited this protocol — such as Proton, Tutanota, or StartMail.
Use an encrypted cloud storage solution
After uploading your file to a cloud storage solution, you can generate a shareable link that will be emailed to your user via email securely.
By clicking on this link, a recipient can view or download a file.
There are two types of cloud storage solutions — regular and encrypted — which differ in terms of security levels and control over your data.
In a regular cloud storage solution like Dropbox or WeTransfer, the service provider holds the encryption keys. When you use their platform for file-sharing purposes, they have access to your files.
Conversely, encrypted cloud storage solutions ensure that only you and the recipient with whom you share the decryption keys can access and view the data.
This is due to the fact that encrypted apps employ end-to-end encryption, which adds an extra layer of protection over your data.
The list of well-known and trusted encrypted solutions include Sync, iDrive, Icedrive and Internxt.
Use electronic signature software
E-signature software is used to facilitate the signing process while also ensuring the security of docs being signed.
Most reputable solutions use various security measures, including authentication and audit trails, and follow compliance standards to ensure that signatures are legally valid.
E-signature solutions like PandaDoc also come with advanced settings to manage user permissions and access control, ensuring that your document is only accessible to those who need it.
Here are the steps to use PandaDoc's e-Signature software.
Log in to your PandaDoc account. If you are new to PandaDoc, start with a free 14-day trial plan.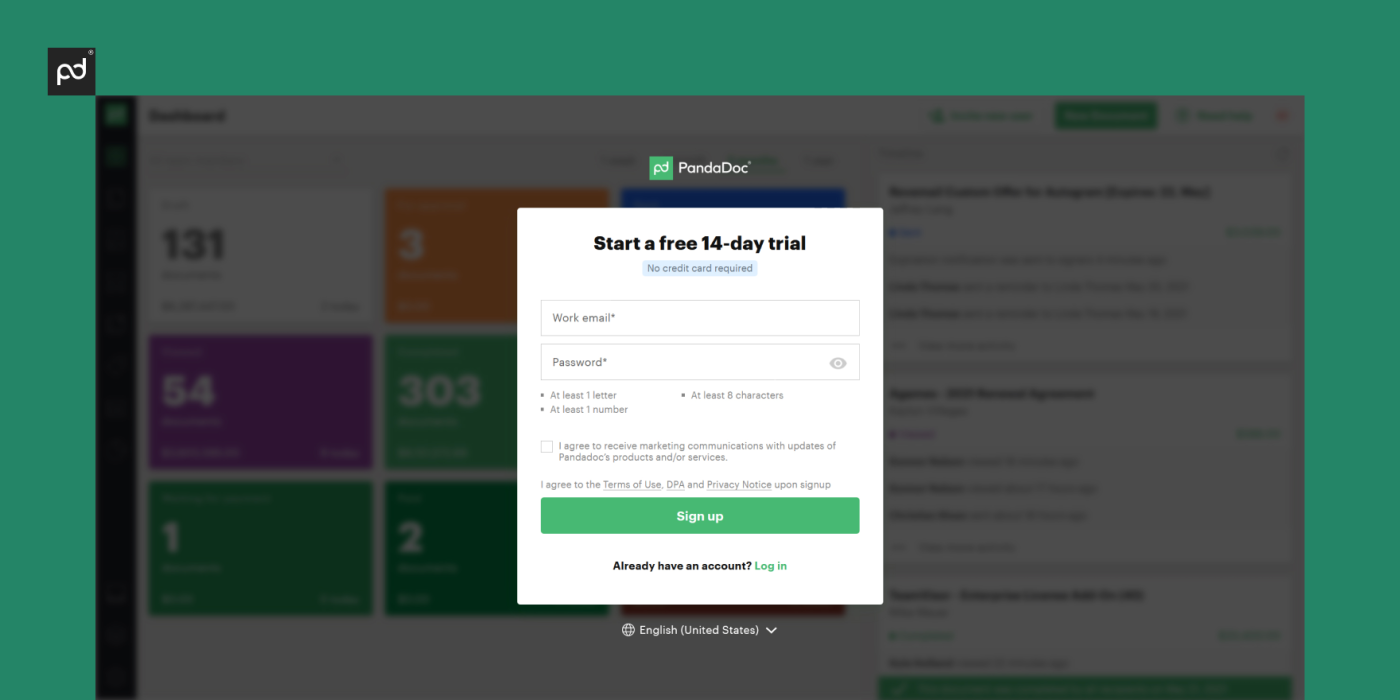 Upload a new document or use an existing one — you can choose from a list in the templates library, including contracts, proposals, and quotes.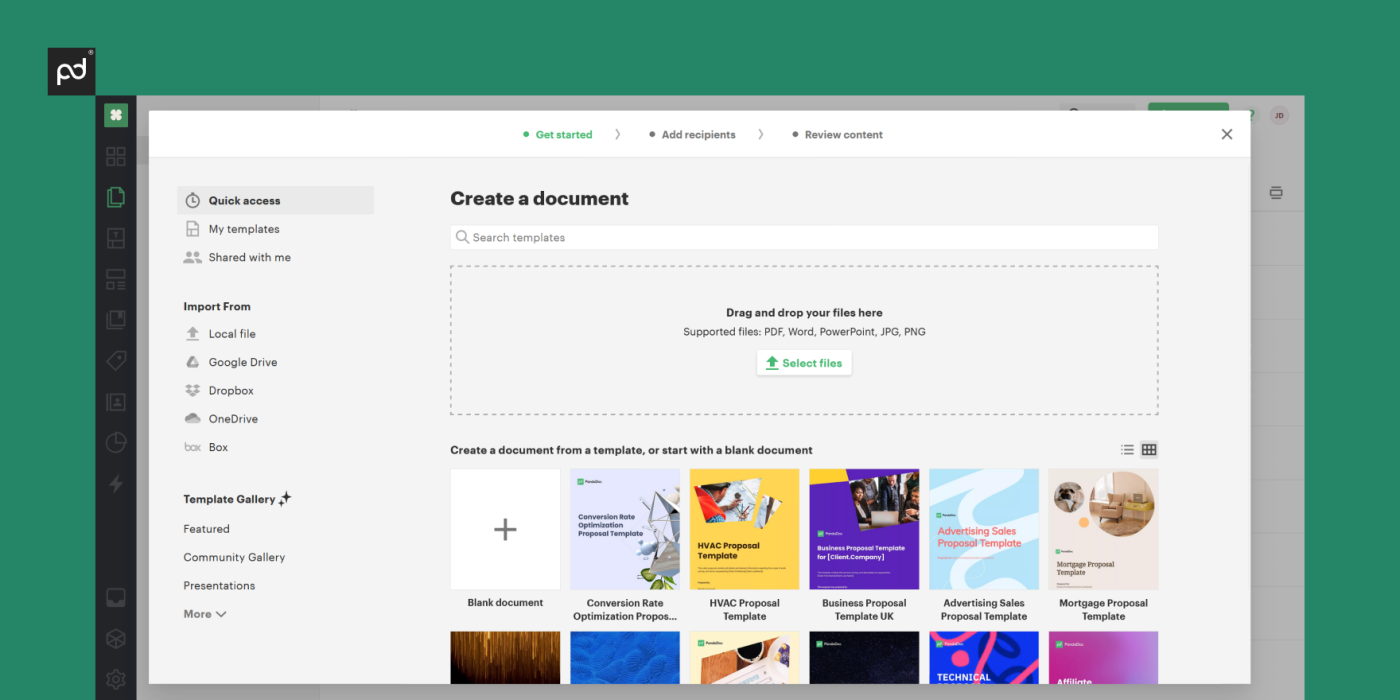 Open the Content > Fields tab. Drag and drop the signature field to the relevant place in your document.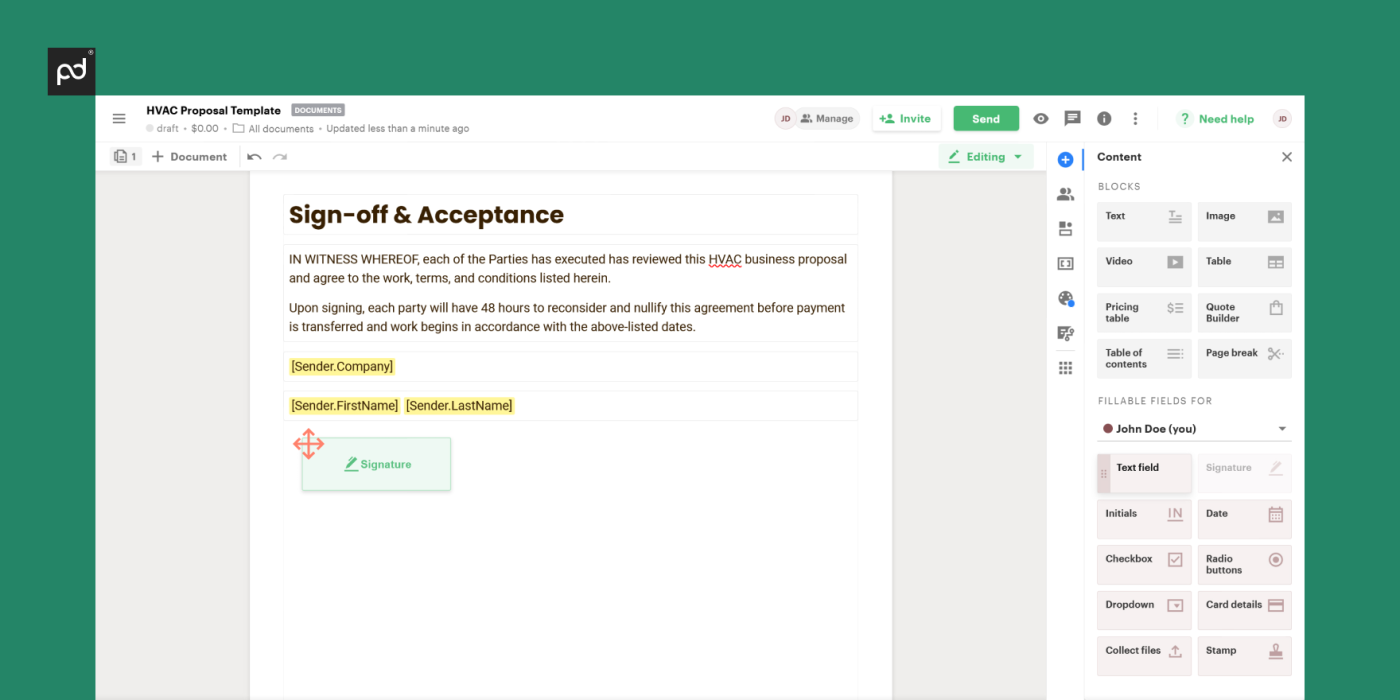 Add your signature if needed and forward a document to a recipient. You can protect your document with passcode or SMS verification.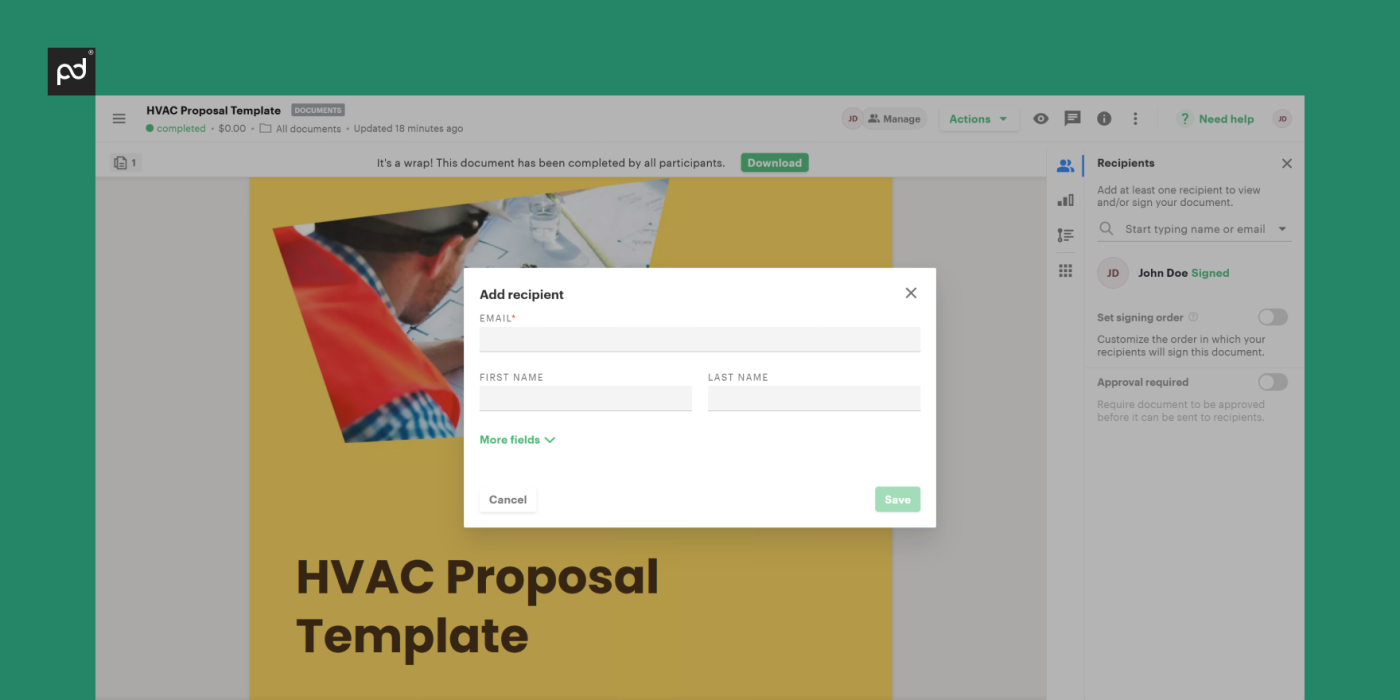 Your recipient will get an email from PandaDoc with access to the document.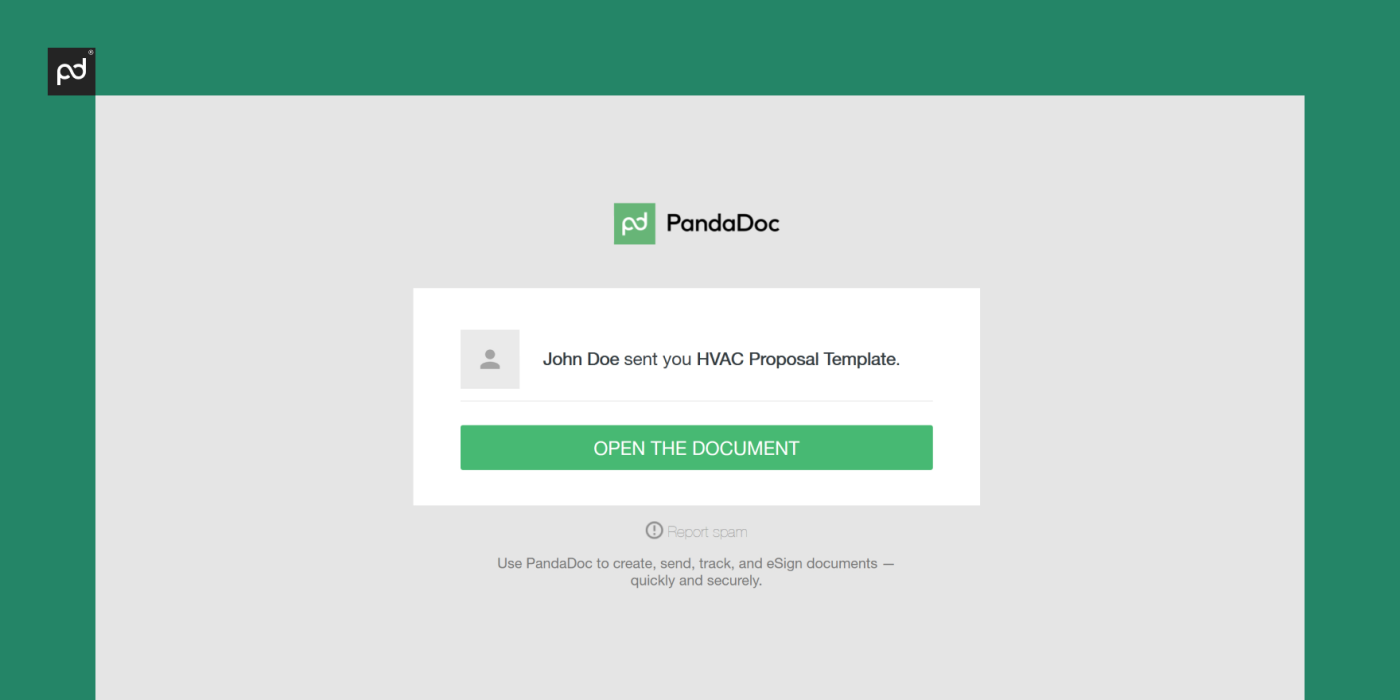 Keep your sensitive documents secure with PandaDoc
With PandaDoc's electronic signature software, your documents will reach the intended recipients securely.
PandaDoc is compliant with ESIGN and UETA regulations, the two primary electronic signature acts. It also provides an electronic certificate with every document after it's signed.
Use the audit trail feature to track who signed the document and when.
Additionally, you have complete control over access settings, so you can manage who can view or edit the document.
PandaDoc is a secure way to manage your document workflow from start to finish. Try out the e-Sign software with a 14-day free trial today!