The liability release form, also known as the waiver form, contains a legally binding agreement between two parties, stating that one of them (the releasor) promises not to sue the other side (the releasee) for past, current, or future damages, losses, or injuries. When they sign it, the releasor confirms that they understand the risks but won't file a lawsuit against the releasee whatever happens or has already happened.
As a rule, the releasor receives a consideration – monetary or non-monetary compensation for waiving the claims. Without some kind of consideration even a straightforward and simple liability release form is not considered a valid contract.
by States
Liability waiver forms can differ by state due to differences in local laws. Certain states may require specific clauses to be included in a form or impose restrictions on the type of risks to be waived. To make sure you comply with your state regulations, use our free state-specific waiver forms given below.
When to Use a Release of Liability Form Template
Such agreements are highly recommended to employ for companies and individuals whose business is associated with some amount of risk or is regulated by copyright laws. The most typical use cases when a sample of a liability waiver form can come in handy include
selling designs to enterprise owners,
letting journalists use some photos,
renting out a property,
building a new office,
collaborating on a creative project.
To be fully protected against all civil claims in a legal dispute, parties to the contract should conclude it before performing potentially risky activities. Although, they can do it afterward in case they both agree not to resort to litigation.
Liability Waiver Forms by Type
Since there are dozens of cases involving risks or threats for business partners or individuals engaged in some activities, the variety of liability waiver forms is quite large. However, the most typical kinds of them include:
General release of liability. Printable general release of liability forms don't have any specific use and cover a wide range of risk-involving situations.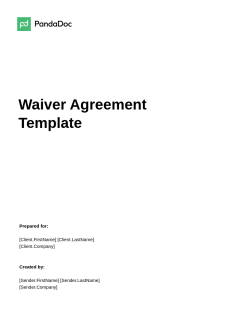 Waiver Agreement Template
This waiver agreement template can be used by a venue owner or event organizer as a liability release prior to allowing participation in an event.
Use Waiver Agreement Template
Vehicle release of liability. It is leveraged to waive claims that may arise in the event of a car accident. Naturally, the guilty party is expected to compensate the affected person, and the latter refuses to make any further claims in exchange.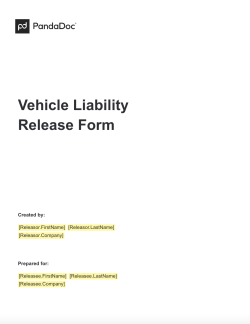 Vehicle Liability Release Form
Set clear liability agreements with our comprehensive vehicle liability release form template, designed to protect you in vehicle-related activities.
Use Vehicle Liability Release Form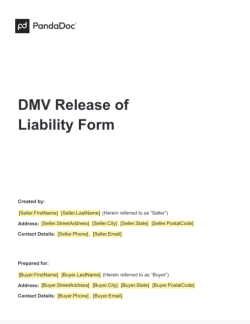 DMV Release of Liability Form
Make sure that you aren't held responsible for fines or violations after selling your car by filing a DMV release of liability form.
Use DMV Release of Liability Form
Mutual release agreement. This document is instrumental when both sides suffer some damage. A most frequent use case of this form is a car accident in which two parties are at fault. Or it may be the form of resolving the conflict over a broken contract.
Activity waiver and release. In it, the participant of some event or activity (for instance, paintball game, athletic events, horseback riding, or bungee jumping) states that they understand all risks and will not sue the organizers if something goes wrong.
Damage to property release. If some harm is done to real estate (land or building) or big-ticket personal possessions (like jewelry), the owner and the perpetrator may use the form to acknowledge adequate compensation and settle the dispute out of the courtroom.
Personal injury release form. It is employed to prevent any lawsuit after a person's physical or psychological health is damaged. The victim accepts compensation and signs this form to ensure they will not initiate legal action further on.
Debt settlement release. This type of agreement is most often signed when the borrower can't pay the entire sum they owe, but the lender accepts less than they are due and undertakes not to pursue their claims in court.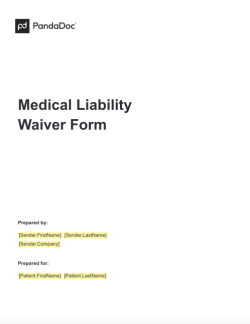 Medical Liability Waiver Form
Obtain informed consent, acknowledge potential risks, and minimize liability exposure with our customizable Medical Liability Waiver Form template.
Use Medical Liability Waiver Form
How to Write a Release of Liability Form
To leave no gaps and thus avoid being disputed later on, a liability waiver form should contain the following must-have elements.
Releasor. This is the name of the person who promises not to take any legal action.
Releasee. The name of the person or organization who wants to remove the risk of being sued.
Effective date. You should indicate when the agreement will take effect.
Event. In this section, you must describe the event, accident, debt, injury, or any other circumstance over which all further litigation is to be stopped.
Consideration. This provision stipulates the sum of money or other assets the releasor receives in return for signing the document.
Governing law. Here, the legal framework (typically of some state) that will be used for resolving disagreements is mentioned.
Alongside these mandatory components, a release of liability form may contain some optional items.
Assumption of risk. It confirms that the participants realize the possible risks of the activity they are going to participate in.
Insurance and medical treatment. The signer takes upon themselves the responsibility for their own health or life insurance and medical treatment expenses.
Parent/guardian signature. They must co-sign the form if the releaser is a minor under 18.
Witness or notary. This is a signature of a third party who confirms the signatures of the releasor and the releasee.
Right to an attorney. The parties to the agreement acknowledge that they have a right to consult with a lawyer about the document they sign, and their signing it is voluntary.
As you see, there are many fine points and important details that must be taken into account when writing a release of liability form. If you aren't a lawyer yourself, it is wise to rely upon samples that are devised by specialists well-versed in such tricky issues. Free liability waiver forms by PandaDoc are clear and precise documents that cover all aspects of liability release agreements and can be tailored to suit a variety of use cases, if necessary.
FAQ
Liability release form is a legally-binding document in which the releasor acknowledges that they won't start a lawsuit against the releasee for any real or possible injuries, losses, or damage caused by some activity or accident. To be regarded as a valid contract, this agreement must be accompanied by monetary or non-monetary compensation paid to the releasor and known as consideration.
There are several things you must remember when filling out a general waiver and release form: Read the contract carefully before signing it; Make sure all the risks are laid out clearly; All important information should be transparent, that is worded simply, and without any complicated legal jargon; Leave no blank spaces which can be used for inserting additional information later; Opt for release form waivers in electronic format.
With the free waiver of liability form that you can get on our site, making your own release of liability form is a cakewalk. You go through the roster of templates offered by PandaDoc, pick the type which addresses your particular use case, and tailor it to contain the fields and data you want to fill it with. Then, you print it out to be signed by the stakeholders.