With PandaDoc hotel contract templates and agreements, you can rest assured that everything runs smoothly and everyone is aware of their responsibilities. These documents are essential in managing expectations and avoiding miscommunications.
Common Types of Hotel and Restaurant Contracts
In the hospitality industry, there are several different hotel contracts that can be used for various purposes. Many hotels would use multiple contracts to govern their operations and processes. Here, at PandaDoc, you can find the most common ones required for hotel and restaurant management.
Group Booking Contracts
Group booking contracts are legal agreements or contracts designed to outline the terms and conditions under which a group reservation for accommodations, services, or other offerings is made with a hotel, venue, or service provider. You can use our free templates to create an agreement in the hospitality and event industries.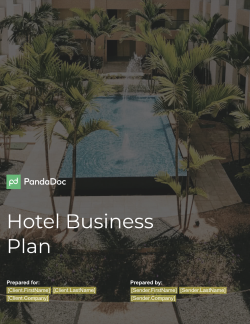 Hotel Business Plan Template
Think you have the solution for local tourism? Kick off your hotels empire with this free hotel business plan template to assure investors and guests.
Use Hotel Business Plan Template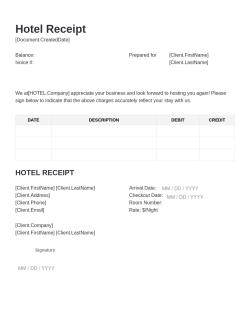 Hotel Receipt Template
Let your guests leave swiftly and happily, allowing them to check out and sign off on this online, free hotel receipt template.
Use Hotel Receipt Template
Event and Conference Contracts
These types of contracts are usually entered into between hotels and event organizers. The contract defines the responsibilities and expectations between these parties. The exact content of these agreements can vary according to the types of events, additional services required, budget, and more.
Vendor and Supplier Contracts
Vendor and supplier agreements are signed between the hotel and a vendor who supplies specific products or services to the business. These agreements are beneficial as they can provide pricing stability, discounts on certain orders, and reliability in delivery. You can use them to create a typical vendor and supplier agreement with food, cosmetic, and cleaning suppliers. These contracts can also be used to cover service-related agreements such as landscaping or pool cleaning.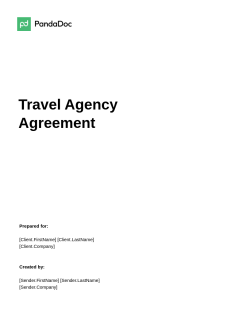 Travel Agency Agreement Template
Use this travel agency agreement when a travel agency agrees to resell services or accommodations provided by another company.
Use Travel Agency Agreement Template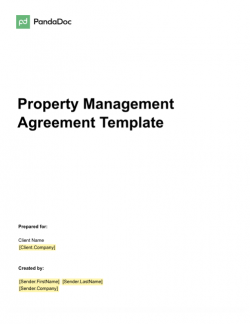 Property Management Agreement Template
This property management agreement template lets you customize, reuse and automate your agreement creation, that your customers can agree to from anywhere.
Use Property Management Agreement Template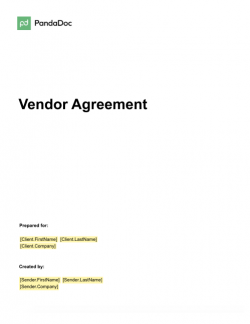 Vendor Agreement Template
This vendor agreement template can be used by a company to ensure that new vendors are aware of the terms of doing business with their organization.
Use Vendor Agreement Template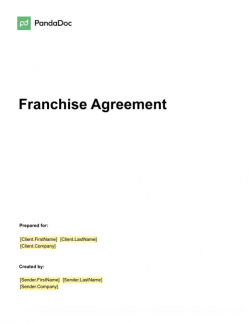 Franchise Agreement Template
Use this free franchise agreement template to create binding contracts with your franchisees. The template contains extensive and customizable pre-written sections about involved parties, agreement terms, advertising, rights, franchise sale conditions, confidentiality, and franchise renewal.
Use Franchise Agreement Template
Long-Term or Extended Stay Contracts
Long-term or extended stay contracts are used when guests want to stay for a longer period, usually a couple of weeks to a few months. Longer stays usually have a few more risks for the hotel owner than shorter stays, but there's also a guarantee of income for a set period. As such, hotels use a different contract to outline the responsibilities for more extended stays. Typically, there's also a discount for long stays extended for a certain period, outlined in this type of contract.
Key Elements of Hotel and Restaurant Contracts
There are many different types of hotel contracts, but they mostly include the same key elements. A basic lodging contract format should include the following clauses:
Term of the agreement
Payment schedule
Cancellation and refund policy
Condition of the premises
ADA requirements
Attrition
Dispute resolution
Force Majeure
Liability and Indemnification
Notice
PandaDoc lets you simplify the management of your hotel or restaurant with specially designed contract templates tailored for the hospitality industry. Our templates offer a streamlined approach to creating contracts for guest reservations, event bookings, vendor partnerships, and more.
Legal Considerations and Risk Management
When creating a hotel or restaurant contract, it's important to consider various legal and regulatory aspects that govern the hospitality industry. Here are some key norms, regulations, and resources you should refer to:
Food and Drug Administration (FDA):
The FDA provides regulations and guidelines for food safety, labeling, and packaging. This is crucial for restaurants' compliance with food safety standards.
Alcohol and Tobacco Tax and Trade Bureau (TTB):
If your establishment serves alcohol, you need to adhere to TTB regulations for alcohol sales, distribution, labeling, and advertising.
Americans with Disabilities Act (ADA):
ADA regulations ensure that your hotel or restaurant is accessible to individuals with disabilities. This includes provisions for physical access, communication, and accommodations.
Labor Laws and Employment Regulations:
Labor laws govern employee rights, wages, working hours, breaks, and other employment-related matters. The Fair Labor Standards Act (FLSA) is a federal law that covers many of these aspects.
Occupational Safety and Health Administration (OSHA):
OSHA sets standards for workplace safety and health. Compliance is essential to maintain a safe environment for employees and customers.
The legal consideration for hotels can also vary between states. As such, it's essential to check your local regulations to ensure you're compliant with all laws.
FAQ
Hotel contracts aim to set out the agreement for hotel services between the hotel and different parties. These agreements outline the responsibilities of each party to provide clarity and structure to the contract. Having a contract in place ensures that all parties are protected and helps limit miscommunications.
Most hotels use cancellation and refund policies to protect them in case guests cancel at the last minute. Canceling at the last minute leads to a loss of revenue as hotels often can't book out the room to recoup the loss on such short notice. Cancellation and refund policies can vary between hotels depending on their needs. Hotels typically provide a cancellation period where the guest can cancel without a penalty. Usually, this is up to a week or a few days before the arrival date. However, if the guest cancels after this period, they may be liable to lose their deposit.
Hotel contract negotiations can be a great way to ensure you stick to your budget and still have a fantastic experience. However, there are a few things you need to be aware of when entering into these types of negotiations with hotels. First, you want to ensure you tackle the largest issues first. These can be reducing non-refundable deposits, extending re-booking clauses, etc. Once you've dealt with these issues, you can move on to the less important ones. When negotiating with a hotel, some tips to keep in mind are to act only once you've confirmed dates and requirements. Also, negotiations are a back-and-forth between you and your contact at the hotel. As such, it can take a while to have everything in place and meet at a point where both parties are happy.