Site Safety Inspection Report Forms
Create site safety inspection forms, site report forms, and inspection checklists. Customize reports for each site and location, and update as necessary.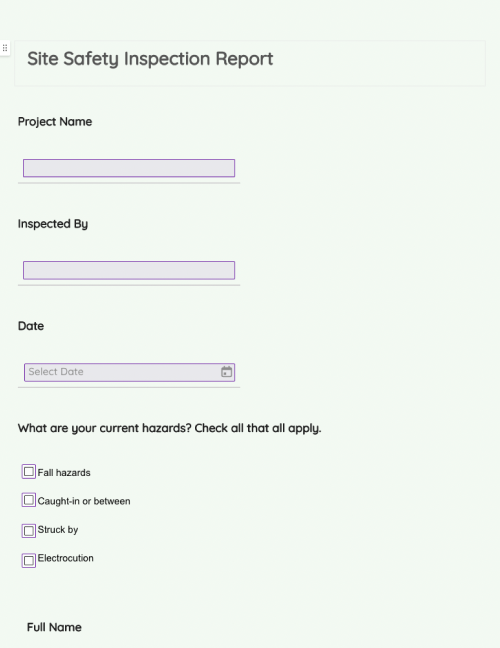 ‌What is a site safety inspection report?
A site safety inspection report is a list that covers all common hazards and whether mitigating precautions are being taken.
The site safety inspection report is a checklist that gives inspectors a roster of spots or issues to look for as they go through the site. One line might be "Are all workers wearing hard hats? Y/N."
The inspection report can then be used to see what places are problems from day to day, and what areas are improving.
Who should complete a site safety inspection report?
Everyone responsible for safety and security on the site should complete site safety inspection reports. Foremen and shift supervisors might only complete reports for their specific areas.
Site supervisors and safety officers should be walking the site regularly to look for hazards and violations before any official inspection occurs.
Once these reports are collected, the foreman or contractor should perform their own inspection. These reports can also be tabulated into a master report to see how hazards or violations are improving over time.
What should a site safety inspection report include?
All construction sites are different, so your construction site safety inspection report should reflect what's going on at your job site.
But there are some things your checklist should include:‌
Fire safety: Fire extinguishers should have current tags and be readily available. Chemicals should be properly stored. Enclosed spaces should have exhaust fans and signage.
‌Personal protective equipment: All employees should have PPE as required by law, and be using it. Eye protection should be worn properly in all areas. Hearing protection should be worn where required. Eyewashes must be available where needed.
‌Power tools: All power tools with electrical cords should be grounded and the cords covered. Compressors should be ventilated and the area around them clear. Employees using them should be trained in their use.
‌Ladders and scaffolds: Ladders should be properly secured and extend past the edge of the floor or roof. Scaffolds should extend the regulated length past the structure. Extension ladders should be locked and fall protection used.
Who will see the site safety inspection report?
The site safety inspection report will be seen by regulators and officials from county and state offices like the Occupational Safety and Health Administration (OSHA).
The report will also be used by the board to determine what areas of a project need more or less attention in upcoming budgets.
Compliance officers will use the reports to ensure that the project is adhering to safety laws.
Can a template be used to create a site safety inspection report?
Not only can a template be used for a safety inspection report, but it can also be updated and changed as needed.
Because you will be using this report every day, and at a number of different sites, a template that contains most of the information will save you hours of repeating the same work over and over again. ‌
What are the benefits of a PandaDoc template for a site safety inspection report?
Forms can be found at state or county agencies, but they will include every possible item that can be checked off and every regulation that might need to be reviewed.
This can lead to wasted time and effort while you skip over items not needed at your site.
Having a database of options that can be updated as needed gives you the flexibility to create inspection reports for each site without missing any important details.
Can the information be applied to different site safety inspection reports?
Yes. Once the template is developed, it can be reused and the information transferred between documents. There's no need to "reinvent the wheel" every time you need a new checklist or report.
Simply pull out the data you need from the old report and put it into your new form. PandaDoc streamlines data entry and template design to make maintenance of your forms and reports easier than paper filing.
‌