Automate proposals and speed up your deals
Sales reps' days are maxed out. It's time to simplify the sales doc process and give your reps time back in their day to sell more.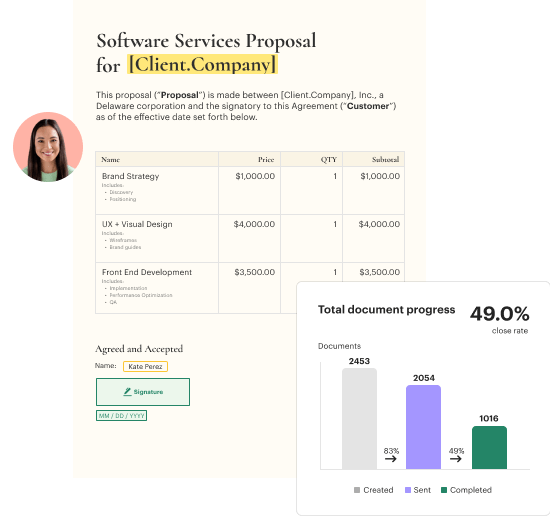 Impress prospects and shorten the sales cycle
Preset, build and close new deals with ease
PandaDoc CPQ takes the hassle out of generating accurate quotes, saving you time and effort. Pull data from your product catalog and implement rules-based pricing strategies for an impressive buying experience that helps you close more business. No more mistakes or guesswork – leave a lasting impact on your prospects with consistently fast, error-free, easy to understand quotes.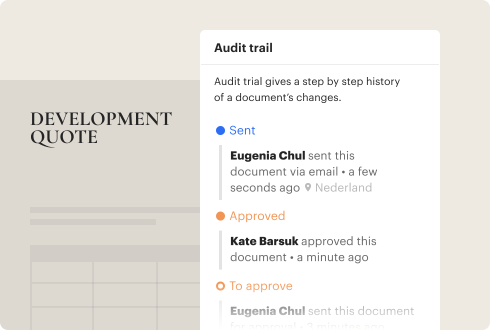 Stand out from the crowd
Ready to capture your customers' attention? Create stunning, personalized sales documents with custom themes, layouts, fonts, embedded photos and video. Whether you're building a simple or advanced quote, you can be assured it will look engaging and professional.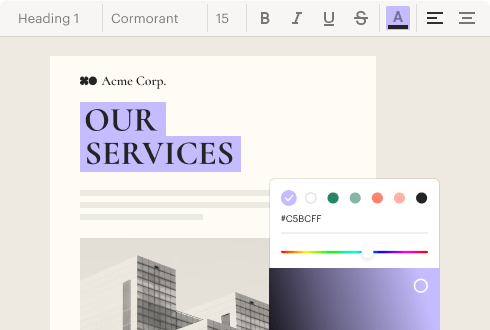 Keep tabs on deals
Deals stay out of the dark with real-time reporting and notifications that detail every document activity. Content performance is also tracked so you know what's working and what's not and can quickly make adjustments.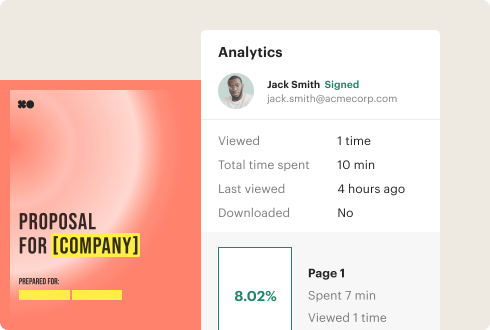 Integrate with your tools
Gone are the days of endless browser tabs. Connect PandaDoc with the tools you depend on to keep deal convos moving.
See all integrations
Built for fast-paced sales teams

Quote Builder
Help your sales reps create quotes fast, while allowing your sales admins to control what reps can sell.

Templates/Custom Branding
Create a master copy of your docs to reuse again and again. Keep them on brand with custom themes, colors and fonts to provide impressive document experiences.

Analytics
Never worry about what happens to your doc after you send it. Analytics give you insight into when your doc was opened, viewed, and completed.
We're helping sales teams just like you
Love the way you can create and track agreements signed and executed in minutes. Now you can incorporate a payments module so you can include agreement and invoice together. And it integrates with our Nutshell CRM by default. Happy ?
There are many things I like about PandaDoc. The ease of creating documents, tracking changes and redlines keeps our team on the same page and ensure the correct updated document makes it to the client. Having analytic on who is viewing the document and for how long ensure we have …
As a one-man-band, the more sales automation I use, the more productive I am. With PandaDoc I manage proposals and contracts, so templates are key for me.