Need an alternative to Zoho Sign?
Switching from Zoho Sign to PandaDoc gives you all the tools you need throughout the entire signing process. Manage signed documents, create electronic signatures, and collect payments in minutes all in one place.
Capture eSignatures and payments in the same app
When collaborating with customers, creating a streamlined and easy-to-manage environment simplifies the negotiation process and keeps everyone on the same page. While Zoho Sign and PandaDoc both provide legally-binding eSignatures when signing documents, only PandaDoc allows signers to process payments directly inside the document. In addition to allowing users to eSign with ease, PandaDoc saves you the hassle of switching apps and helps you keep everything in one place.
Audit document and team performance
Knowing how your customers and your team are interacting with your documents throughout the signing process is essential to resolving customer pain points. Zoho Sign and PandaDoc both offer audit trails, but PandaDoc gives users the unparalleled ability to track individual and team performance metrics, as well as content usage statistics, to help you improve.
Your document, your brand
Customers should recognize your brand throughout the course of your business engagement, from first glance until the document signing is complete. Our tools allow you to add logos to your documents and customer emails. You can even use custom themes to ensure that every document maintains a look that is consistent with your brand. But you don't have to start from scratch! Like Zoho Sign, PandaDoc helps you import documents from Dropbox, Google Drive, Office 365's OneDrive, and via direct upload without a hassle.
Seamless integrations for your daily workflow
While Zoho Sign is one of the Zoho corporation's families of apps (like Zoho CRM and Zoho Docs), PandaDoc is natively compatible with most CRMs right out of the box. If your tools aren't on our list, Zapier integrations make it easy to connect to hundreds of third-party applications and everyday apps from around the web. Simply integrate PandaDoc into your existing software tools to handle everything from sales contracts to purchase orders.
Build your content library
You'll always have content that you need to reuse. With PandaDoc, you can add frequently used images, text, marketing-approved content, pricing tables, and more to your content library. You can reuse that content every time you create a new business document.
Go beyond Zoho Sign with PandaDoc
Build customized documents in minutes
When your sales reps are busy personalizing documents, they're too busy to pursue new business. PandaDoc helps you free up their time and get them back to working with customers by giving you the tools you need to create powerful, branded business documents in minutes. Use content from your content library to build documents and forms within our drag-and-drop editor. When you're done, save your customized document as a template and share it with the team.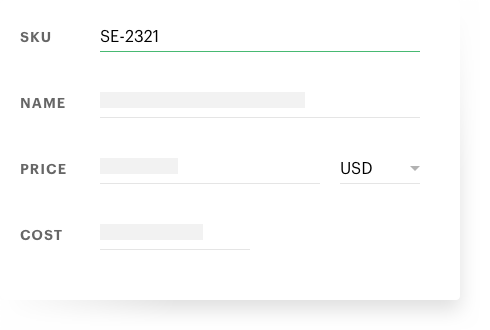 Collaborate with teams and your customers
Your sales process is bigger than your signing process. Invite your customers to meet your team within the PandaDoc online document to make in-line comments and suggestions to sales contracts and proposals. Share documents with different teams and departments to make sure that new hire forms, purchase orders, and signing orders fit your needs and suit your brand.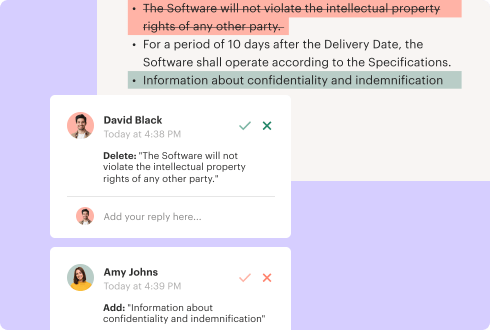 Define clear approval rules
Sending an unapproved document to a customer can be a big mistake for large and small businesses alike. Create defined approval rules within PandaDoc to ensure that unapproved documents are kept under lock and key until all final checks have been made. This ensures that each team involved in the document signing process has a chance to review the document and submit their feedback before the signer ever sees it.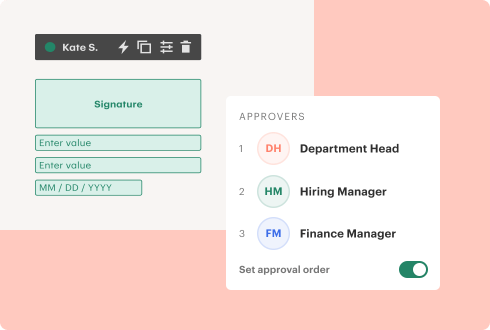 Dynamic pricing tables and product catalogs
Some proposals require more than a single product offering. Rather than sending multiple proposals or trying to compile multiple product solutions into a single document like you'd need to do with Zoho Sign, teams using PandaDoc can include dynamic pricing tables within the document. Give your customer all the details they need to make a well-informed decision.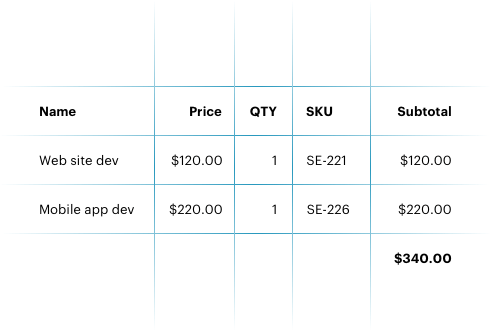 Powerful analytics tools
Actions speak louder than words. PandaDoc equips your administrators with an array of tools to help them better understand how customers and teams interact with the document. While these tools include audit trails, they also give admins the ability to monitor team performance and track individual metrics.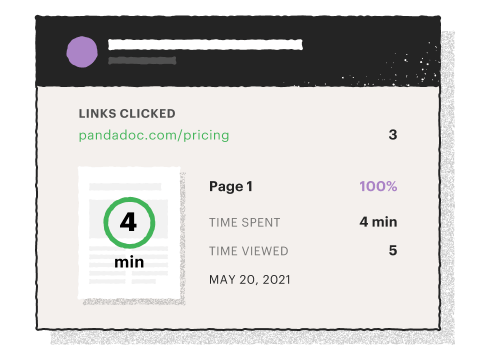 Edit and sign documents from anywhere
Just like Zoho Sign, PandaDoc gives you the ability to add a personal touch to every eSignature by providing the options to edit and sign documents in person through our digital signature apps, available on iOS- and Android-enabled mobile devices. Whether you're meeting a customer for a business lunch or reviewing documents while away from the office, we provide customers with signer authentication codes for document access so that you can make sure that documents are secure and that eSignatures are authentic.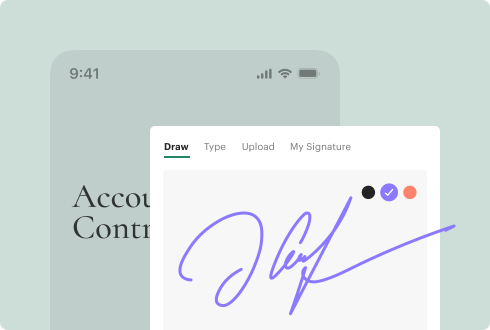 Close deals and collect payment
Deadlines are an important aspect of every signing workflow. Unlike the Zoho apps, PandaDoc gives your customer everything they need to move forward with a deal without ever leaving the app. Collect payments on the fly through third-party applications like PayPal, Stripe, Square, QuickBooks Payments, and Authorize.Net as soon as all documents are signed.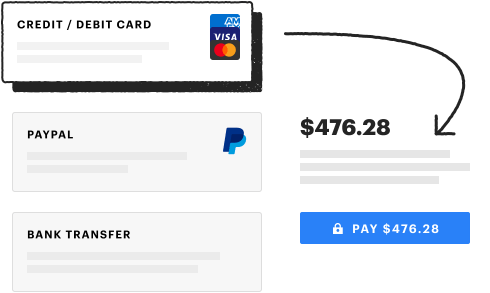 Find the perfect PandaDoc solution for your business