PandaDoc Proposal Creator
Alleviate the pain of crafting and sending stunning business proposals.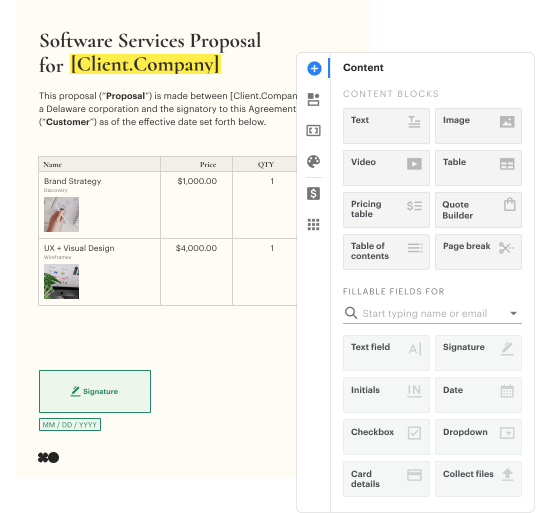 What is the Proposal Creator?
We know the value of being able to quickly build beautiful proposals. The PandaDoc Proposal Creator cuts the hassle of document creation by providing you with a suite of proven tools, available wherever there's an internet connection. Customization is at the heart of what we provide, so your proposals will never feel generic. Replicate your success with templates, build a library of your own resources, and collaborate with members of your team in a single location. Free up your time even more with crystal-clear tracking from the analytics dashboard.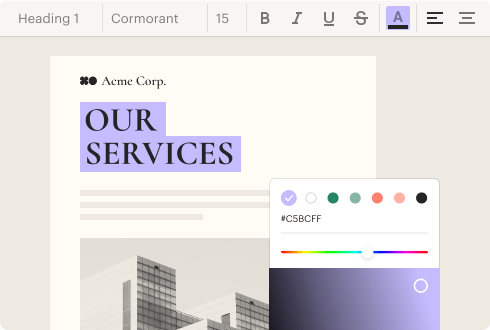 Who uses the Proposal Creator?

Sales leaders
Track performance metrics and identify process bottlenecks with our robust reporting functionality. We'll give you insight into the performance of your proposals so you can make routine improvements to your sales workflow.
Sales reps
You have enough on your plate. The last thing you want to add to it is more software tools that accomplish less. The PandaDoc Proposal Creator integrates with your CRM so you can sell more with less distraction.
Marketing managers
Standardizing the content and collateral your sales team uses is difficult. Storing that content and collateral in a place where everyone can actually find it is even more so. The PandaDoc Proposal Creator makes sales enablement a breeze with standardized templates, an organized content library, and intuitive feedback loops with content usage reporting built-into the software.
Sales operations
It's important to ensure that the teams across your org are working together efficiently. Our software integration capabilities allow you to integrate most of your tools to create one flawless sales workflow. Bring harmony to your sales, marketing, and finance teams with streamlined proposal creation and document storage.
Why PandaDoc's Proposal Creator?
Quickly build and replicate successful proposals
Build a collection of reusable templates to make it easier than ever to duplicate past success. Access your library of custom content, legal disclaimers, company images, and branding in just a few clicks. Say goodbye to wasted time combing through files to find the right content.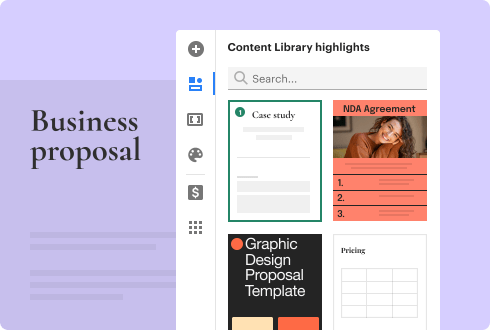 Speedy workflows and collaboration
All of your team members can edit, review, and share their feedback on proposals. Set up an automatic email reminder to ping stakeholders once a draft is complete, and track the actions of your team members, too.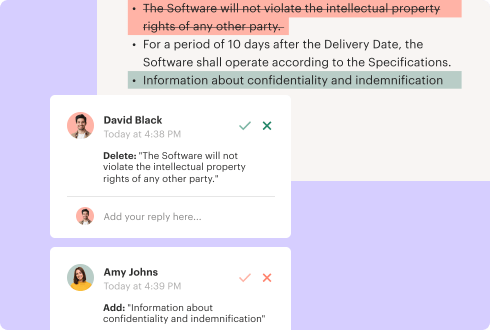 Birds-eye analytics
Watch the lifecycle of your proposals unfold in real-time from the moment they're sent to the final signature on the intuitive analytics dashboard. Use this data to generate insights and improve future proposals. Stay up to date on the behavior of your recipients and track their doc interactions down to the smallest click.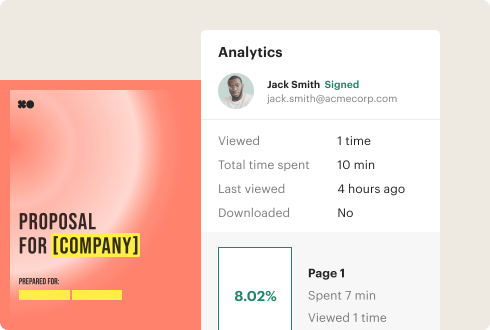 Easy conversion from PDF
Easily drag and drop your PDF files into the Proposal Creator for edits. With the ability to add dynamic media from our content library to your existing proposals, you'll give every deal the opportunity to get noticed.