Digital Signature Software
PandaDoc is a leading digital signature software solution that makes signing documents easy using legally-binding electronic signature technology.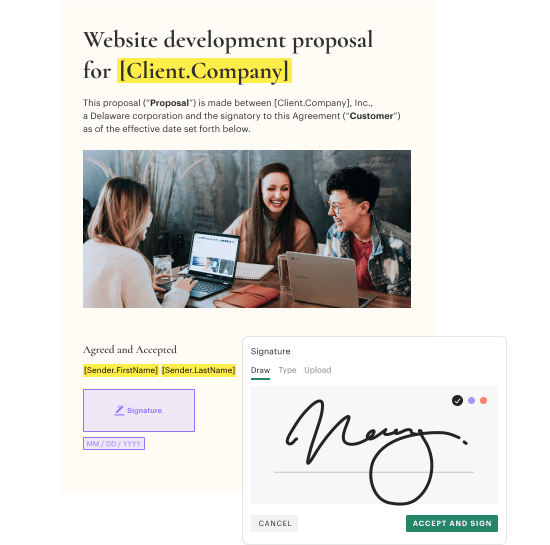 What are the benefits of digital signature software with PandaDoc?
PandaDoc has established itself as one of the premier digital signature program offerings on the market – it comes with a range of robust features that can help to create, sign, and share documents quickly and securely. PandaDoc makes previously time-consuming tasks such as sharing and signing documents with multiple people much easier, increasing efficiency and productivity in the process.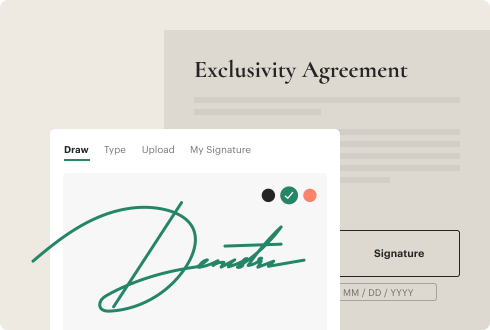 Who uses PandaDoc digital signature?
Revenue teams
PandaDoc digital signature software enables revenue teams to close deals and get docs completed quicker by providing a simple way for clients and prospects to securely eSign documents from any device. Choose from over 750 easy-to-use, professionally designed templates to help create quotes and other documents in minutes and empower sales, marketing, and customer success teams to focus all their attention on what really matters – building lasting relationships.
Financial service and marketing agencies
Our digital signature software provides financial service and marketing agencies all the necessary functionality needed for simple, secure, and efficient document management. Advanced features include custom roles and granular permissions, document embedding, content usage reporting, custom integrations, bulk send, and even private team training sessions. PandaDoc is SOC Type 2 certified and our servers are hosted on Amazon's AWS platform so you can rest easy knowing your clients' sensitive data is safe.
Educators
Education organizations nationwide choose PandaDoc digital signature software because we offer a flexible and accessible solution for creating, sending, and managing unlimited signed documents, as well as unlimited templates, docs, and eSignatures. Academic institutions can embrace going paperless without the headache with our intuitive document builder, custom branding capabilities, and legally binding eSignatures, all for an affordable price.
Why should you start using PandaDoc digital signature software?
Automated signing process
With PandaDoc, the otherwise lengthy process of getting multiple signatures can be made simple using automated signing orders. You can simply send a document to multiple signers with a single click and then know immediately when they have completed the document.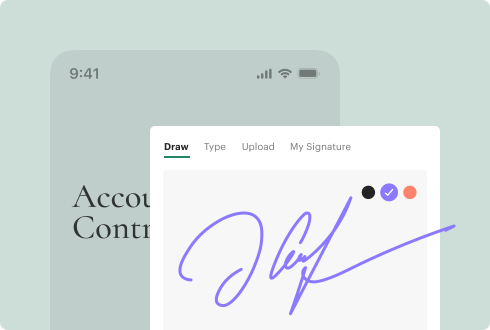 Intuitive, but powerful
PandaDoc is an all-in-one digital signature software solution that provides a reliable way to sign documents using a legally-binding eSignature quickly and efficiently, all from a single intuitive dashboard.
Innovate eSignature features
Having documents signed by multiple people can be a time-consuming process if you have to email or mail the physical document to each person, but with PandaDoc digital signature software, the entire process is streamlined using cutting-edge electronic signature technology which is just as legally binding as a physical signature.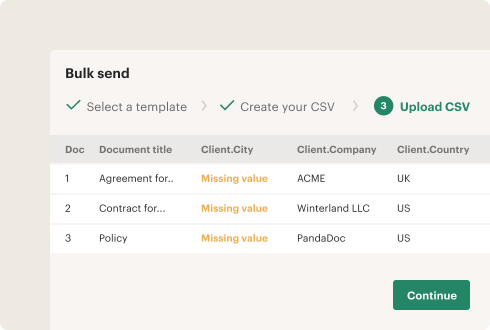 Advanced analytics
With PandaDoc, you can take complete control over your documents, knowing exactly where they are, who has accessed them and even see what happens when you send them out. With our electronic digital signature software, you always have access to real-time analytics about who opens and signs your documents and how long they interacted with them.