How to make labels in Word
As a business owner, you likely use labels for identification, postage, and product packaging, and Microsoft Word is a flexible way to create these.
You can make labels for a variety of purposes.
They can be as colorful or eye-catching as your imagination allows, with Word providing tools to help you create on-brand labeling for any use.
Making labels in Word is simple. You just need to select Labels from the Mailings tab and use the options that follow to customize it as you wish.
Let's look at the process of creating and printing labels with Microsoft Word in a bit more detail.
When might you need to make and print small labels in Word?
If you're in the business of shipping products, you know labels are often necessary. You need them for addresses, product labeling, and branding.
Professional label design and printing can be expensive, though.
Fortunately, there's another option: create effective and professional-looking labels in Microsoft Word. This is achievable without bloating your budget.
You can print labels in Word for pretty much every conceivable purpose. It even offers a plethora of templates for you to choose from.
How to make mailing labels in Word
There are a couple of ways to create labels in Word. You can either use a Word label template or create one from scratch.
Alternatively, follow the guide below, and you'll be making professional labels in no time!
1. Select Mailings
2. Click the Labels tab
3. From Options, select a label vendor, and choose a product. If you don't see the label you're looking for, click New Label. You can create a custom label from here.
4. In the Address box, type the address of the intended recipient. You can include any text you wish — you're not limited solely to address information. You can also select an address from your contacts by selecting Insert Address.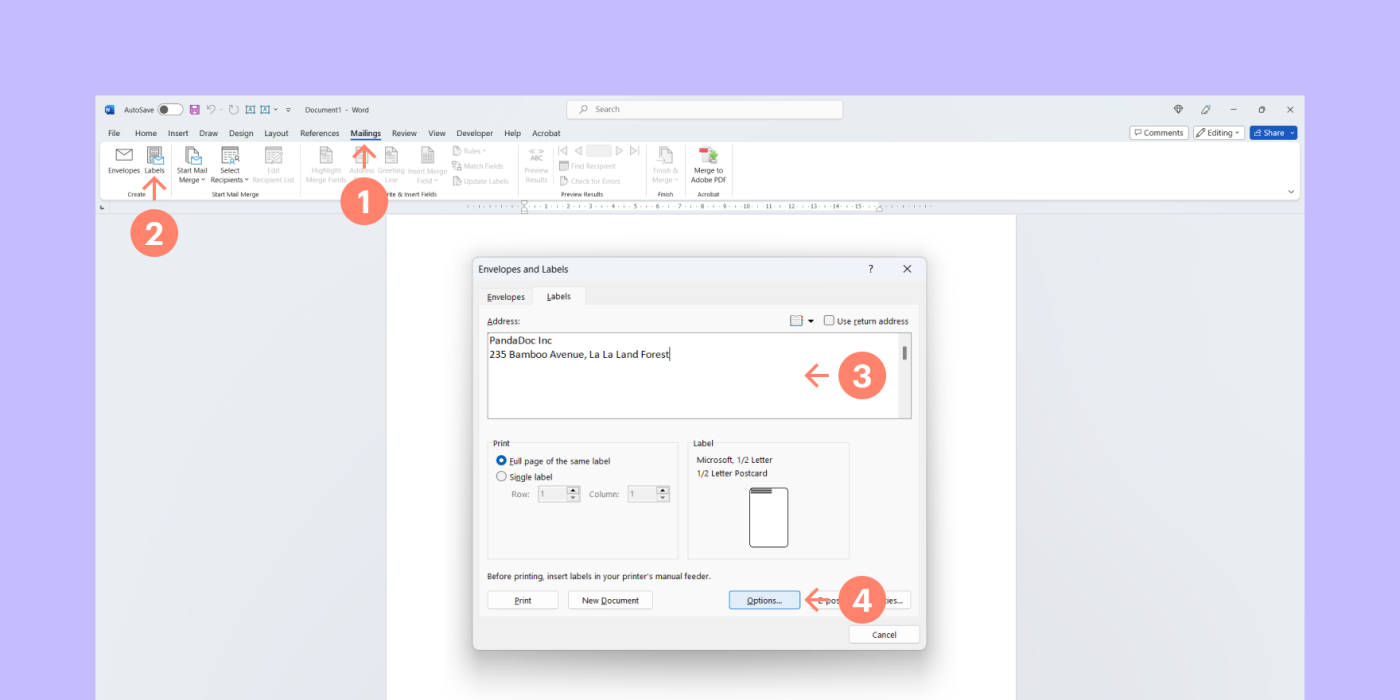 5. If you wish to change the font or other formatting, highlight the text and right-click. Make your required changes by selecting Font or Paragraph.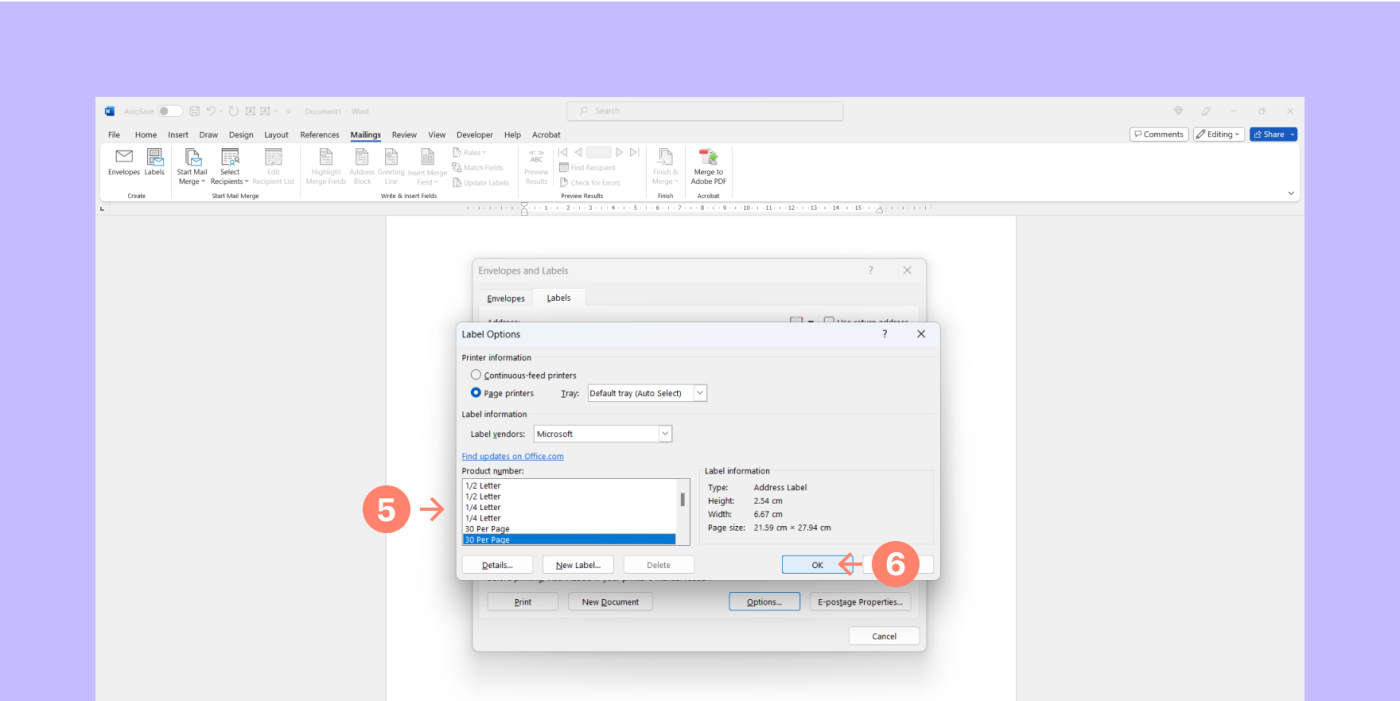 6. Now click OK.
7. Select from either Single Label or Full page of the same label.
8. Click Print if you're ready to. Otherwise, select New Document to save your work for editing or printing later.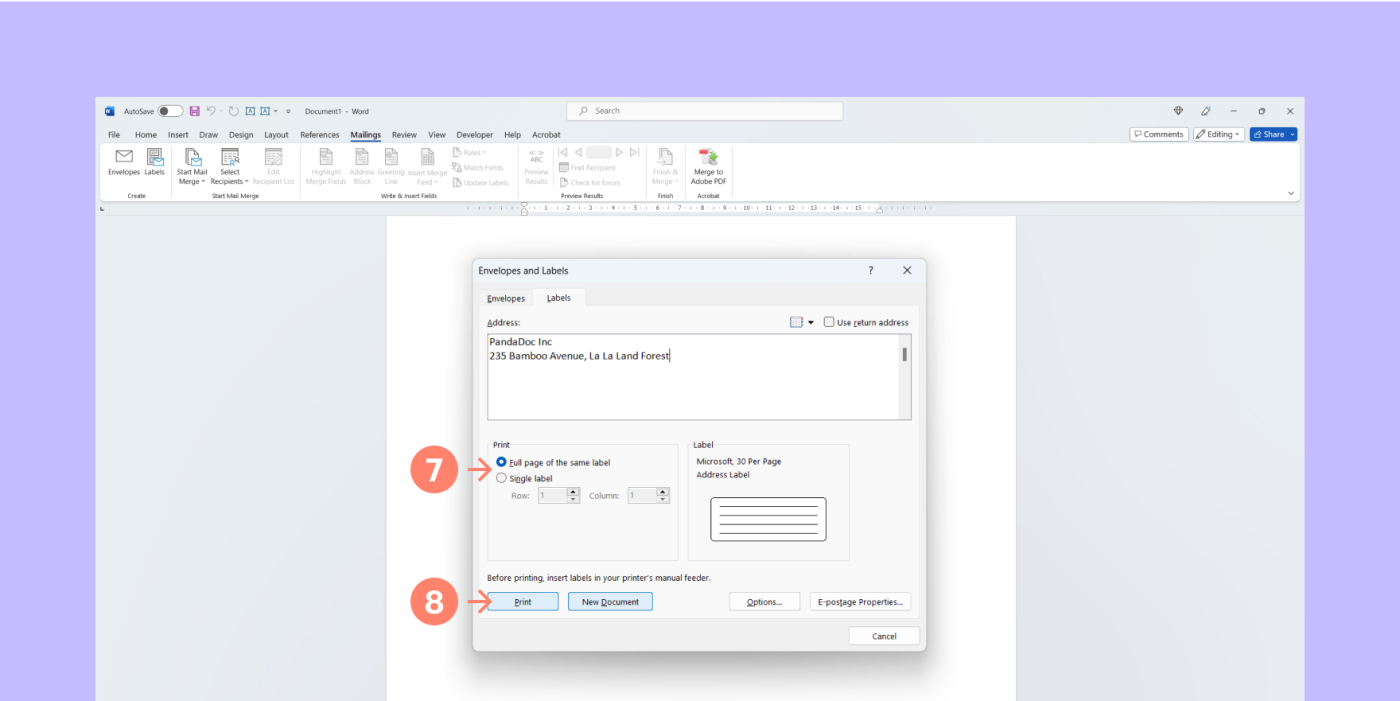 How to create a label with graphics
You might also want to add some graphics to your label.
This is a great way to highlight your brand when shipping parcels or certified letters.
Creating labels in Word gives you the opportunity to easily insert images of your choosing.
You can use the instructions below to add graphics that make your labels stand out.
Begin by creating your label as per the instructions in the section above.
Then, select Insert.
Select Pictures.
Choose from the following: This Device, Stock Images, Online Pictures
Insert your picture and then select it.
Select Picture Format.
Select Text Wrapping.
Choose Square.
Click X to close.
Click and drag the image into position.
Save or print your label as per the instructions in the section above.
Using Microsoft Word label templates
Microsoft offers numerous templates for you to choose from.
This saves a lot of time and effort when you create a label in Word. It also makes label creation very efficient (almost as efficient as using document automation software for your workflows).
These templates allow you to create much more than mailing labels, though. Here are some examples of what you can make:
Gift tags
Event tickets
Household labels
Raffle tickets
Name tags
Product labels
So, if you need multiple small labels (for any purpose), Word can deliver.
How to find label templates in Word
Finding templates in Word isn't tricky. Nevertheless, here's a guide to help you locate them.
With Word open, click on File. This is located in the top left-hand corner of the window.
Select New.
A list of template categories will appear on the right-hand side of the window.
You can now choose from a selection of template categories. Pick from the following options: Featured, Personal, Business.
Take some time to browse the available templates and choose the one that best meets your needs. Click on the template you wish to select.
Click Create to open the template. You can now edit it as required.
Learning how to make labels is just one way to make the most of Microsoft Word
Once you've got to grips with how to make labels in Word, you'll need a way to manage your creations. There's no better option than combining PandaDoc and Microsoft Word.
PandaDoc's integration with Word gives you the capability to sign and send documents securely without ever leaving the software — saving precious time.
Use Word and all its functions as you normally would, then call upon the PandaDoc ribbon to self-sign documents, request signatures and check document statuses.
PandaDoc allows you to eSign, track, and access a variety of documents from within Microsoft Word and to edit documents created in Word.
This means there's no need to waste time uploading and exporting — you can do everything you need to online with PandaDoc.