How do I sync my Outlook signature to my mobile device?
One of the most attractive features of Office 365 is the ability to work on documents anywhere, anytime, and from almost any device.
Email is no exception.
We answer emails from almost anywhere, including from your Mac, PC, or mobile device, or from Outlook.com!
It makes sense to use the same email signature across all of your devices so that all of your contact information is consistent, but Outlook doesn't offer any native service to sync your device across all platforms.
Instead, you'll have to do it manually.
In this article, we'll take a closer look at how to quickly and easily add your Outlook signature to all of your devices.
Add an email signature to Outlook for Android and Outlook for iOS
Typically, iOS and Android are worlds apart when it comes to system settings, but the steps you'll need to follow are roughly the same on each app.
Here's what you'll need to do to set up your signature:
Before you get started, download the Microsoft Outlook Mobile app to your iOS or Android device.
Open the app and log into your existing email account using the appropriate credentials.
Click on Settings, located in the top right-hand corner of the app.
Select Signature, located under the Mail subheading.
Add your signature in the text box that appears on the screen.
How to add an email signature to Outlook for Windows
1. Download and install Microsoft Outlook for your PC if you haven't done so already.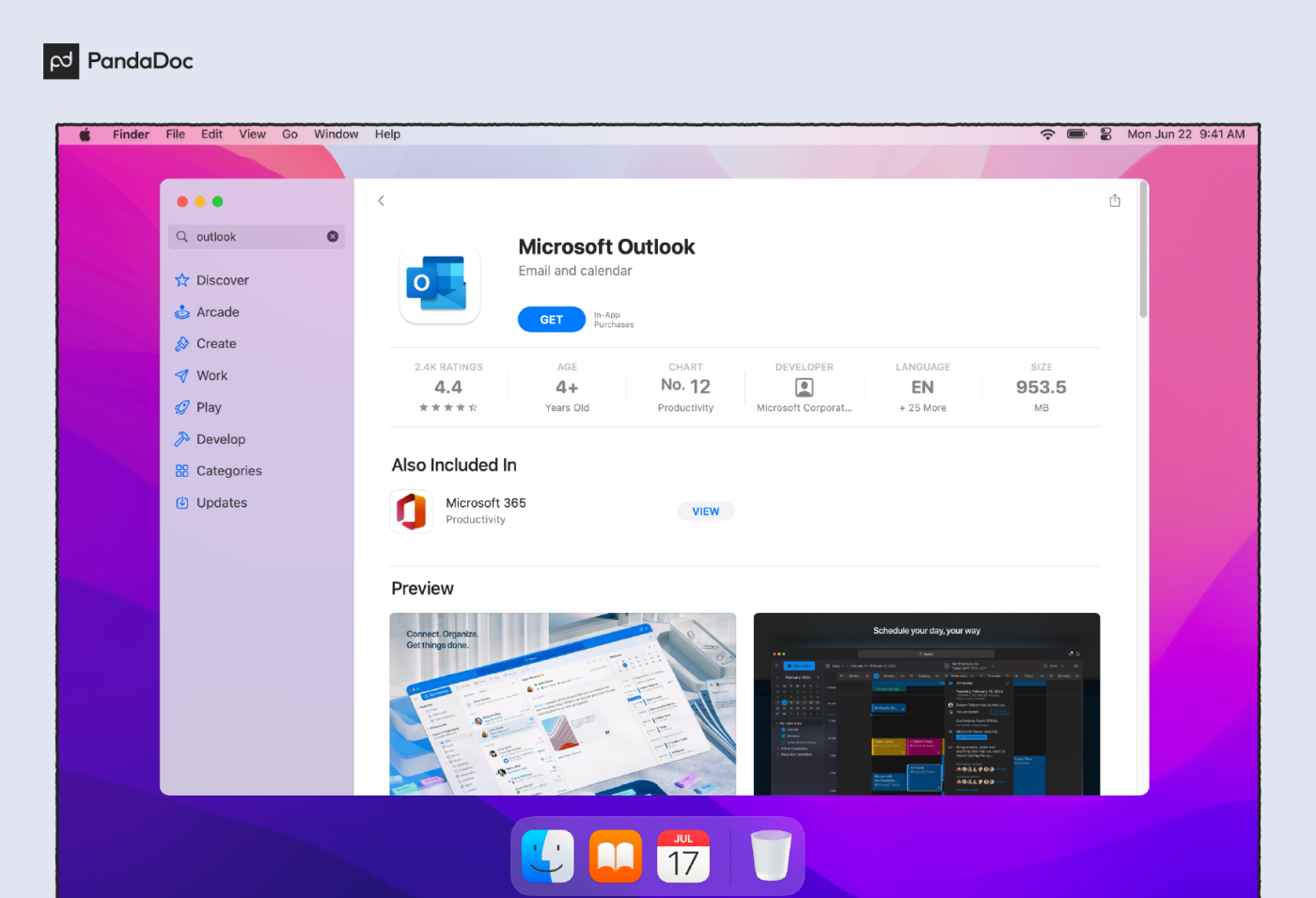 2. In Outlook for Windows, open a new email message and select Signature > Signatures.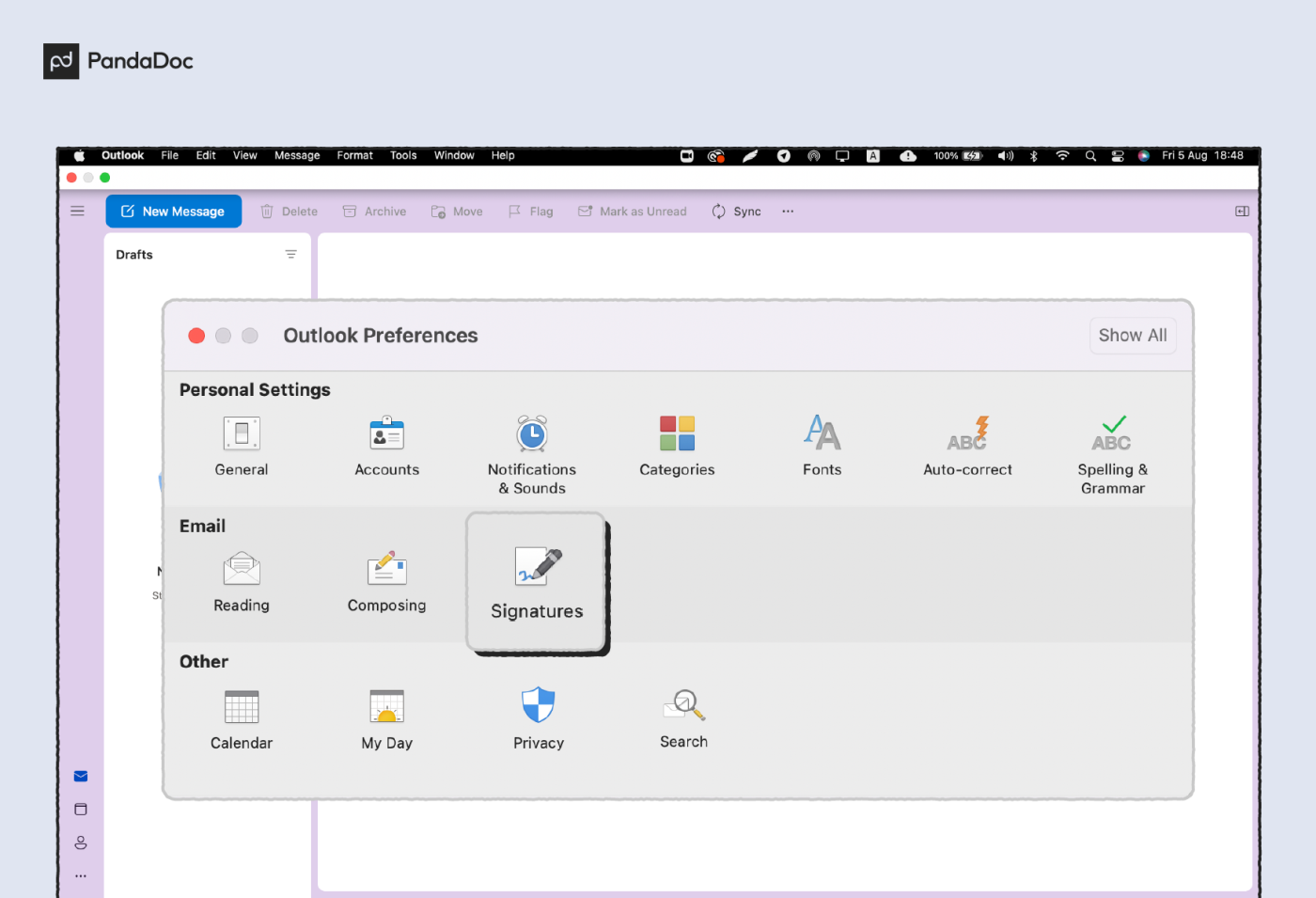 From here, you'll be able to edit your existing signature or create a new signature.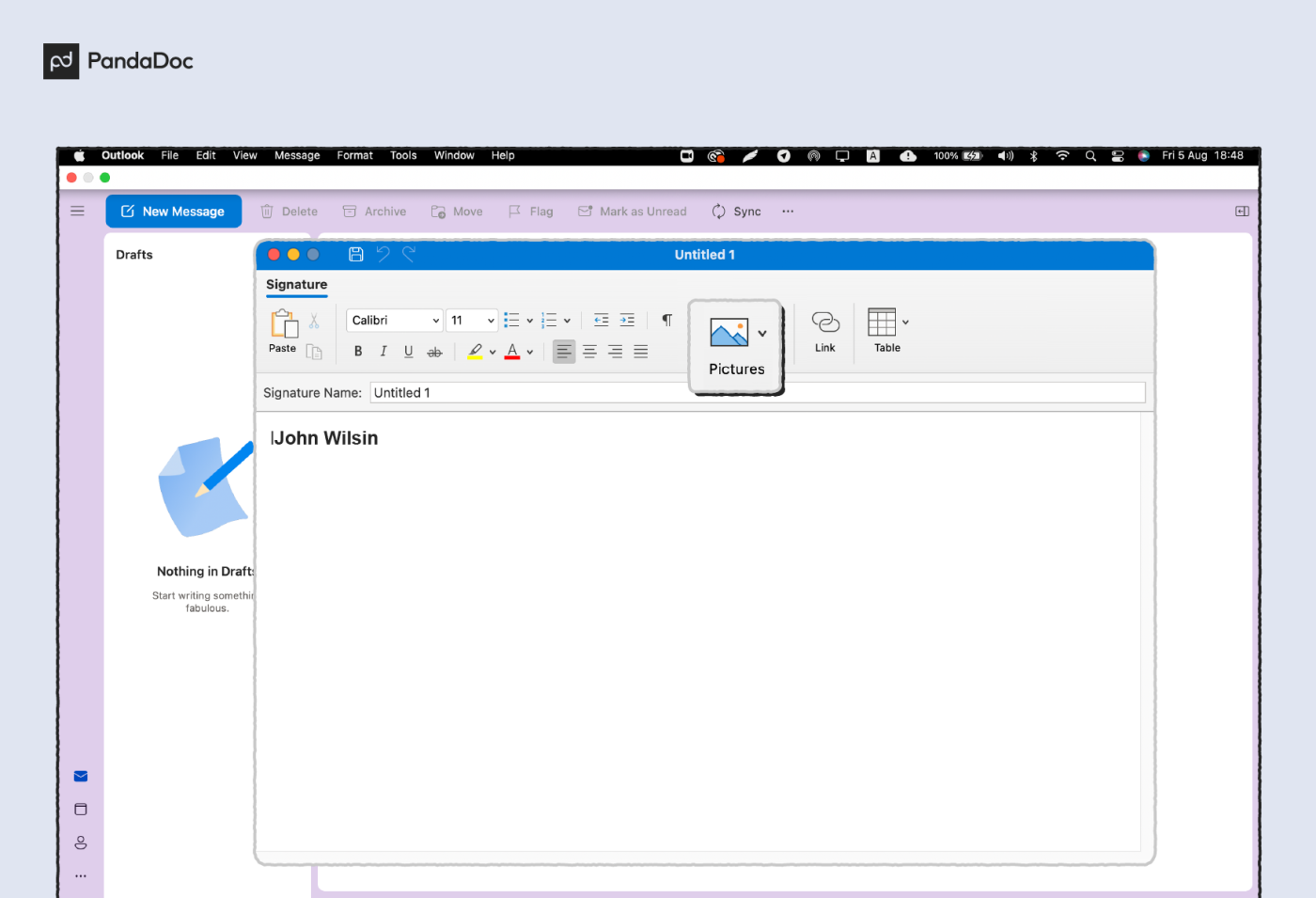 3. Under Select signature to edit, choose New, and type a name for the signature.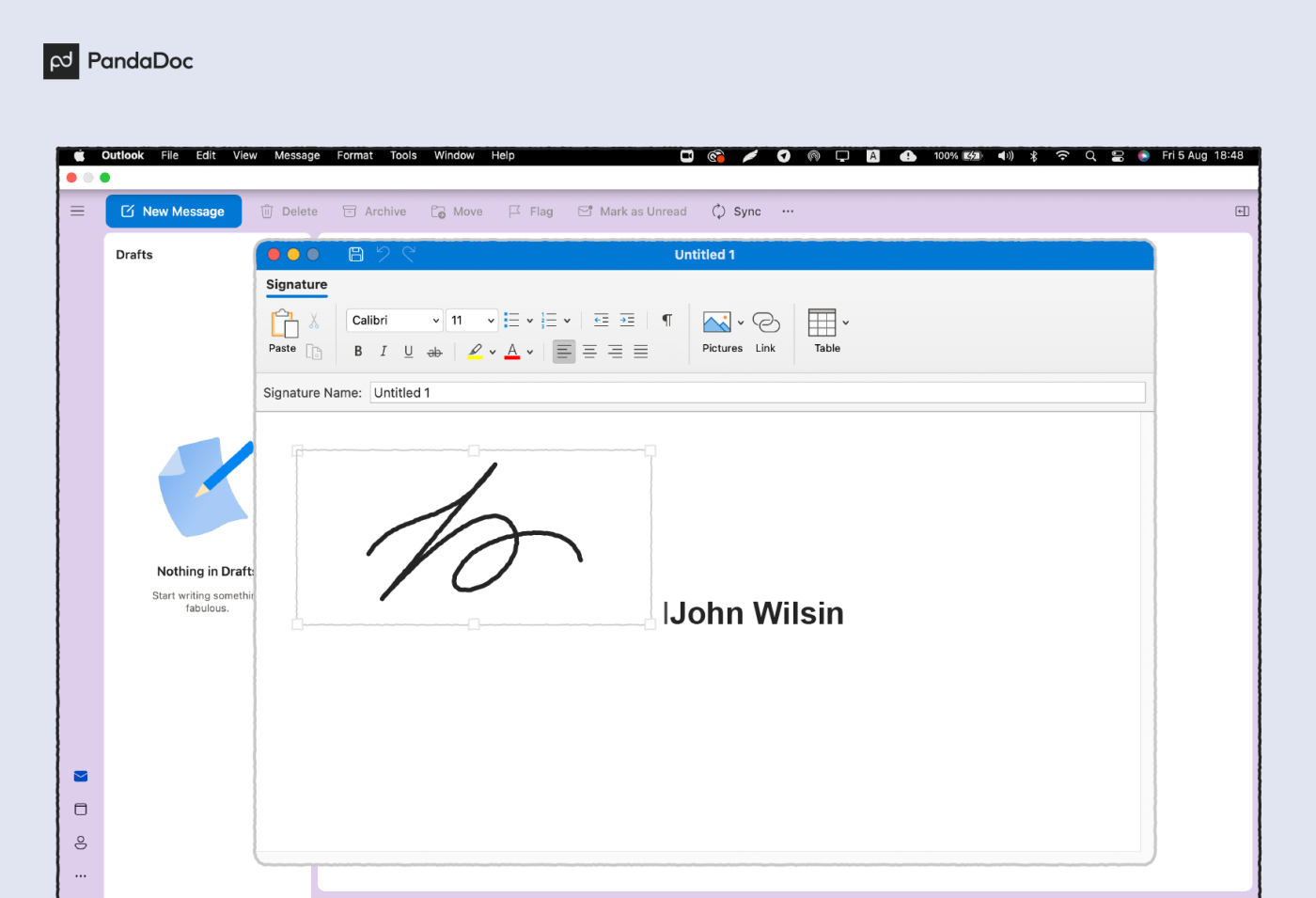 4. Under Edit signature, you can edit and change your signature using fonts, bullets, tables, and more.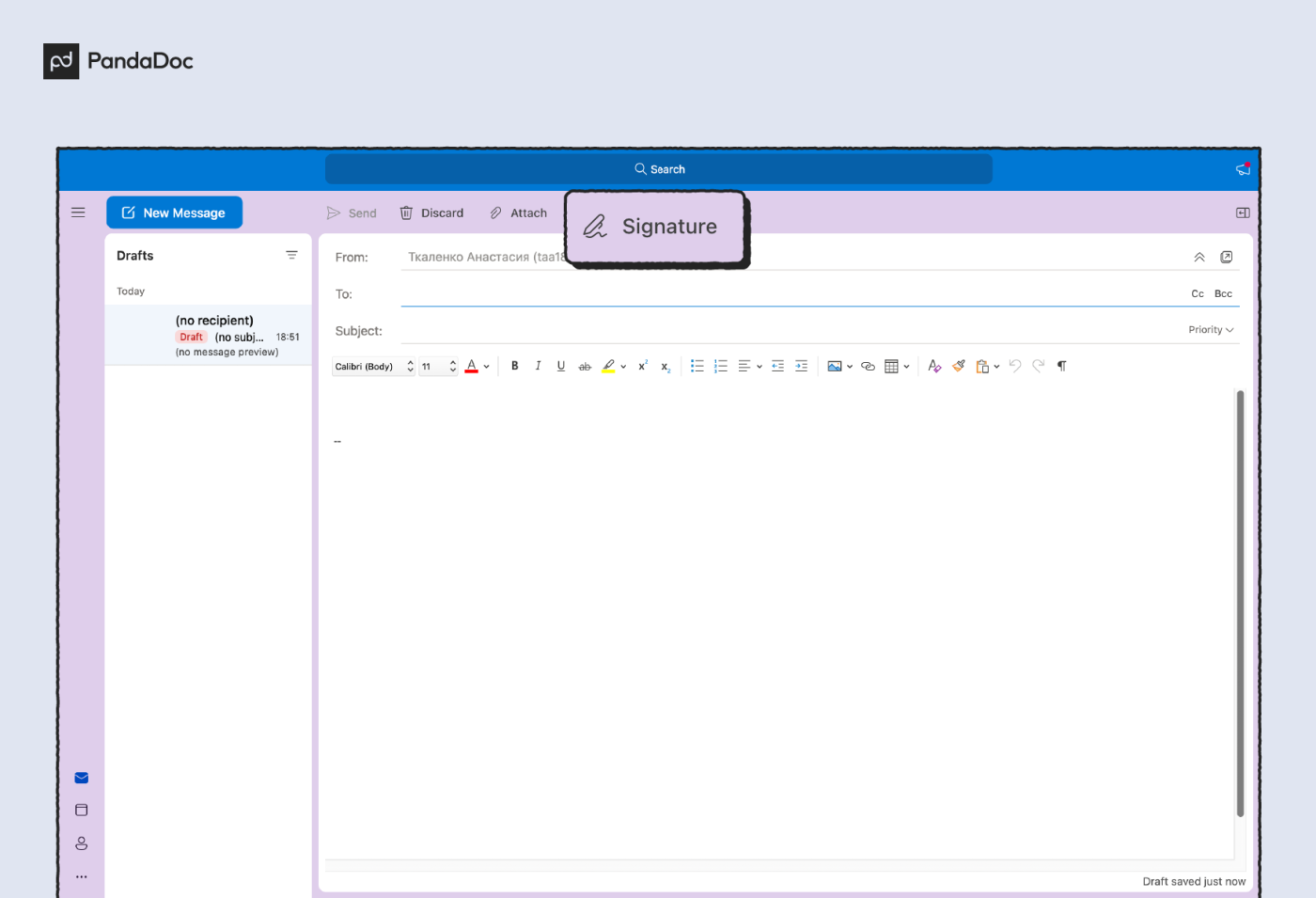 5. Using the tools on the righthand side of the dialog box, choose the default signature for your email account and how you would like your signature to interact with new messages and replies/forwards.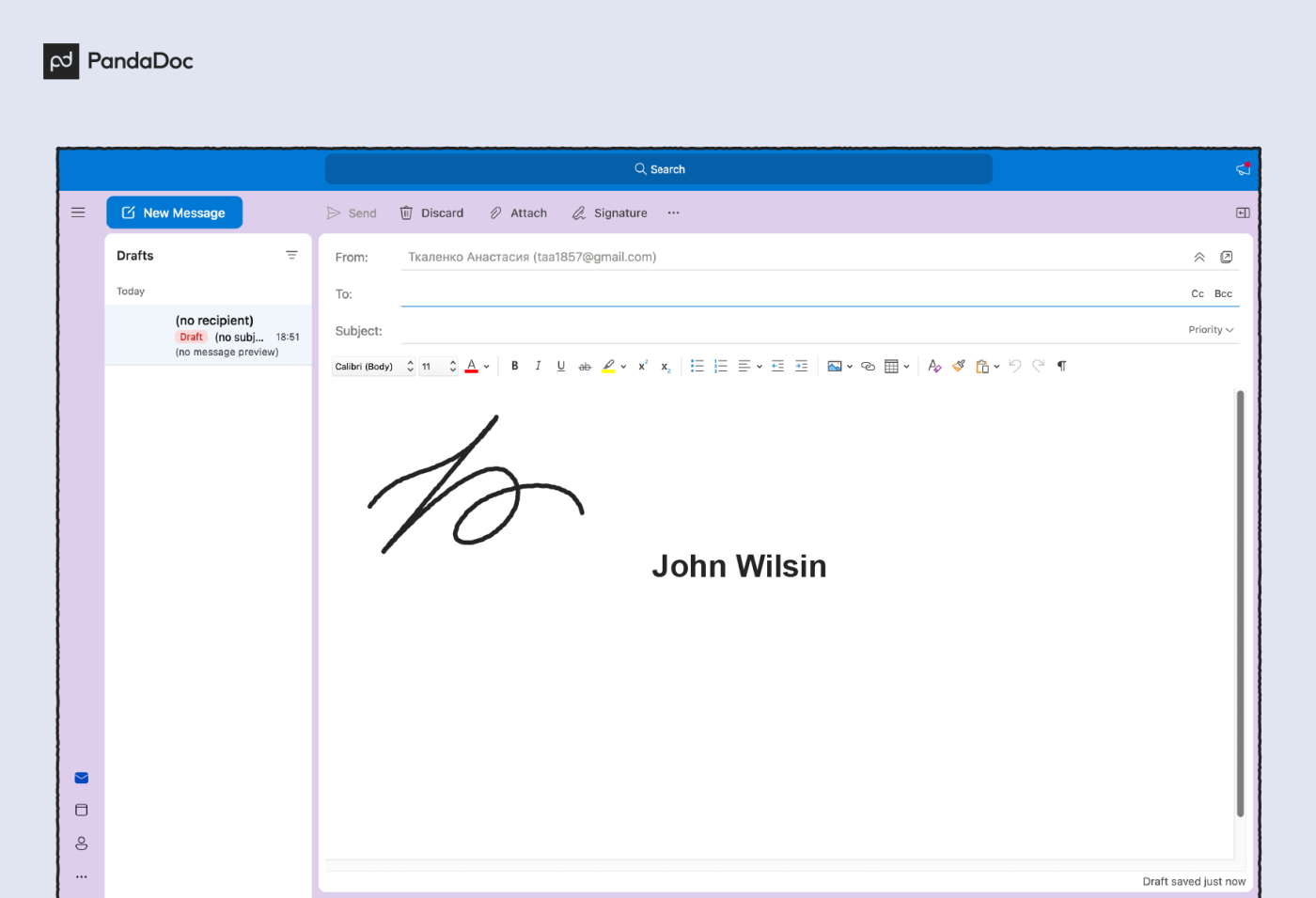 How to sync Outlook signature to Outlook for Mac
1. Download and install Microsoft Outlook for your Mac if you haven't done so already.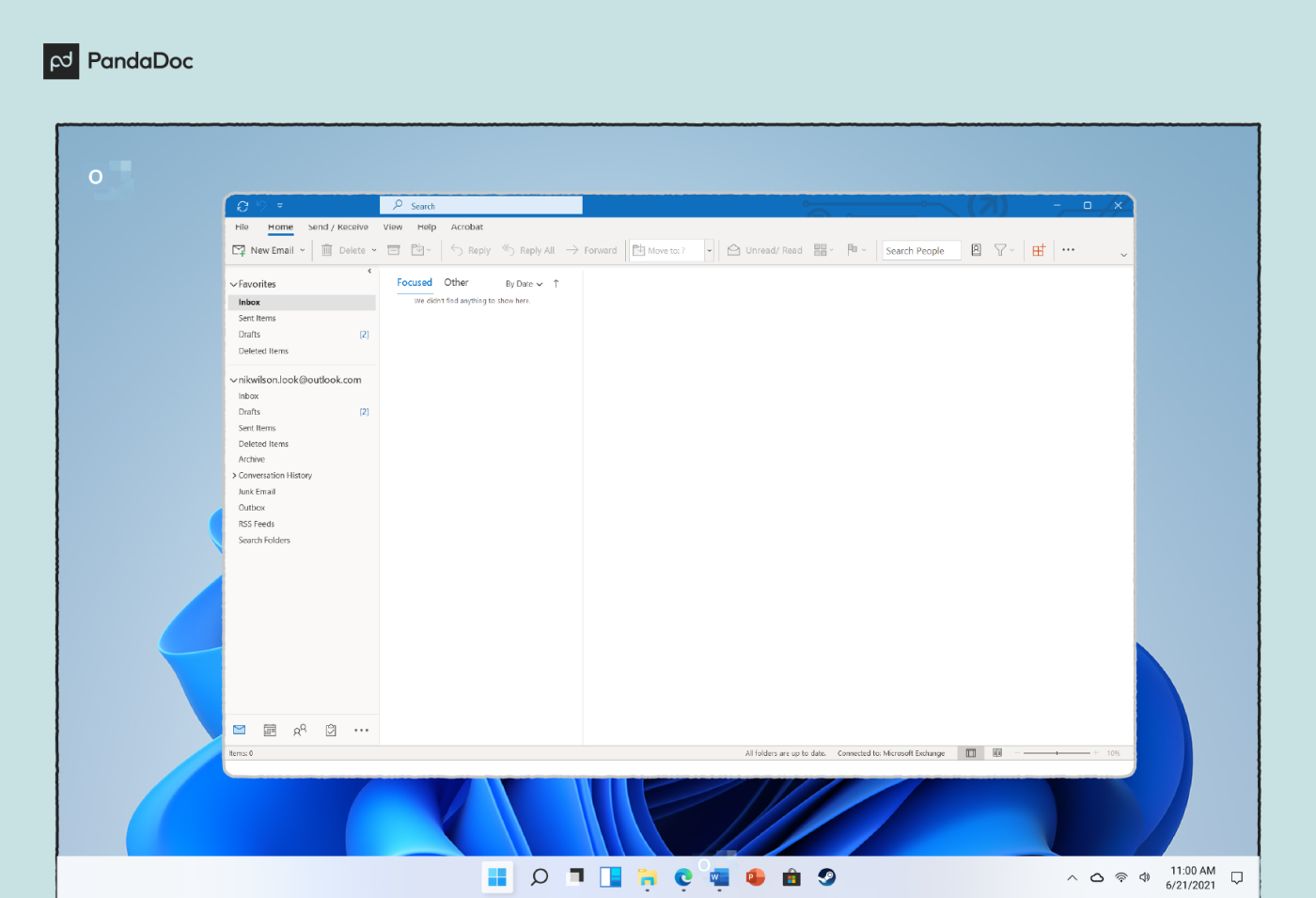 2. In the menu bar, navigate to Outlook > Preferences > Signatures. You can also reach the Signatures box by clicking on New Email > Edit Signatures.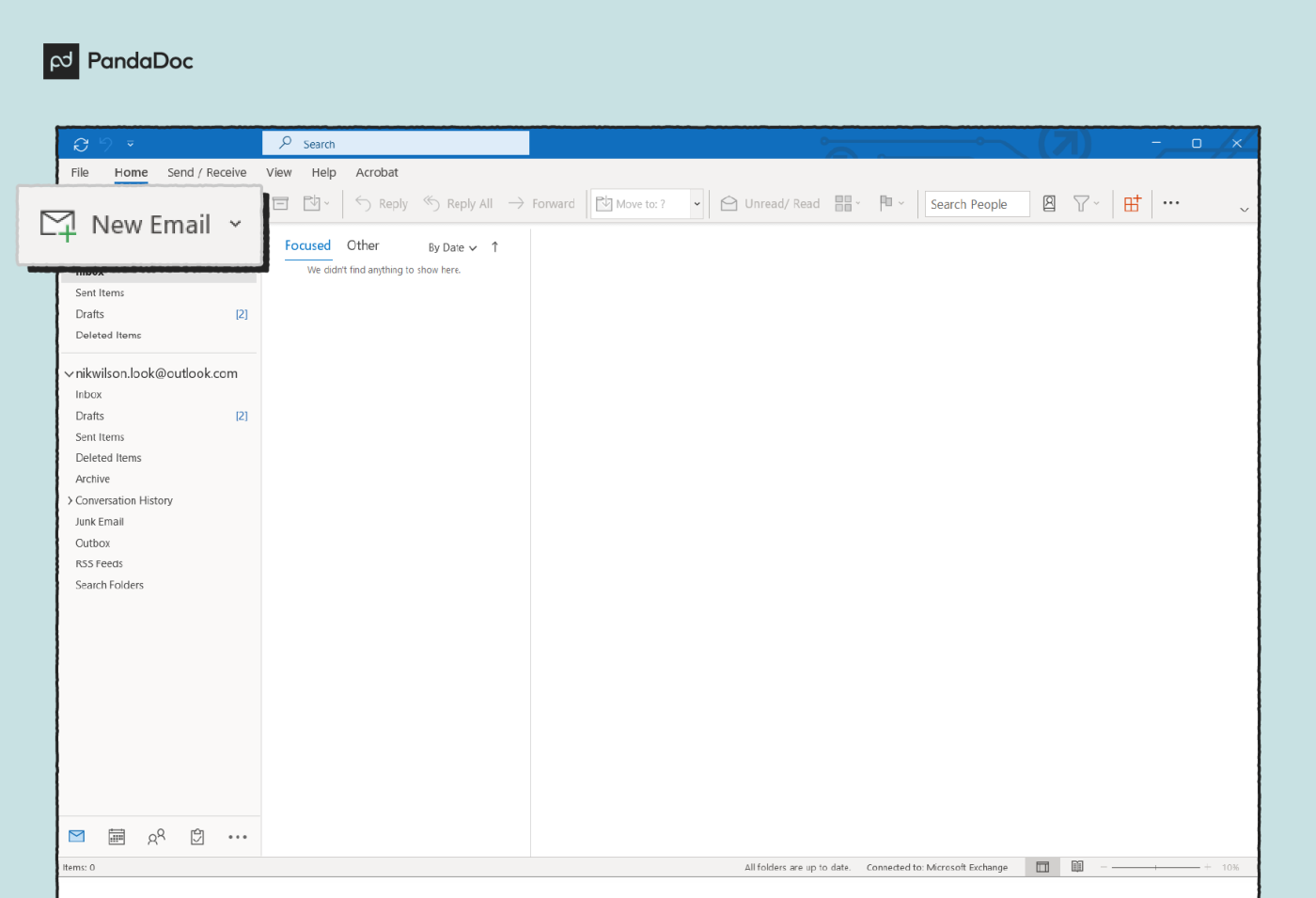 3. In the Signatures popup, the Standard signature will already be selected.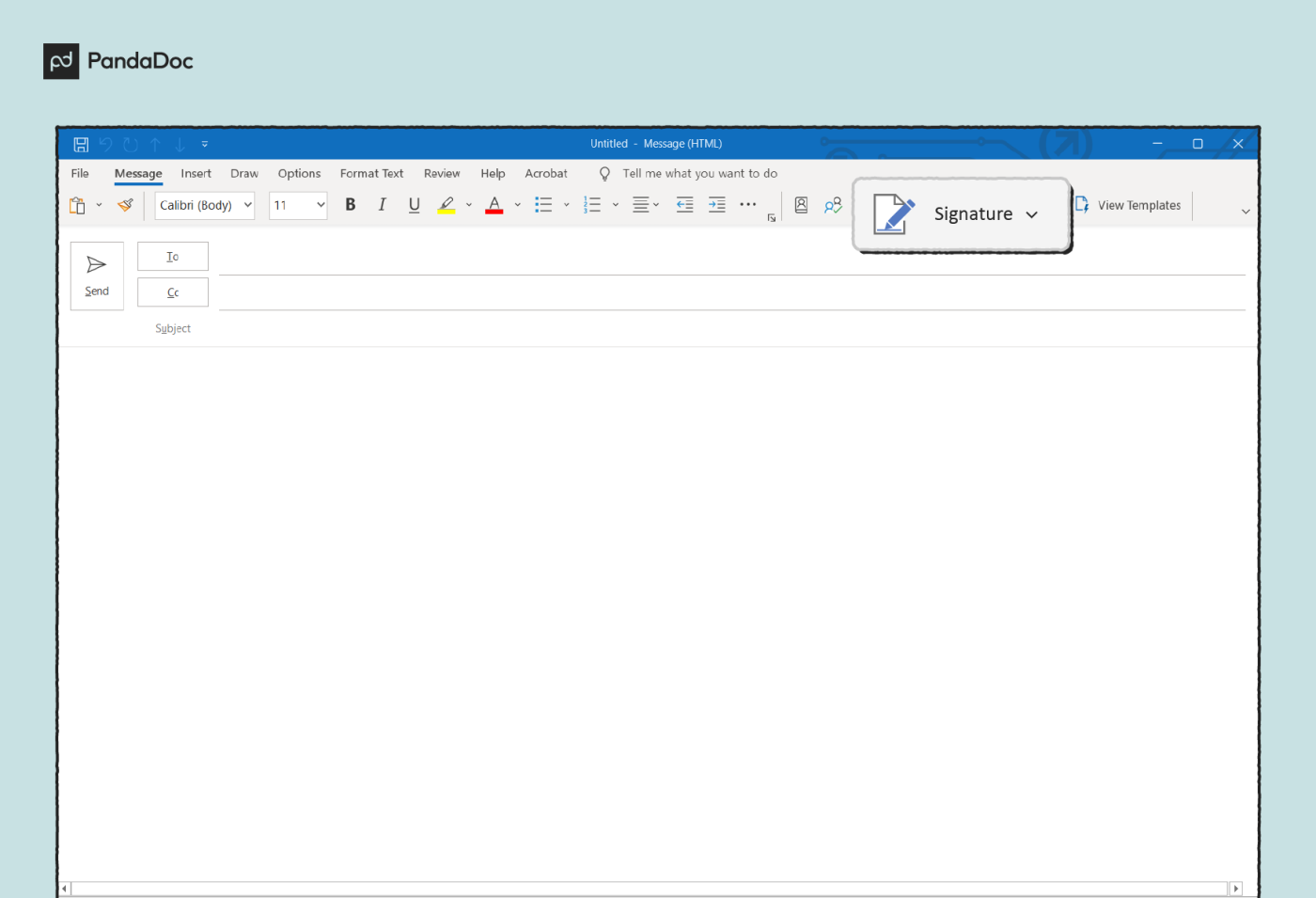 4. Add your signature to the box on the right-hand side of the popup. To create a new signature, click on the + button on the lefthand box to generate a new Untitled signature.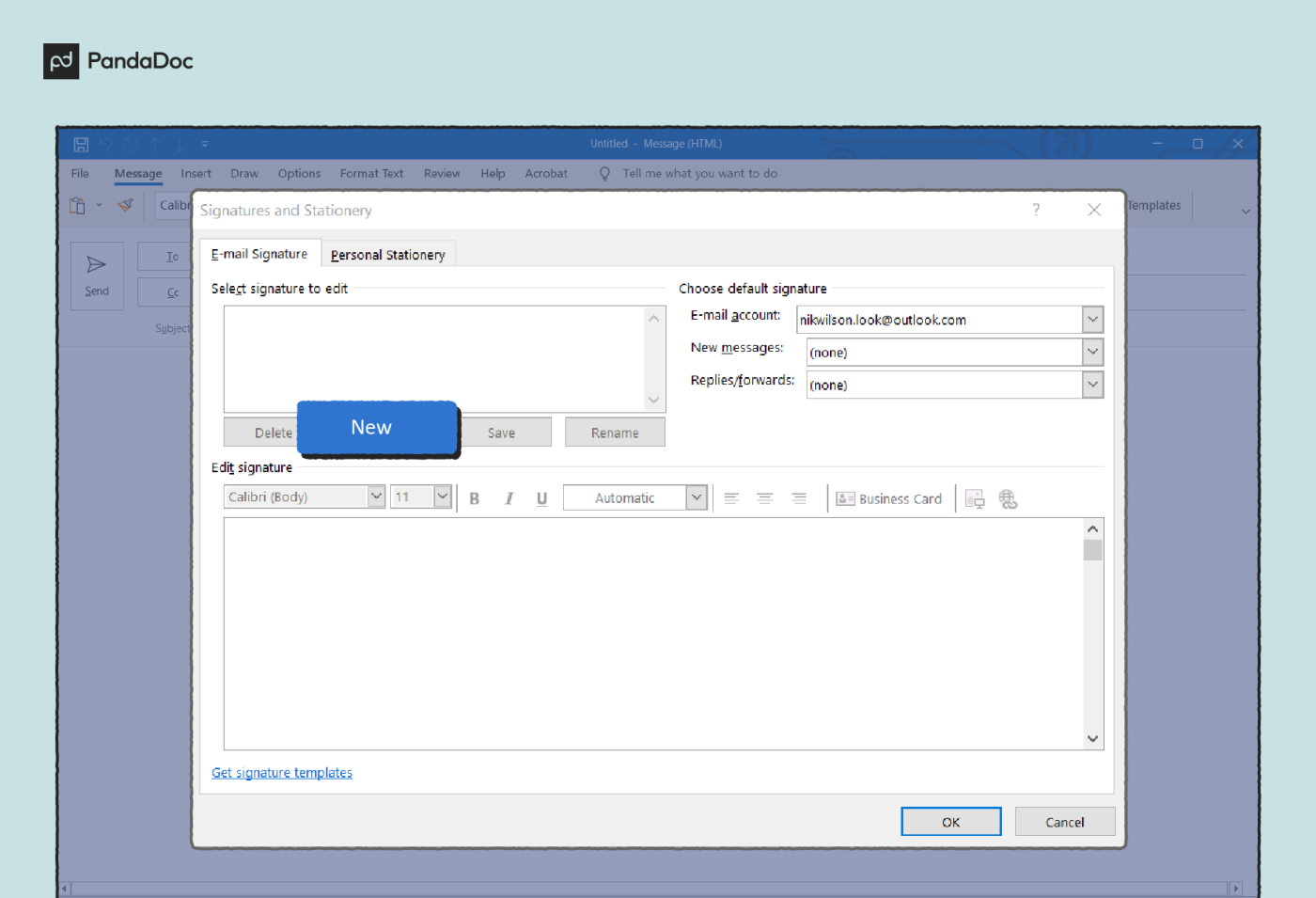 5. Change the name of the new signature by double-clicking on the name (Untitled) or adding your signature in the box on the right-hand side of the popup.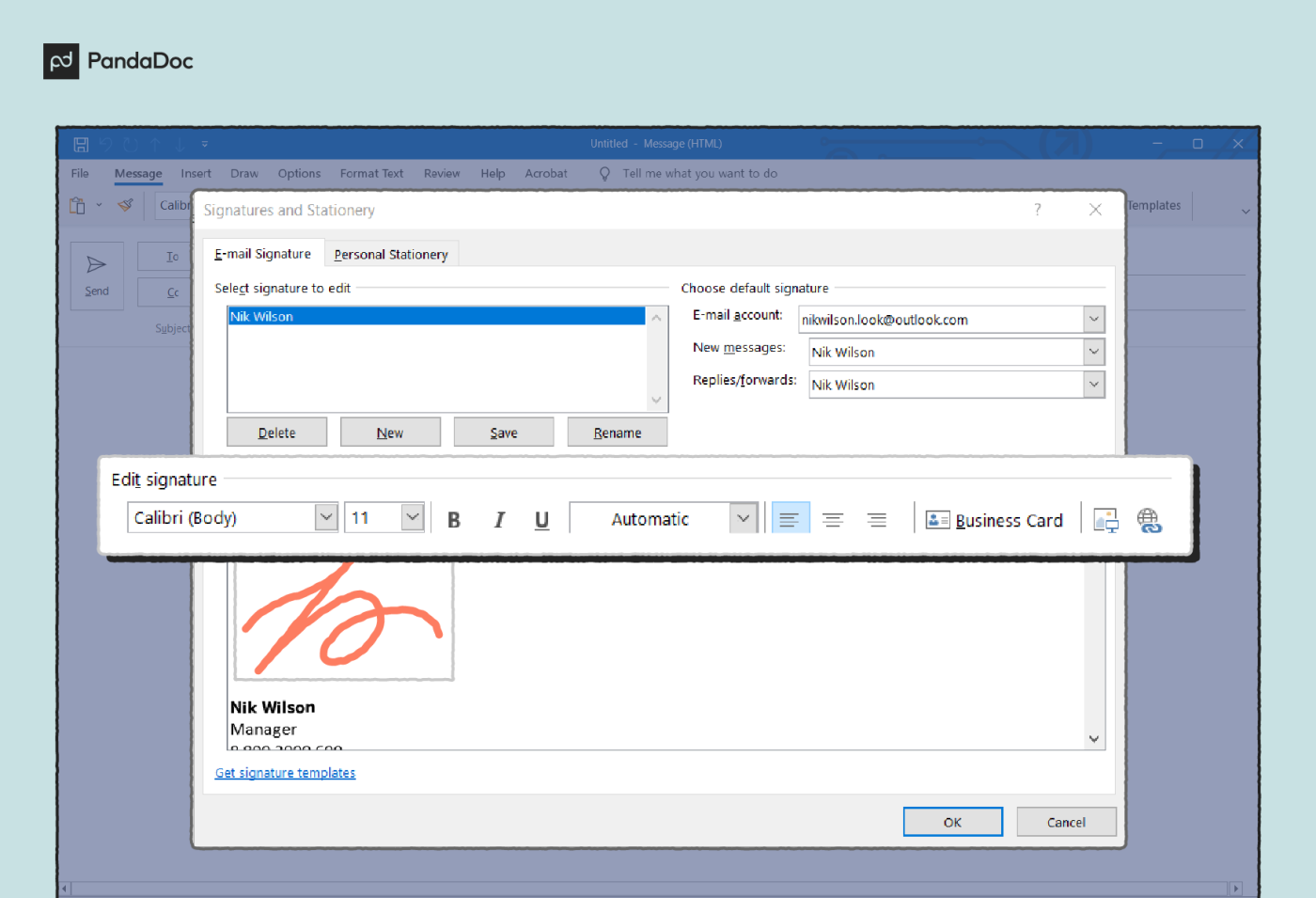 6. Finally, under Choose default signature, assign the signature to a specific account and how you'd like to use it.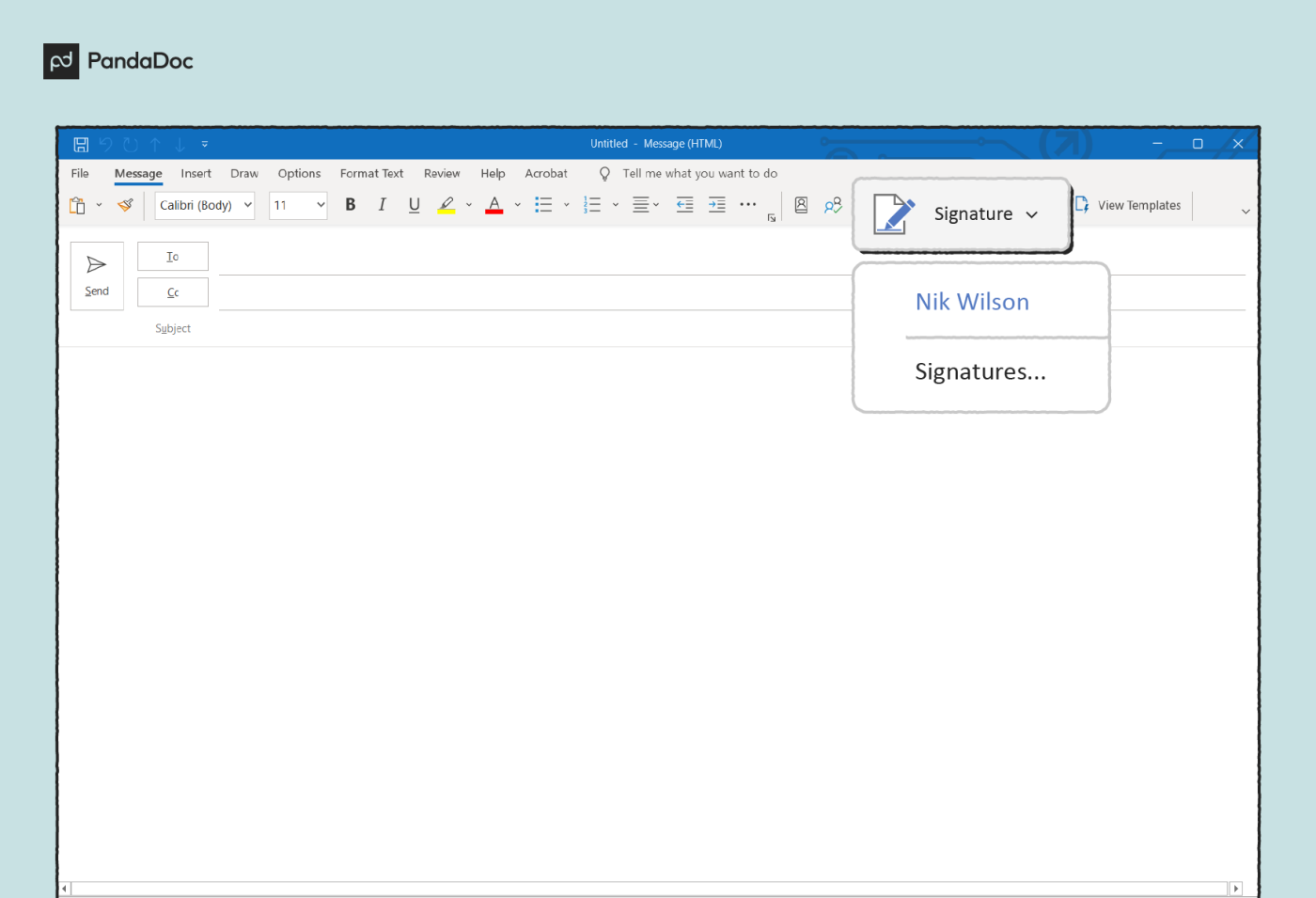 How to sync Outlook signature to Outlook.com
Open your web browser, navigate to Outlook.com, and sign in to access your account.
In the menu bar in the upper-right corner, select the gear icon to open the Settings menu.
At the bottom of the Settings menu, select View all Outlook settings.
In the popup, navigate to Mail > Compose and Reply.
Create a new signature using the + New signature button or edit your existing signature using the signature box.
Choose how you'd like the signature to be used by selecting the various features and options available below the signature box.
Frequently asked questions
Can I automatically sync email signatures across all of my devices?
Unfortunately, no. The Outlook software provided by Microsoft is an email client, meaning that it allows you to send and receive emails from multiple providers (Yahoo, Gmail, etc.).
Because the client only hosts the email account, you'll need to manually input your existing email signature in every version of Outlook.
It's also worth noting that various clients provide different functionality when preparing signatures.
For example, unlike the Windows desktop client, Outlook for mobile devices like iPhones, iPads, and Android devices won't allow you to create HTML-based signatures or upload logos.
Keep this in mind when creating your signature, especially if you're looking for a consistent output.
Can I add more than one signature to the Outlook email client?
Yes! On the Mac, PC, and Outlook.com versions, you'll have the ability to create and assign signatures as you see fit with a variety of customization.
On iOS and Android, you can choose to have different signatures for each account. To do this, make sure that the Per Account Signature button is switched on.
Syncing your signature across all email accounts on the device is also an option. Just enabled the Per Account Signature toggle and all signatures will appear as written in your signature block.
Can I add images and logos to my signatures?
Yes, but these can only be configured in certain versions of Outlook, like Outlook for Windows. In mobile and online versions of the app, your ability to send complex or formatted signatures will be limited.
You should also keep in mind that these signatures may not render well on recipient devices.
Will my Gmail / Apple / Yahoo / etc. signature override my Outlook signature?
No. If you send an email from your Outlook client, the email signatures in Outlook will send with your email.
However, if you logged into the web client provided by your email provider and sent an email from that location, your Outlook signature won't send with it.
However, if you've set up a signature within those clients, it will send instead.
Go beyond with PandaDoc mobile signatures
Email signatures are great when you need to deliver contact information and other basic details during correspondence, but they aren't the same as an electronic signature or digital one.
If you need to electronically sign documents, an e-signing platform like PandaDoc can help you get the job done.
Sign up for a free 14-day trial to sign contracts, proposals, and other key business documents with ease.